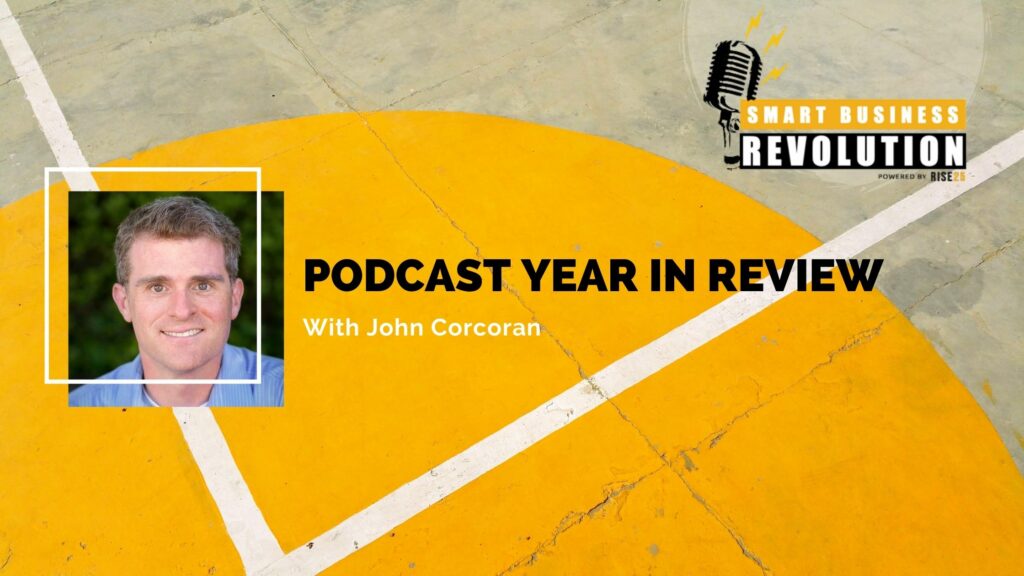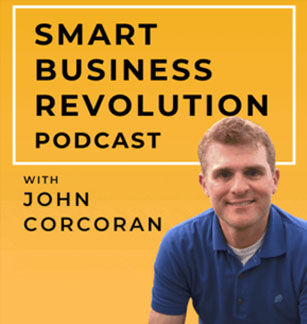 John Corcoran is the Co-founder of Rise25 Media, a company that connects B2B businesses with their ideal clients, referral partners, and strategic partners through their done-for you podcast service. He is also a recovering attorney, an author, a former White House writer, and former speechwriter to the Governor of California.
Throughout his career, John has worked in Hollywood, the heart of Silicon Valley, and ran his own boutique law firm in the San Francisco Bay Area, catering to small business owners and entrepreneurs. He is the host of the Smart Business Revolution Podcast where he has interviewed hundreds of CEOs, founders, authors, and entrepreneurs.
In this episode, John Corcoran gets interviewed in his own podcast by his Rise25 Media co-founder, Dr. Jeremy Weisz, about the lessons he learned from some of the interviews he did in 2020. John also explains why he decided to interview 100 guests on his podcast last year and why he frequently conducts thought leadership interviews.
Here's a Glimpse of What You'll Hear:
John Corcoran explains why he interviewed 100 guests on the Smart Business Revolution Podcast last year
What John learned from his interviews with Craig Weiss, Jeff Prager, and Tommy Mello
John talks about his interviews with Sky Fernandez, Jason Swenk, Chris Townsend MacDonald, and Adam Witty
How Dan Kennedy's teachings have impacted the lives of many people
John looks back on his interviews with Chris Dryer, Taylor Trusty, Sam Lundin, and Chad Rubin and what stood out the most for him from these interview
John discusses the conversations he had with Russ Rosenzweig, Fran Biderman-Gross, and Mike Michalowicz and what can be gained from their episodes
Why John and Jeremy do thought leadership interviews
John explains what made his interviews with Derek Sivers, Lewis Schiff, Pramod Raheja, Carl Arnold, and Rob Michon incredible episodes
John touches on his interview with Justin Breen and Chris Yeh and the insights he gained from their conversations
The mentors and colleagues that John Corcoran acknowledges for his achievements
Resources Mentioned:
Sponsor: Rise25
At Rise25, we're committed to helping you connect with your Dream 100 referral partners, clients, and strategic partners through our done-for-you podcast solution. 
We're a professional podcast production agency that makes creating a podcast effortless. Since 2009, our proven system has helped thousands of B2B businesses to build strong relationships with referral partners, clients and audience without having to do the hard work. 
What do you need to start a podcast?
When you use our proven system, all you need is an idea and a voice. We handle the strategy, production, and distribution – you just need to show up and talk.
The Rise25 podcasting solution is designed to help you build a profitable podcast. This requires a specific strategy, and we've got that down pat. We focus on making sure you have a direct path to ROI which is the most important component. Plus our podcast production company takes any of the heavy lifting of production and distribution off of your plate.
We make distribution easy
We'll distribute each episode across more than 11 unique channels including iTunes, Spotify, and Google Podcasts. We'll also create copy for each episode and promote your show across social media.
Cofounders Dr. Jeremy Weisz and John Corcoran credit podcasting as the best thing they have ever done for their businesses. Podcasting connected them with the founders/CEOs of P90x, Atari, Einstein Bagels, Mattel, Rx Bars,  YPO, EO, Lending Tree, Freshdesk,  and many more.  
The relationships you form through podcasting run deep.  Jeremy and John became business partners through podcasting.  They have even gone on family vacations and attended weddings of guests who have been on the podcast.  
Podcast production has a lot of moving parts and is a big commitment on our end; we only want to work with people who are committed to their business and cultivating amazing relationships. 
Are you considering launching a podcast to acquire partnerships, clients, and referrals? Would you like to work with a podcast agency that wants you to win? 
Contact us now at [email protected] or book a call at rise25.com/bookcall.
Rise25 was co-founded by Dr. Jeremy Weisz and John Corcoran who have been podcasting and advising about podcasting since 2008.
Episode Transcript
Intro 0:14
Welcome to the revolution, the Smart Business Revolution Podcast, where we ask today's most successful entrepreneurs to share the tools and strategies they use to build relationships and connections to grow their revenue. Now, your host for the revolution, John Corcoran.
John Corcoran 0:40
All right. Welcome, everyone. John Corcoran here. I'm the host of this show. We have a special treat for this episode. Now, if I was saying that to my six year old, that would mean we're having cookies. Unfortunately, no cookies today? Yes, absolutely. But we do have my good friend and business partner, Dr. Jeremy Weisz. We are flipping the script and he is going to be interviewing me. But let me say a word or two about Jeremy. For those of you who don't know him, hopefully you've checked out his podcast Inspired Insider. He is an amazing interviewer. I really can't set the bar high enough for how incredible what you're about to listen to is going to be. I mean, if Terry Press and Larry King, and the Energizer Bunny had a baby, it would be Jeremy Weisz. He is the world's best at this. So if your expectations aren't high enough, I want you to elevate them even higher. Because you are in for a treat. Jeremy, I'm going to turn it over to you. And please shed some light on all of us.