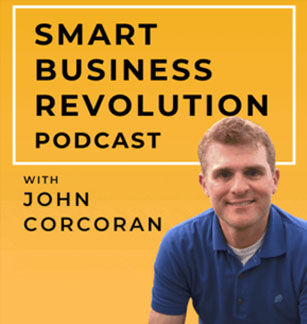 Mike McDerment is the Co-founder and CEO of FreshBooks, the #1 accounting software in the cloud, designed exclusively for freelancers and growing service-based business owners. Built-in 2003 after he accidentally saved over an invoice, Mike spent 3.5 years growing FreshBooks from his parents' basement. Since then, over 24 million people have used FreshBooks to save time billing, and collect billions of dollars.
In this episode of the Smart Business Revolution Podcast, Mike McDerment, Co-founder and CEO of FreshBooks, gets interviewed by John Corcoran about building FreshBooks and helping build small businesses. Mike also shares with John how he started his company, his secrets to building business relationships, and how raising money through venture capital has impacted his company.
Here's a Glimpse of What You'll Hear:
How Mike McDerment started FreshBooks and why it wasn't a big success during the first 2 years
Mike talks about the challenges he faced in convincing people to use a cloud-based accounting software and how he got the opportunity to work with Wells Fargo
How FreshBooks was impacted by the 2007-2008 economic downturn
The mentors and advisors that helped Mike grow his software company
Mike's secrets for building business relationships and strategic partnerships, and his approach in helping build other businesses
How raising money through venture capital changed Mike's expectations and the company's management standpoint
What keeps Mike motivated and driven to grow his company
Mike explains how his company has been impacted by the COVID-19 pandemic
The people Mike acknowledges for his achievements and success
Resources Mentioned:
Sponsor: Rise25
Today's episode is sponsored by Rise25 Media, where our mission is to connect you with your best referral partners, clients, and strategic partners. We do this through our done for you business podcast solution and content marketing.
Along with my business partner Dr. Jeremy Weisz, we have over 18 years of experience with B2B podcasting, which is one of the best things you can do for your business and you personally.
If you do it right, a podcast is like a "Swiss Army Knife" – it is a tool that accomplishes many things at once. It can and will lead to great ROI, great clients, referrals, strategic partnerships, and more. It is networking and business development; and it is personal and professional development which doubles as content marketing.
A podcast is the highest and best use of your time and will save you time by connecting you to higher caliber people to uplevel your network.
To learn more, go to Rise25.com or email us at [email protected].
To learn more, book a call with us here.
Check out Rise25 to learn more about our done-for-you lead generation and done-for-you podcast services.
Right Click here to download the MP3
Click here to subscribe via iTunes
Advertise on the Smart Business Revolution Podcast
Episode Transcript
Intro 0:14
Welcome to the Revolution, the Smart Business Revolution Podcast, where we ask today's most successful entrepreneurs to share the tools and strategies they use to build relationships and connections to grow their revenue. Now, your host for the revolution, John Corcoran.
John Corcoran 0:40
All right. Welcome, everyone. John Corcoran here, I'm the host of this show. I'm also a recovering political hack and a recovering lawyer having spent many years working in politics including as a speechwriter since working the Clinton White House for California Governor and spending years practicing law and Silicon Valley in the San Francisco Bay Area. You know, in 2010, I discovered the medium of podcasting and I've been doing this show ever since. And over 10 years of hosting this show. I've had the privilege to talk with top CEOs, founders and entrepreneurs of companies and organizations ranging from YPO to EO, Activision Blizzard, Lending tree, Open Table and many more. I'm also the co-founder of Rise25 where we help b2b businesses with the strategy and production they need to create a podcast that produces tremendous ROI and connects them to their ideal prospects and referral partner.
And I've got a great guest here today. His name is Mike McDerment. He's the co-founder and CEO of FreshBooks. The number one accounting software in the cloud designed exclusively for freelancers and growing service based business owners that was built in 2003. I used it at least 10 years ago, and it is really a game changing software for anyone who has ever had to send an invoice. In fact, Mike spent three and a half years growing FreshBooks from his parents basement and that goes to show the depth of his commitment to this community. Since then, over 24 million people have used FreshBooks to save time billing and collecting billions of dollars. Now first, before we get into that interview, this episode is brought to you by Rise25 Media. Look, I don't need to tell you the world has changed over the last many months. We all know that. The question is what to do about it. And in this economy, it's more important than ever to be able to connect and build strong relationships with clients, referral partners and strategic partners even when you can't be face to face. At Rise25, we have 20 years experience in the b2b space connecting and building profitable relationships with clients, referral partners, and strategic partners using a podcast. If you want help connecting with your ideal referral partners and strategic partners, go learn more at rise25media.com, or you can email us at [email protected]. All right, Mike, you've got this great story about how you started FreshBooks working out of your parents basement for a number of years. Tell us take us back to 2003 how you got started.
Mike McDerment 2:57
Yeah, it's a classic tale. I don't know how many other people I think it might just be mine. I haven't heard anyone else have the exact same story. But there's themes that are evergreen, if you will, I was running a small design firm using Word and Excel to Bill my clients. I've been to business school, I left it in fourth year. But you know, I had studied accounting, all this stuff. But I was using Word Excel Democrats. And one day I saved over an invoice by accident. And that was it. I just kind of snapped I had been starting to teach myself programming. And so I built a little service that I thought my clients might like, which was a place they could go in and view their invoice online. It was really rudimentary, but my clients liked it. And pretty soon after that, we realized other people might like it too. And so we started building it, it was a side project that took about 1416 months to get something that other people could sign up for and use once we know, from that moment that I saved over the invoice. And after two years of doing it, we had, you know, 10 customers paying us like $9 95 cents a month each. So my co founder, co founders are a PhD in computer science, electrical engineer and myself and, and we were making $100 a month for our efforts. So not not very exciting. But we stuck with it and moved in my parents basement for three and a half years. And we were six people. We left over 400. You know, today we got paying customers from over 100 countries. And you know, our number two in America for small business, accounting software by
John Corcoran 4:29
Wow. And what was it? Do you think? What was the reason that it didn't take off in those first two years?
Mike McDerment 4:36
I am well. Okay, so reasonable question. First of all, you have to learn how to like once you build a thing, you have to figure out how to distribute it. And we had some background there, which was great in internet marketing. And so we were using that we had like thousands of people signing up before too long in a given month. But we didn't have the pricing model correct. The product wasn't finished enough and so For these reasons and more, it just didn't turn into many customers. It really is that we started getting the packaging and the pricing better off, we started to benefit along the way, but it was, you know, sort of incremental progress over time.
[continue to page 2]