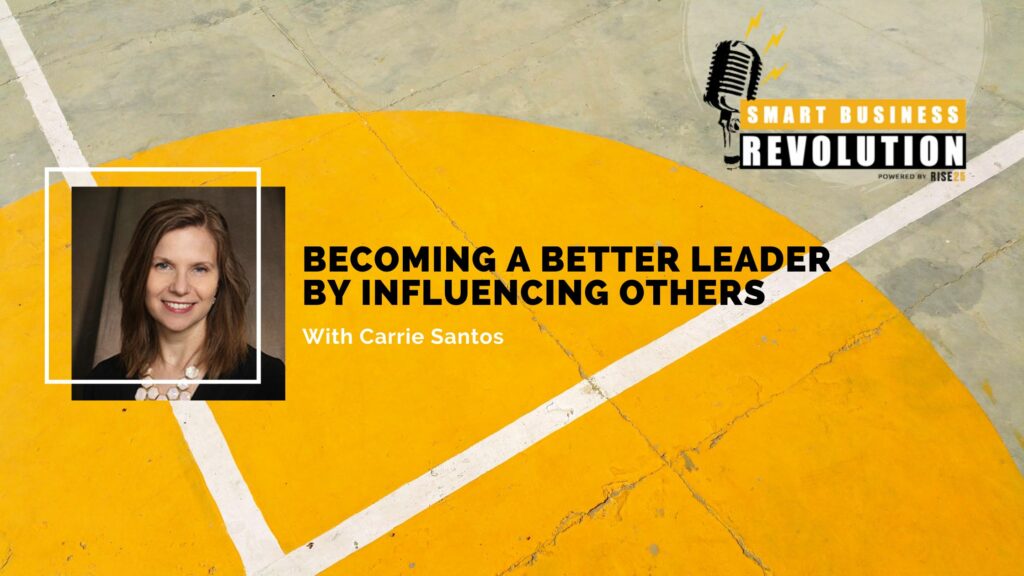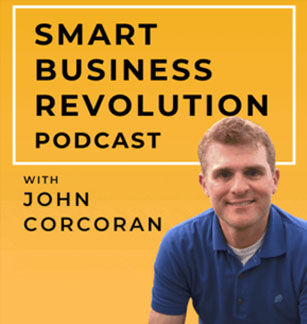 Carrie Santos is the CEO of Entrepreneurs' Organization (EO), a high-quality support network of over 16,000 like-minded leaders in over 62 countries. EO helps entrepreneurs achieve their full potential in their business and personal lives through the power of life-enhancing connections, shared experiences, and collaborative learning. Carrie has over 20 years of experience leading change management and strategic development of international organizations and programs. Prior to EO, she was the Policy Section Chief of Refugee Admissions at the US Department of State and the Executive Director of International Response and Programs at the American Red Cross. 
In this episode of the Smart Business Revolution Podcast, John Corcoran is joined by Carrie Santos, the CEO of Entrepreneurs' Organization (EO), to talk about becoming a better leader by influencing others. Carrie also explains what EO is and how it supports leaders and communities.
Here's a Glimpse of What You'll Hear:
Carrie Santos explains what Entrepreneurs' Organization (EO) is
How GLC conferences help EO members become better leaders
How EO chapters support their communities — and what Carrie loves about humanitarian work 
Carrie's advice to EO members on attending GLC events
Resources Mentioned In This Episode
Sponsor: Rise25
At Rise25, we're committed to helping you connect with your Dream 100 referral partners, clients, and strategic partners through our done-for-you podcast solution. 
We're a professional podcast production agency that makes creating a podcast effortless. Since 2009, our proven system has helped thousands of B2B businesses build strong relationships with referral partners, clients, and audiences without doing the hard work.
What do you need to start a podcast?
When you use our proven system, all you need is an idea and a voice. We handle the strategy, production, and distribution – you just need to show up and talk.
The Rise25 podcasting solution is designed to help you build a profitable podcast. This requires a specific strategy, and we've got that down pat. We focus on making sure you have a direct path to ROI, which is the most important component. Plus, our podcast production company takes any heavy lifting of production and distribution off your plate.
We make distribution easy
We'll distribute each episode across more than 11 unique channels, including iTunes, Spotify, and Google Podcasts. We'll also create copy for each episode and promote your show across social media.
Cofounders Dr. Jeremy Weisz and John Corcoran credit podcasting as being the best thing they have ever done for their businesses. Podcasting connected them with the founders/CEOs of P90x, Atari, Einstein Bagels, Mattel, Rx Bars,  YPO, EO, Lending Tree, Freshdesk,  and many more.  
The relationships you form through podcasting run deep. Jeremy and John became business partners through podcasting. They have even gone on family vacations and attended weddings of guests who have been on the podcast.
Podcast production has a lot of moving parts and is a big commitment on our end; we only want to work with people who are committed to their business and to cultivating amazing relationships.
Are you considering launching a podcast to acquire partnerships, clients, and referrals? Would you like to work with a podcast agency that wants you to win? 
Contact us now at [email protected] or book a call at rise25.com/bookcall.
Rise25 Cofounders, Dr. Jeremy Weisz and John Corcoran, have been podcasting and advising about podcasting since 2008.
Episode Transcript
Intro 0:00
Welcome to the revolution, the Smart Business Revolution Podcast, where we ask today's most successful entrepreneurs to share the tools and strategies they use to build relationships and connections to grow their revenue. Now, your host for the revolution, John Corcoran.
John Corcoran 0:40
Hey everybody, this is John Corcoran with Dr. Jeremy Weisz. And this episode is a little bit different. This is a live interview that we recorded at the Global Leadership Conference from Entrepreneurs' Organization, where some of the best entrepreneurs from around the globe gathered in Washington DC to share ideas and learn about entrepreneurship. And of course, this episode is brought to you by Rise25, where we help b2b businesses to give to and to connect to their dream 100 relationships and partnerships, helping you to run a podcast so that it generates a referral pipeline and ROI.
Jeremy Weisz 1:14
Yeah, I mean, John, after both of us have been podcasting for over a decade, the number one thing in our life is relationships. And we're always looking at ways to give to our best relationships. And we found no better way to do that over the past decade than to profile the people in companies we admire and shout from the rooftops what they're working on. And this interview is no different. So if you've thought about podcasting, you should go to rise25.com to learn more or email us at [email protected].
John Corcoran 1:41
Thanks, everyone. Enjoy the interview.
Jeremy Weisz 1:43
Enjoy.
John Corcoran 1:58
All right, John Corcoran. I'm here at the Global Leadership Conference put on by EO Entrepreneurs' Organization, and I'm here with Dr. Carrie Santos, who is the CEO of EO Entrepreneurs' Organization. And for those who don't know anything about EO, tell us a little bit about what it is and kind of how you give the short little elevator pitch.
Carrie Santos 2:16
Right. Well, Entrepreneurs' Organization is not for the early startup, it's for the person who has already achieved a fair amount of success, but can't grow to that next level. Because they are working too hard. They're grinding it out week after week. I'm thinking of a member. I know here in DC Ron who met EO members, he's like, how do you guys have time to go to the forum? How do you have time to learn? How do you have time to go out to dinner and they said, guy, you got to stop working 100 hours a week? That's what EO teaches you how to delegate how to do your strengths and how to empower other people to do the other things so that you can do more, you can be in your best power and your business can grow.
John Corcoran 2:52
And of course, there's this path of leadership that people talk about, it is an option for EO members to get more involved as a leader. And this conference is for many of those emerging leaders. So talk a little bit about that role.
Carrie Santos 3:06
It's really interesting for most of our members because they're used to working in their organization, where they're the boss, they're the beginning, the end the decision maker, they dictate down how things go. If you want to up your leadership skills, you have to learn how to influence your peers, and influencing your peer entrepreneurs is extremely difficult. You're going to up your leadership game and use those skills in anything with your clients, with your customers with your suppliers, and that ability to grow beyond maybe what you're able to do in your own business and become a better leader. It gives back to you and your business and your family in ways you can't imagine. 
John Corcoran 3:39
And now we're recording this in April of 2022. You have just been through a very tough period of the pandemic and the war in Europe. And you gave a speech yesterday highlighting some of the amazing work that EO members EO Poland chapter has done. You want to highlight some of the things that you've been seeing.
Carrie Santos 3:56
Yeah, I'm extremely lucky that I've been able to visit our EO chapter in Poland and the Southeast Europe chapter in Romania, to see how private business is making a huge difference in this massive humanitarian crisis. The private sector in these countries is stepping in. So we're at a trade Expo in Warsaw, and the trade expo is shut down. The business owners of those Expo said no more expos. We're opening this up and we're going to house 10 15,000 refugees and just in a place like this. It's kind of amazing that people are so giving of what they have to offer. It's like I have a roof. I've got bathrooms. Let's set it up. And then our members come in, they've been giving blankets and hygiene items and anything you can imagine to help keep that private enterprise going.