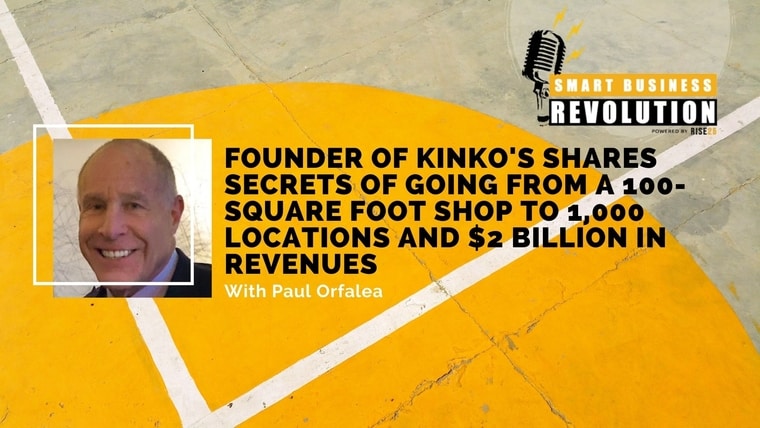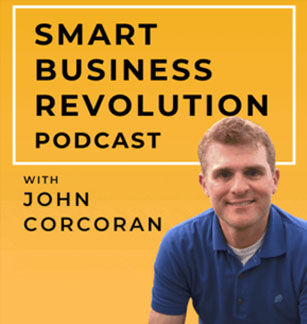 Paul Orfalea is the Founder of the Kinko's retail chain, which was founded in Isla Vista, California in 1970. The Kinko's concept was sparked in 1969 when Paul, then a student at the University of Southern California (USC), noticed his fellow students lining up at a copy machine in a library, so he saw an opportunity there. He borrowed $5,000 from a local bank and rented a 100-square foot space next to a hamburger stand near UC Santa Barbara. This tiny Kinko's with a single copier became a huge global brand with 1,000 stores internationally and $2 billion in annual sales. Much of the success can be traced back directly to Paul's unique business philosophy, which was based on his free-thinking creative style. 
In this episode of the Smart Business Revolution Podcast, John Corcoran interviews Paul Orfalea, the Founder of Kinko's, about how he started and scaled the Kinko's retail chain brand from one location to over 1,000 before selling it. Paul shares the lessons he learned in his entrepreneurial journey, talks about his theory of management, and explains how he transitioned to academic and philanthropic endeavors. Stay tuned.
Here's a Glimpse of What You'll Hear:
Paul Orfalea's entrepreneurial background and the different jobs he did before starting his own business
Paul's reason for starting Kinko's, what he learned during the early days of running the business, and how he expanded to other locations
Paul explains how business school helped him build his company and what he did not like about the sale of his business
What Kinko's would be today if Paul had not sold it
Paul's approach to empowering his employees and how John Davis helped develop the Kinko's philosophy
How Paul worked with franchisees, how he got sued by publishing companies, and how the structure of his partnerships affected the sale of his company
Paul's theory of management and why he launched the Orfalea Center for Global & International Studies
Paul details his interview with former President Bill Clinton
The peers Paul respects and his contact details
Resources Mentioned In This Episode
Sponsor: Rise25
At Rise25, we're committed to helping you connect with your Dream 100 referral partners, clients, and strategic partners through our done-for-you podcast solution. 
We're a professional podcast production agency that makes creating a podcast effortless. Since 2009, our proven system has helped thousands of B2B businesses build strong relationships with referral partners, clients, and audiences without doing the hard work.
What do you need to start a podcast?
When you use our proven system, all you need is an idea and a voice. We handle the strategy, production, and distribution – you just need to show up and talk.
The Rise25 podcasting solution is designed to help you build a profitable podcast. This requires a specific strategy, and we've got that down pat. We focus on making sure you have a direct path to ROI, which is the most important component. Plus, our podcast production company takes any heavy lifting of production and distribution off your plate.
We make distribution easy
We'll distribute each episode across more than 11 unique channels, including iTunes, Spotify, and Google Podcasts. We'll also create copy for each episode and promote your show across social media.
Cofounders Dr. Jeremy Weisz and John Corcoran credit podcasting as being the best thing they have ever done for their businesses. Podcasting connected them with the founders/CEOs of P90x, Atari, Einstein Bagels, Mattel, Rx Bars,  YPO, EO, Lending Tree, Freshdesk,  and many more.  
The relationships you form through podcasting run deep. Jeremy and John became business partners through podcasting. They have even gone on family vacations and attended weddings of guests who have been on the podcast.
Podcast production has a lot of moving parts and is a big commitment on our end; we only want to work with people who are committed to their business and to cultivating amazing relationships.
Are you considering launching a podcast to acquire partnerships, clients, and referrals? Would you like to work with a podcast agency that wants you to win? 
Contact us now at [email protected] or book a call at rise25.com/bookcall.
Rise25 Cofounders, Dr. Jeremy Weisz and John Corcoran, have been podcasting and advising about podcasting since 2008.
Episode Transcript
Intro 0:01
Welcome to revolution, the Smart Business Revolution Podcast where we asked today's most successful entrepreneurs to share the tools and strategies they use to build relationships and connections to grow their revenue. Now, your host for the revolution, John Corcoran.
John Corcoran 0:40
All right. Welcome everyone. John Corcoran here. I'm the host of this show. Every week I get to talk to smart founders, CEOs and entrepreneurs of all kinds of companies and organizations ranging from Netflix to YPO, to Activision Blizzard, LendingTree, OpenTable, Ace Software, and many more. This is part of our UC Santa Barbara Top Entrepreneur Series. We're profiling entrepreneurs who have come through UC Santa Barbara either through professors or alumni. And I also as you know, my background, I'm a recovering political hack, recovering lawyer spent years working in politics, including as a speechwriter stints in the Clinton White House and for California Governor and now I get to have the privilege of talking to great entrepreneurs and founders like today's guests and first I'm gonna give a big thank you to John Greathouse for introducing me to today's guest. His name is Paul Orfalea. He is the Founder of the Kinko's retail chain, which if you're at least I would say 30 and above, maybe you have an excuse if you're under 30 for not knowing the Kinko's chain, but even then you got to know the name Kinko's. It was founded in 1970 in Isla Vista, California, a small community next to Santa Barbara. The Kinko's concept was sparked in 1969 when our guest, then a student at University of Southern California USC, noticed his fellow students were lining up at a copying machine in the library and there was a long line, and he saw an opportunity. So he borrowed five grand from a local bank and rented 100 square foot space next to a hamburger stand next to UC Santa Barbara where I went to school, and this tiny Kinko's with a single copier, two and a half cent copies became a huge global brand with 1000 stores internationally needed their 2 billion in annual sales. And much of the success can be traced back directly to Paul's unique business philosophy, which was based on his free thinking, creative style, which we're going to talk about here today. 
And of course, this episode is brought to you by Rise25 Media, go check us out at rise25media.com to learn more about how to do podcasts and content marketing the right way. Paul, it's such a pleasure to have you here today. There's so many things I want to ask you about. First of all, I want to start with you, you come from a line of entrepreneurs. You, your father actually had a manufacturing women's clothing business in downtown LA, which is where you're from, you had many other relatives who are entrepreneurs or business owners, so it really was in your blood. And there was no question that you were going into this. So tell me a little bit about that with entrepreneurship running in your family? Was it just kind of like from birth, basically, you were predestined to have your own business.
Paul Orfalea 3:21
I must have 400 relatives. I'm Lebanese in Southern California. And I never knew a human being that had a job. They had their own business. And I remember first or second grade, the nuns say, you know, one day somebody is going to look at this report card and I thought bullshit, I'm not gonna deposition. So my mother would say, Honey, you work for other people. You're only as good as yesterday's paycheck. You work for other people to throw you away. Like you're a piece of cattle like they just throw you away. And you're only as good as just your only as your generally people working for other people don't have a savings account. They have a lot of insecurity. I just always raised my own business. And my mother only cared about two things. One was, are you saving your money? The second one, are you sleeping enough? And that's what I did when I had the birth canal. That's what the most important thing in my life was saving.
John Corcoran 4:26
Did you work for your father or any other family businesses when you're growing up?
Paul Orfalea 4:30
I got fired from my dad's factory. How would you do it? I just would go there. And there was nothing specific. I just go from department to department and say Do you need anything done? And a lot of times I didn't look like I was busy. I was talking to people and they were distracting them from what their task was. And I think that my dad found that a little irritating. I said you're out here.
John Corcoran 5:02
Do you recall what your last job was? Did you have any other jobs that he
Paul Orfalea 5:06
jobs got fired after one day and both Jobs was a fountain Boy, that's where you scoop ice cream. And they walked by. I say chocolate malt is certainly another. And so I've scooped ice cream over here. It was really hard. And I went like this. And I bang my finger on the wall of the thing, and I bled on the ice cream. So they fired me after that. Then the second one was, I was a gas station attendant, they couldn't read my handwriting for the credit cards. And so I got fired after one day at both jobs, earning $6 in both jobs, as was my severance, and my salary, my Wow. jobs. And then, I always worked in commission sales. I like that was a fuller brush man. Was the collective or guys newspaper, which just basically things you could do on your own.
John Corcoran 6:05
Yeah. And were you drawn to sales? Always? Yeah, always. Yeah. Now you know you grew up in LA, you went to USC. This is one thing I want to ask you about. Why did you decide to start Kinko's out of a 100 square foot shop? 100 an hour and a half up the coast in Santa Barbara?
Paul Orfalea 6:26
Well, a little bit about myself, I can't read very well, I was helped by my sister Sheila and found I didn't know the alphabet. I was held back in second grade. I had to go to Dr. Walton, I got a guy for my circles. Dr. Paul, Dr. fosdick. Doctor, her doctor cawood, just to teach me how to read and I barely learned I'm not a good reader to this day. So if you can't read, he can't spell and you have no mechanical ability whatsoever, you're going to have to figure it out. I'm going to do it on my own. So I was at sc and I, the guys I worked with, wrote a big thick document to get a copy. And they saw these people in line and I thought man, this might be pretty good. So I opened it and entered the copying business. What I liked about it, too, is what I've noticed was I didn't like fighting inventory. Like my dad was always fighting this inventory of his dresses. My uncle's were in the produce business overnight, their produce rotted, I kept looking at this paper. Thank God it's gonna be I could keep this for a year and it's not going to get so bad. Yeah. And then when you know the product life cycle, I don't have to fight. I had a feeling knowing the product life cycle. This was infancy
John Corcoran 8:03
huh. Oh, because it was because they were new because copiers were new in the early 70s. Yeah, yeah. Yeah. And why did you choose to locate up the coast? Why, why next, UC Santa Barbara and seven. USC.
Paul Orfalea 8:16
I had a girlfriend. Oh, there we go. Okay. I noticed that there wasn't a copy in place of your Yeah.
John Corcoran 8:23
And it takes me back to those early days. You remember, you know, were you staffing it? Did you hire someone to staff it from the early days?
Paul Orfalea 8:31
Yes, I did. I didn't like that I hated being in the stores. I didn't. I didn't like binding. I didn't like copying. And so after that, I was still going to USC. And I was driving back and forth. And I'd work Tuesdays and Thursday mornings in the store. But after about a month and a half I hired a manager. And now when you think of it, wasn't that manager, the president of the company or the chief executive? So I've been the owner my whole life managing executives and chief executives. So if you conduct your affairs like an owner, which I was a good owner, I was not a good employee or good executives. Yeah.
John Corcoran 9:14
What did you learn in those early days? You know, how long did it take before you start adding other locations? That did take a while?
Paul Orfalea 9:22
Yeah, I remember the first story I kept thinking about when these student children go to UCSB, they're going to go say, they're gonna say to themselves, go see Paul, he did buy Xerox copies. And I just didn't want that image for my life. And I kept thinking, Well, you know, there's two Chevron, there are lots of Chevron stations, Exxon stations, there's more than one thrifty drugstore at the time I kept thinking that somebody must have figured out how to go from one to two locations. So I started studying when you grow what you do with your banking relationships. You do pause, it's how you organize your, your organizational chart. So I kept thinking about how to do it from