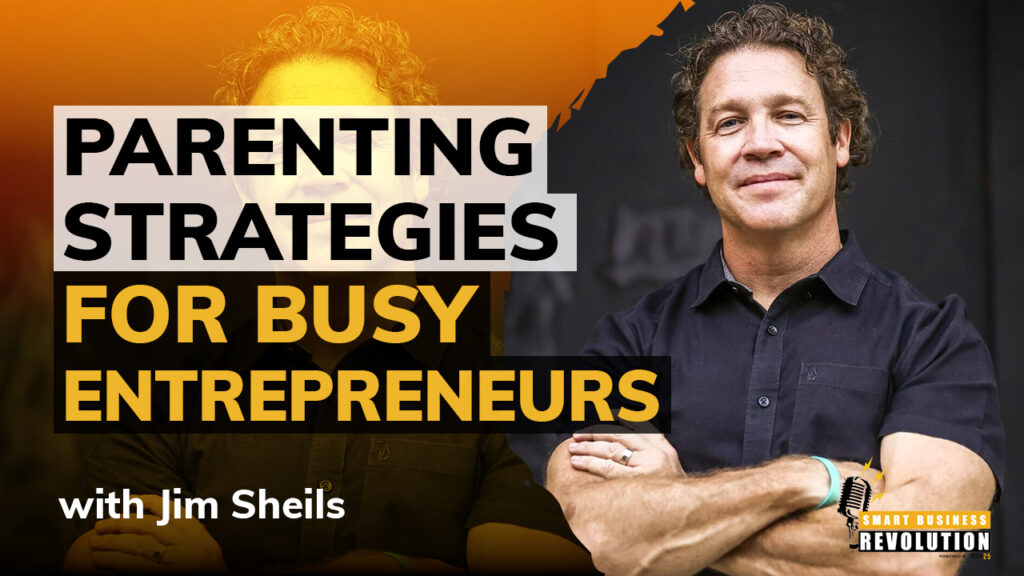 Jim Sheils is the Founder of 18 Summers, where he helps busy professionals create deeper, more connected, and more meaningful relationships with their spouses and children. He is also the co-author of The Family Board Meeting and The Passive Income Playbook. Through his workshops and books, Jim helps entrepreneurs transform their family life, be the best parent they can be, and make the most of the time they have together.
In this episode of the Smart Business Revolution Podcast, John Corcoran sits down with Jim Sheils, the Founder of 18 Summers, to discuss parenting strategies for busy entrepreneurs. Jim shares tips for fixing strained relationships with kids, organizing family retreats and vacations, and educational resources for teaching kids about work and money.
Here's a Glimpse of What You'll Hear:
[01:33] How an article about Steve Jobs inspired Jim Shiels
[05:09] Jim explains the concept of 18 Summers and holding family board meetings
[12:28] How to fix strained relationships with kids
[14:22] Jim's strategies for guiding kids to manage their relationships
[16:49] Tips for organizing family retreats and vacations
[19:41] The value of teaching kids work and money principles
[27:50] Why entrepreneurs should allow kids to discover and explore their own passions and interests
[29:34] The peers Jim acknowledges for their support
Resources Mentioned In This Episode
Sponsor: Rise25
At Rise25, we're committed to helping you connect with your Dream 100 referral partners, clients, and strategic partners through our done-for-you podcast solution. 
We're a professional podcast production agency that makes creating a podcast effortless. Since 2009, our proven system has helped thousands of B2B businesses build strong relationships with referral partners, clients, and audiences without doing the hard work.
What do you need to start a podcast?
When you use our proven system, all you need is an idea and a voice. We handle the strategy, production, and distribution – you just need to show up and talk.
The Rise25 podcasting solution is designed to help you build a profitable podcast. This requires a specific strategy, and we've got that down pat. We focus on making sure you have a direct path to ROI, which is the most important component. Plus, our podcast production company takes any heavy lifting of production and distribution off your plate.
We make distribution easy
We'll distribute each episode across more than 11 unique channels, including iTunes, Spotify, and Google Podcasts. We'll also create copy for each episode and promote your show across social media.
Cofounders Dr. Jeremy Weisz and John Corcoran credit podcasting as being the best thing they have ever done for their businesses. Podcasting connected them with the founders/CEOs of P90x, Atari, Einstein Bagels, Mattel, Rx Bars,  YPO, EO, Lending Tree, Freshdesk,  and many more.  
The relationships you form through podcasting run deep. Jeremy and John became business partners through podcasting. They have even gone on family vacations and attended weddings of guests who have been on the podcast.
Podcast production has a lot of moving parts and is a big commitment on our end; we only want to work with people who are committed to their business and to cultivating amazing relationships.
Are you considering launching a podcast to acquire partnerships, clients, and referrals? Would you like to work with a podcast agency that wants you to win? 
Contact us now at [email protected] or book a call at rise25.com/bookcall.
Rise25 Cofounders, Dr. Jeremy Weisz and John Corcoran, have been podcasting and advising about podcasting since 2008.
Episode Transcript
Chad Franzen 0:02
Welcome to the Smart Business Revolution Podcast where we feature top entrepreneurs, business leaders, and thought leaders, and ask them how they built key relationships to get where they are today. Now, let's get started with the show.
John Corcoran 0:19
Alright, welcome everyone, John Corcoran here and the host of this show. And for those of you who've listened before, you know a little bit about my background, I've got young kids, I got a four of them actually. And also an entrepreneur. And so that brings me to today's guest, who is Jim Shiels, and he is the Founder of 18 Summers, who also has a book by the same name. He talks and trains and does workshops on how entrepreneurs can be the best parent that they can be. And so we're going to talk deeply about that of course, if you've listened to my show before, you know that we interview smart CEOs, founders, and entrepreneurs of all kinds of companies, we've done Netflix, we've done Kinkos', YPO, EO, Activision Blizzard, LendingTree, and many more. We don't often get as deeply into the family and parenting topics as we will in this one. But that's why I'm so excited about this particular episode. 
And of course, this is brought to you by Rise25, where we help b2b businesses get clients referrals and strategic partnerships with done-for-you podcasts and content marketing. And you can go to our website at Rise25.com, to learn more about it. All right, Jim. Just wanted to say I'm so excited to talk to you. Because it's been a few years in the works. I've your name. without you knowing it has come in and out of my world, people mentioned you. And I'm super excited to talk to you about it. But first, let's start with it was 10 years ago, you were reading a tidbit that you read, you learned about Steve Jobs, the late founder of Apple, which kind of shook you to your core, and led you down a different path from where you've been going. Tell me about that one.
Jim Sheils 1:53
Yeah, it was a really powerful, simple article about a guy named Isaacson. He was being interviewed a few days after Steve Jobs passed away. And the article went like this. It said Steve Jobs spent his final days surrounded by close family and use the opportunity for final interviews to explain to his wife and children why wasn't always there for them. And then Jobs was quoted in the article of saying, I wanted my family to know who I was, I wasn't always there for them. And I wanted to explain why. And for them to understand. So you know, just reading this and you know, having five kids myself, you having four, you know, you can imagine the moment like that. And this guy Isaac's I don't know him, but he fired a really powerful question. And Steve Jobs right there. He said, Steve, are you glad you had a family? Are you glad you had kids? You know, pretty powerful question for quite arguably the most successful entrepreneur of all time. And Steve fired right back. And this is what he said. It was 10,000 times better than anything I've ever done. And, that stuck with me, because, you know, I had been watching I'm sure you remember, John, I've been watching the news when Steve passed away, you know, when I saw the giant murals, the candlelight vigils, and, you know, crazy stories of his great entrepreneurial adventures that inspired me, absolutely. But no one was really talking about this. And, you know, and I had like an instant awakening. And it was at a time in my life when I really needed to hear it, you know, because we all get wrapped up in with getting to that next benchmark, getting to that next level that they'll understand I'll get back to them, but someday never comes. You know, and at the time of reading that, that article, you know, I have a real estate investment company for 24 years, well, then I was still bringing it through the '08 meltdown, you know, we had the stitches on, so I was bringing it
John Corcoran 3:43
to that. And Levin says like, you know, the couple of years at that whole meltdown and
Jim Sheils 3:49
why but we had broken bones, you know, and so you're still healing those. I was in, the process of adopting my two oldest sons. And I had just been approved by the Mayo Clinic like a few days earlier to donate a kidney to my father. So I got hit with all of these points of critical John all at once. It just changed the way I viewed family. It just changed the way that I ran my businesses. And I became pretty determined to make sure that as I grew my businesses because I'm the last person to take away ambition. I'm very entrepreneurial, I would I couldn't do that to myself or you. But I want to see you be successful in business and at home. And the big the problem that I found was it seemed in order to understand things you almost had to have a master's degree in family psychology or that's what it's about. So I tried to start simple rhythms and strategies and share my own failures with other entrepreneurs. And that's what caught on the first road. I didn't want to write it down. I had no desire, it was uncomfortable. It shared parts of my life. I wasn't comfortable sharing, but I knew the simple principles I put together were working for my own family had to be shared. And that was the starting point.
John Corcoran 5:04
Yeah. And I want to talk about those rhythms and the board meetings that you talk about. But before we do, there's a couple of things, tidbits that you've dropped that, you know, kind of have shocked me, in the same way, that you got shaken by what you read about Steve Jobs. One is, that became the basis of the name of your company, which is 18 Summers, I'd love for you to explain what that means. For those who haven't heard that term before. And then the other one that I heard you say on some podcast interview was that 85, I think was 85% of the time they were going to spend with our kids ever happens before they're 18 before they leave, and that was just, like, shook. I just, you know, just really like the shocking to me like, wow, you know, once they go off, you don't you get a fraction of the amount of time with them. It does,
Jim Sheils 5:50
you know, and I was just speaking at an event in San Juan, Puerto Rico last week, and it was a grandfather who got up, he was doing this letters to my grandchildren, very successful entrepreneur, he quoted 91%, on the 18 Summers, everyone turned around and looked at me because I was speaking later that day. And I'm like, he's saying even higher than I'm saying, I don't know what study he got, that I showed was, yeah, the average person will spend about 85% of the time they ever have with their child by the end of the 18th summer. And when you really start to think about you stop and think that makes a lot of sense. Because you know, your five-year-olds with you all the time, your seven-year-old, 18-year-old then once they're 21 in there in their career, they're going off, they're at college, it diminishes. So that's for the average person. And I became, I don't want to say obsessed, but really focused on saying, Well, how can we make the most of those first 18 summers, and then make them want to come back for more? So and if you're intentional, I don't think any entrepreneurs average we're just we're not built for average. So the average person has spent 85%, and only 15% of the time left, right. But what if we can extend that to 2025 30 35%? More time with them? I believe we can do that. I think the key though, is those first 18 summers, because if you do those first 18. Right. That's, that's one of the most rewarding, and one of the biggest guarantees, I think, for family longevity. So that's why we named it 18 Summers because of that, that quote and it was a mentor of mine who said, Jim, just remember, you got 18 summers, they're not all created equal. Make the most of those first 18 summers, take hold of them make the memories, and you won't regret it.
John Corcoran 7:22
And then use them as your devil's advocate question. Why the focus on the summer? Why not focus on year-round?
Jim Sheils 7:29
I think it's a seasonal thing. And I've had friends say why like winter the best you know, I'm a warm weather wimp. So summer. I'm attracted to that. Yeah, I think it's just the thing when everything slows down a little bit more. You know, everything is just kids out of school. You know, it's been vacation time. So summer just has some sort of golden aura around it, I guess. So that's why it's 18 summers, but you could do it to anything. Maybe you're like, gosh, Jim, I really love Thanksgiving, or I love Christmas. Well, you got nine more Christmases with your kid? Wait, what? That doesn't even make sense. You know, it doesn't seem right when you start to do that simple math. So it's really just, it's something to give you focus. That's why I think was something that's year-round. 
John Corcoran 8:16
Even if you say you have three more years with your kid or four more years with your kid, it's a year, it's kind of a bigger concept, the idea of the summer kind of limits it. So let's talk about the board meetings idea, which is different from the idea of doing a family meeting, which some are advocates of maybe you can kind of distinguish the difference between, you know, a family meeting idea and what a board meeting idea is, and why you recommend people doing that.
Jim Sheils 8:44
Yeah, so I love family meetings, we aim to host one every Sunday for a short time with our range of kids. And that's everyone together. And you know, I think it's a powerful rhythm. And you've seen in my book, John, and probably talks, I believe in rhythms. You know, in business I've seen you've had Werner Ornish on there, as Werner taught me this priority data and rhythms that were the Rockefeller way. Data rhythms, you said, are a few powerful rhythms in your business that can help hold it together. You said a few powerful rhythms in your family life, same thing, but we're not really focused on doing that. And so the rhythm that I created was to focus on that parent-child relationship, especially for the busy entrepreneur, and to tie into principles that could support it. So family meetings, everyone together. This is not about everyone together. In fact, the advice that I give when I say if you guys don't listen to anything else, and you check out that's fine, but hear this before you do. Separate the parts to strengthen the whole if you want to have that deeper, more connected family life, separate the parts to strengthen the whole and get one on one. And really that was the whole basis of my rhythm getting scheduled one on one time with each member in your family.
John Corcoran 9:57
Yeah, and to Talk to me about what it should look like do you do whatever the kid wants to do? If the kid wants to do the gaming? Do you sit there and watch the game? You know, if they want to go off and spend 300 bucks to visit an amusement park? Did you do that? Or do you say, Okay, we'll do that one time of the year? And what's the frequency? What are your recommendations on all these things? 
Jim Sheils 10:18
Yeah, so here it is. So so we know that you know, for your own company, or for mine, we might have a board meeting every quarter, right? A board meeting is, you know, reuniting the team and looking ahead to the next 90 days. So over 10 years ago, I started with my sons when I adopted them at seven and five, here I am running this busy business, I'm an instant Father, and I've adopted two young sons with my wife. And I said, if I can do this with my most important key team members and investors, I can do this with my children. So every quarter, I would take at least a half day to spend with each of them. And there are only three principles that hold it together, John, it's one on one without electronics. And then fun activities that focus on reflection and I can go over each of these, you know, the one on one is self-explanatory. You know, it is not you and your wife and your daughter. It's not that you and them and their friend, it is one on one, we're gonna put the magnifying glass on that relationship in a positive way just by itself, there's out distraction, sibling rivalry, golden. The second thing that goes on top of that is intermittent tech fasting. That's a coin that we turn. Now we all know about intermittent fasting is good for your health. Oregon revitalization. You're not giving a beating, but you're disciplining yourself to eat between this time and this time. I say the same thing without electronics, this isn't a tech-fast period of time, we don't realize how much these little button knobs get in our way of actual connection, actual conversation. You know, you take that one email, that one word, text, you're not there, you're not present. And we don't realize how unpleasant we are for our family. So we make sure that we're out. And then the last thing is just to let them pick the day. And you know, sometimes it might be something more expensive, John, but you'd be surprised most of my things have cost under $20 When the kids have been planning, especially at young ages. So we let them plan the day and go all in. And the key is at the end of that day, the guard is now everyone's decompressed, maybe sit and spend some time talking, maybe an overdue apology, an overdue compliment that we thought we gave, but we never did, when that's it. And these were my magic markers to build a relationship with each of my children every quarter for the last 10-plus years.