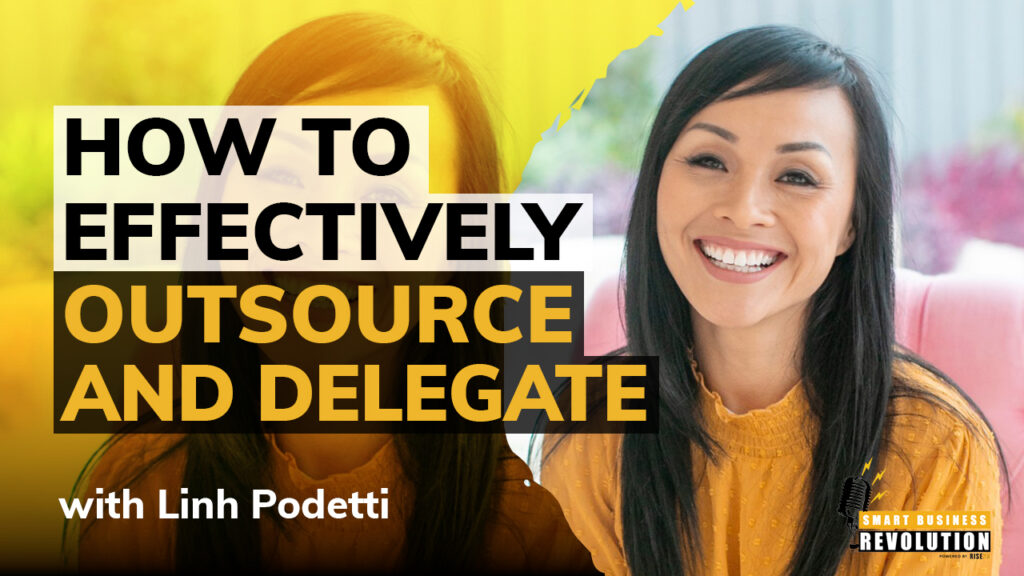 Linh Podetti is an entrepreneur and the Founder and Director of Outsourcing Angel, a company that provides virtual assistants and offshore staffing solutions. Based in Australia, Linh helps businesses reduce operating costs and increase efficiency by connecting them with virtual assistants from the Philippines. Outsourcing Angel also supports its clients by helping them build systems and workflows to scale their operations. Linh is a member of the Entrepreneurs' Organization (EO), Sydney chapter. 
In this episode of the Smart Business Revolution Podcast, John Corcoran is joined by Linh Podetti, the Founder and Director of Outsourcing Angel, to discuss outsourcing strategies. They also talk about the benefits of content creation and delegating, how Outsourcing Angel gives back to the community, and how Linh helps her clients with automations.
Here's a Glimpse of What You'll Hear:
[01:50] Linh Podetti's background and how she became an entrepreneur
[05:02] The challenges Linh faced building a nail polish business
[08:12] How to effectively outsource
[10:35] The business lessons Linh learned from her immigrant parents
[14:30] How Outsourcing Angel gives back to the community 
[17:44] Linh discusses the value of content creation and the benefits of outsourcing 
[23:00] Why Linh helps clients build automations
[25:55] What does being semi-retired look like for Linh?
[29:08] The peers Linh acknowledges for their support
Resources Mentioned In This Episode
Sponsor: Rise25
At Rise25, we're committed to helping you connect with your Dream 100 referral partners, clients, and strategic partners through our done-for-you podcast solution. 
We're a professional podcast production agency that makes creating a podcast effortless. Since 2009, our proven system has helped thousands of B2B businesses build strong relationships with referral partners, clients, and audiences without doing the hard work.
What do you need to start a podcast?
When you use our proven system, all you need is an idea and a voice. We handle the strategy, production, and distribution – you just need to show up and talk.
The Rise25 podcasting solution is designed to help you build a profitable podcast. This requires a specific strategy, and we've got that down pat. We focus on making sure you have a direct path to ROI, which is the most important component. Plus, our podcast production company takes any heavy lifting of production and distribution off your plate.
We make distribution easy
We'll distribute each episode across more than 11 unique channels, including iTunes, Spotify, and Google Podcasts. We'll also create copy for each episode and promote your show across social media.
Cofounders Dr. Jeremy Weisz and John Corcoran credit podcasting as being the best thing they have ever done for their businesses. Podcasting connected them with the founders/CEOs of P90x, Atari, Einstein Bagels, Mattel, Rx Bars,  YPO, EO, Lending Tree, Freshdesk,  and many more.  
The relationships you form through podcasting run deep. Jeremy and John became business partners through podcasting. They have even gone on family vacations and attended weddings of guests who have been on the podcast.
Podcast production has a lot of moving parts and is a big commitment on our end; we only want to work with people who are committed to their business and to cultivating amazing relationships.
Are you considering launching a podcast to acquire partnerships, clients, and referrals? Would you like to work with a podcast agency that wants you to win? 
Contact us now at [email protected] or book a call at rise25.com/bookcall.
Rise25 Cofounders, Dr. Jeremy Weisz and John Corcoran, have been podcasting and advising about podcasting since 2008.
Episode Transcript
John Corcoran 0:00
All right, today we're talking about outsourcing, how to delegate, how to automate, how to hire virtual assistants, which so many people struggle with how to bring in outside team members, get things off your plate. My guest today is Linh Podetti. She's an expert in all these topics. I'll tell you more about it in a second. So stay tuned.
Intro 0:20
Welcome to the Smart Business Revolution Podcast where we feature top entrepreneurs, business leaders and thought leaders and ask them how they built the relationships to get where they are today. Now, let's get started with the show.
John Corcoran 0:37
All right, welcome everyone. John Corcoran here. I'm the host of this show. You know, if you've listened before, we get to interview smart CEOs, founders, and entrepreneurs of all kinds of companies ranging from Netflix to Kinkos, YPO, EO, Activision Blizzard, and LendingTree. Check out the archives; lots of great interviews there. And of course, this episode is brought to you by Rise25, where we help B2B businesses get clients, referrals, and strategic partnerships with done-for-you podcasts and content marketing. You can learn all about it by googling us or going to rise25.com, where you can learn all about it. 
And I'm so excited here today to have Linh Podetti. You know, Linh is an entrepreneur and the founder of Outsourcing Angel. It's a company that specializes in providing virtual assistants and offshore staffing solutions. She's based in Australia. And she's got a business that connects businesses with virtual assistants from countries like the Philippines, helping to reduce their costs and increase their efficiency. And she started that business after starting an e-commerce business in 2000. Now in 2009, she started from scratch and then used a lot of outsourcing to build up that business, which is where she really found her passion. And also raised three kids while running multiple businesses. So I can't wait to find out the secrets of how she does it. But Linh, first, let's start with your upbringing. So first of all, you're based in Australia, now you're born in Vietnam, and your family came from Vietnam. And I love hearing about little entrepreneurial side hustles that people have as a kid. So did you have any of those sorts of things?
Linh Podetti 2:07
Yeah, first of all, thank you so much for having me here. And I'd really love that we connect regardless of our borders. You know, I'm from Sydney, and you're in Washington, is it?
John Corcoran 2:15
I'm in San Francisco, San Francisco. 
Linh Podetti 2:18
Okay, we will talk about what I did before I got mixed up. But yeah, I have been, I was born in Vietnam, lived in poverty, I would say. And I think that's my connection to the Philippines. When I work with them, I kind of feel and relate and resonate with them. But I grew up, and I was fortunate to move to Melbourne, Australia. So it's a different city in Australia. But 12 years ago, my husband found me on YouTube and invited me for a business meeting. And then I moved to Sydney and got married. And we had two kids after that. And so, so yeah, I have been, you know, multiple places. But uh, yeah, growing up in Vietnam, I grew up with really, really strict parents. This really helped but made me rebel as well. And I ended up having a kid early. So one of my, one of my three kids is actually 20 years old now. So I really learned to be a young mum early. And I think that was the reason why I was motivated to start my own business. Because when you're in your 20s, and you're having to juggle work and kids, you're like, hang on, I need something more flexible here. And that was when I discovered online marketing online business. And I really wanted to look into that.
John Corcoran 3:26
And so the first business you started into being one you weren't passionate about at all nail polish. So you didn't care about nail polish? How did you end up starting a nail polish business?
Linh Podetti 3:37
Yeah, so I just went through the journey as everyone else; went to school duty, got a grad job, and worked in a really good, stable company. And I was, you know, very soon later, I got bored. And I was like, You know what else is out there. And when you don't know what you don't know, like, I didn't have entrepreneurs in my family. I never really met any business people I was surrounded by. So I just could not see any opportunities. I just started looking around and reading things. But the first opportunity that came up was a friend who had a beauty supply business, and he was selling nail polish and all these different things. And when he gave me some samples to try, I was like, Oh, this is actually really good products. Where do you get it from? He's like, Australian made, how much you buy it for $1 Oh my god, if I could sell it for $15, maybe I can make money. And so, why did I start nail polish? It was my first thing, and one thing about me is I'm not afraid to just take the leap; whatever, you know, pops up, I take that opportunity. And I started did I have any mentors asking me at that time like, hey, you know why choose now Paul is what's your passion? If they did, I would have been on a different journey. But there wasn't anyone like that there. You know. And so I just went ahead and I was very ignorant. I was thinking, well, if only 1 million women around the world when we have 7 billion people out there buy my nail polish. I could be a millionaire really, you know, really in a really short time. So I was just very delusional like that.
John Corcoran 4:59
Yeah. Yeah, we've we've all been there. And what were some of the challenges in the early days of running this business? You're I assume you're doing it on the side while working the business during the day and raising kids.
Linh Podetti 5:11
Yeah. So I had one son at the time, and I worked in my corporate job nine to five. And I was just yeah, pretty much starting on the side. And, you know, I didn't realize it was a hazardous material as well, you. But I have my spare bedroom with all these products. Even though I was looking for an online business opportunity, I quickly realized that when I was shipping, I had to put it together and ship it out. And it was not really online, flexible as I thought it was. But you know, a few months into starting that business, the HR people at my corporate job actually went to chat with me and said, hey, we've noticed that you've been, you know, emailing, spending time at work working on this side business, hey, they were actually impressed. I said, bravo to you, it looks really amazing. But they gave me a choice. They said, "You got to stop doing what you're doing to stay, or, you know, we can't accept this." And that was my kind of turning point. I said, Oh, my God, listen, this is what you need to do. Because if I wasn't faced with that decision, I would have just dragged my feet on one side and one foot on the other side because it's like, it's, it's too scary to just jump dump the ship, especially when I haven't really made much money in this new business yet. But at the same time, I was asking myself, if I'm only spending a couple hours a day on this business, how would I ever make it work? You know, if I had more time into this, and if my back was against the wall, I reckon I could make this work. And so I think I use that opportunity to go, Alright, I'm going, you know, thank you, I'm sorry for starting a business on the side. But um, I'm gonna leave. And that was me, you know, fully went into this business, without any money. Really just hustling? 
John Corcoran 6:49
And was it generating enough revenue at this point to support you, and when you made this leap?
Linh Podetti 6:55
Yeah. And so at the time, I was a single mom, so I had some child support, not so not child support. But my ex, I haven't really had a relationship with my ex, it wasn't Charles, but it was a sorry, our social security or, or it's called Centrelink in Australia. So he had a little bit there, not much better, because, at the time, I was dating a guy, so it helped with rent a little bit. And there was a period where I decided, I don't want to go back to a job, I'm just going to go back and live with my mum, you know. And so what I realized is that, if you really want something enough, you just make it happen. I really wanted this business, I don't want to go back to a job, I'm just going to figure out how I was going to do this. And eventually, you know, it, it made some money, but not enough. However within a year, I realized that I wasn't passionate about this nail polish, I was still networking and just figuring out what I want to do next. And I stumbled across an opportunity to start a marketing agency because I had all this knowledge in the eCommerce space. And these people didn't know how to find people to do marketing work. They said I'll pay you. And so I quickly able to start a marketing agency kind of like didn't intend to. And that business, I think the first year was over 100 grand or the second year was 200 grand, thanks to the power of kind of sourcing having a team.
John Corcoran 8:13
And so tell us about how you kind of discovered how to outsource and discovered how to hire a team because that is a big pain point for a lot of business owners. And it takes them a while to realize it and to figure out how to do it, right?
Linh Podetti 8:26
Yeah, so I didn't know about outsourcing at all, I actually went through with Australian providers, you know, try to get a website done. And I got burnt. Basically, they spent three or four grand for a website. At the end. They're like, you know, this website belongs to us unless you keep paying the maintenance fee. It's not really yours. And I felt really ripped off. And I felt, you know, like, wow, even though you're using an Australian company you found on the first page of Google doesn't mean that you can outsource to the right provider, identifying that website away. And with limited funds. I was searching for more help. And that's when I came across overseas outsourcing. First, thinking, wow, amazing. All these people can do it really cheaply. And you know, there are so many options to choose from. But I also quickly got burned by people as well. It was like, I can do it cheap. I can do it fast and also got scammed. Through that experience. I learned that you need to know what you're doing and outsourcing. And it took, you know, practice and practice. But you know, when you have limited funds, really there's no choice to outsource to another Australian again. So I kind of was like, I just got to make this work. And so I learned how to use the system called oDesk at the time or is now Upwork it's really about okay, how do I now look at the reviews? How do I test their ability, how do I interview, and the more you do it, the more you kind of know how to spot the good from the bad. And then when you interview enough contractors, you've almost got a bunch of great people that you can access. You know, there's your support team So that was how I was able to build a team behind my marketing agency. And a few years later, I was like, You know what, I'm actually just really the middleman trying to map you know, trying to, because I wasn't a web developer, I wasn't a marketing. I didn't study marketing. And I'm like, I'm really just a project manager. And so if I could pivot my business to something where I'll help you find these people, instead of you having to make all the mistakes that I did, and you know, be able to just go, this is who I want, I find them for them. And that's how Outsourcing Angel was born officially in 2015.