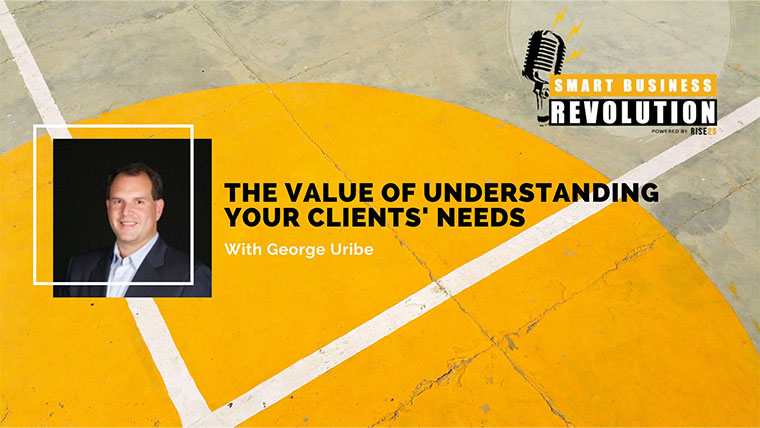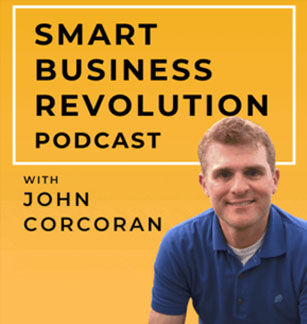 George Uribe is the President and CEO of GuestBooker, a media services company based out of Nashville that books people on TV and radio programs. George was a producer and booker at CNN, MSNBC, and Fox News Channel before quitting to start his own company. GuestBooker has now been in operation for 16 years. 
George has been a member of Entrepreneurs' Organization (EO) for 12 years and was a Co-chair for Learning, Chair of the Social Committee during the pandemic, and currently serves as the first Diversity Chair for the EO Chapter in Nashville. 
George Uribe, the President and CEO of GuestBooker, joins John Corcoran in this episode of the Smart Business Revolution Podcast to talk about his work and the value of understanding clients' needs. George also explains why he enjoys connecting people and how he has been serving other leaders at EO.
Here's a Glimpse of What You'll Hear:
George Uribe explains what his company, GuestBooker, does
The types of clients George serves and how his company has been impacted by the growth of different media platforms
George talks about his involvement in Entrepreneurs' Organization (EO) — and why he loves connecting people
George's advice to entrepreneurs on attending Global Leadership Conference (GLC) events
Where to learn more about GuestBooker
Resources Mentioned In This Episode
Sponsor: Rise25
At Rise25, we're committed to helping you connect with your Dream 100 referral partners, clients, and strategic partners through our done-for-you podcast solution. 
We're a professional podcast production agency that makes creating a podcast effortless. Since 2009, our proven system has helped thousands of B2B businesses build strong relationships with referral partners, clients, and audiences without doing the hard work.
What do you need to start a podcast?
When you use our proven system, all you need is an idea and a voice. We handle the strategy, production, and distribution – you just need to show up and talk.
The Rise25 podcasting solution is designed to help you build a profitable podcast. This requires a specific strategy, and we've got that down pat. We focus on making sure you have a direct path to ROI, which is the most important component. Plus, our podcast production company takes any heavy lifting of production and distribution off your plate.
We make distribution easy
We'll distribute each episode across more than 11 unique channels, including iTunes, Spotify, and Google Podcasts. We'll also create copy for each episode and promote your show across social media.
Cofounders Dr. Jeremy Weisz and John Corcoran credit podcasting as being the best thing they have ever done for their businesses. Podcasting connected them with the founders/CEOs of P90x, Atari, Einstein Bagels, Mattel, Rx Bars,  YPO, EO, Lending Tree, Freshdesk,  and many more.  
The relationships you form through podcasting run deep. Jeremy and John became business partners through podcasting. They have even gone on family vacations and attended weddings of guests who have been on the podcast.
Podcast production has a lot of moving parts and is a big commitment on our end; we only want to work with people who are committed to their business and to cultivating amazing relationships.
Are you considering launching a podcast to acquire partnerships, clients, and referrals? Would you like to work with a podcast agency that wants you to win? 
Contact us now at [email protected] or book a call at rise25.com/bookcall.
Rise25 Cofounders, Dr. Jeremy Weisz and John Corcoran, have been podcasting and advising about podcasting since 2008.
Episode Transcript
Intro 0:00
Welcome to the revolution, the Smart Business Revolution Podcast where we ask today's most successful entrepreneurs to share the tools and strategies they use to build relationships and connections to grow their revenue. Now, your host for the revolution, John Corcoran.
John Corcoran 0:40
Hey everybody, this is John Corcoran with Dr. Jeremy Weisz. And this episode is a little bit different. This is a live interview that we recorded at the Global Leadership Conference from Entrepreneurs' Organization, where some of the best entrepreneurs from around the globe gathered in Washington DC, to share ideas and to learn about entrepreneurship. And of course, this episode is brought to you by Rise25, where we help b2b businesses to give to and to connect to their dream 100 relationships and partnerships, helping you to run a podcast so that it generates a referral pipeline and ROI.
Jeremy Weisz 1:14
Yeah, I mean, John, after both of us have been podcasting for over a decade, the number one thing in our life is relationships. And we're always looking at ways to give to our best relationships. And we found no better way to do that over the past decade than to profile the people in companies we admire and shout from the rooftops what they're working on. And this interview is no different. So if you've thought about podcasting, you should go to rise25.com to learn more, or email us at [email protected].
John Corcoran 1:41
Thanks, everyone. Enjoy the interview.
Jeremy Weisz 1:43
Enjoy.
John Corcoran 1:58
John Corcoran here. We're live at Global Leadership Conference from EO Entrepreneurs Organization, and I'm here with Georgia Uribe. He's got a media services company based out of Nashville. And tell us a bit about what you do.
George Uribe 2:09
Yeah, so we book people on TV programs. And when I worked in television, I was a booker, which means that I would find the guests for the television program. And I got a great idea. And I quit my job. And I decided to start a guest booking business. So we're unique to the marketplace. We find guests for television programs. But our strategy is always what's best for the show. You never want to do whatever you care about, because you that won't last that long. So we're 16 years now as a company. And we always start with what's best for the show. And we find the guests that they need.
John Corcoran 2:40
That's great. And so tell me we were talking beforehand about some of your clients, like our media companies that actually want to get that cross promotion across different channels across television, maybe they are in print. So talk about that.
George Uribe 2:52
Yeah, so we represented McClatchy for a number of years, which includes a number of the newspapers, Miami Herald Sacramento, bee, so on. And what they do is they're journalists first and foremost. So when there's a hot topic in the news, a lot of times you'll need a guest. And sometimes you just want a journalist to comment on the news of the day. So we helped book them on TV, but also cross promote their brands with each appearance. We did it for Reuters BusinessWeek, a number of other news organizations, but at the end of the day, what you really need to do is need to have something to say on TV and have the credentials to say it and we help vet that as well as book it.
John Corcoran 3:28
So you've been in business for 16 years, lots of changes in the media landscape across that period of time with the emergence of YouTube online video, different mediums up, like, how has that affected things or change things, if at all, for your company?
George Uribe 3:41
Yeah, well, you know, we book on all fronts. So there's cable TV, there's network morning shows, and there's syndicated TV, and the difference is cable TV, they want a topic. So think about a topic, you know, Ukraine, immigration, healthcare, whatever it is, they want to topic to discuss morning shows, they want a story to tell. So they'll want the person behind the story, right. And then syndicated shows, they want a wow factor that involves audience engagement, or, you know, audience participation somehow. So we work on all fronts, and then there's local TV, which they of course, they want some relevance to their local community. So what I always say is we engage on all fronts, and it just depends on what the client needs. And at the end of the day, what we do is we limit our scope to just booking the guest on the program. There are other people, we're not a PR firm, so public relations firms, they might have an account wrap and they might engage on multiple fronts. But at GuestBooker, what we do is we simply secure the booking of the guests and present it to the show, and they take it from there.
John Corcoran 4:43