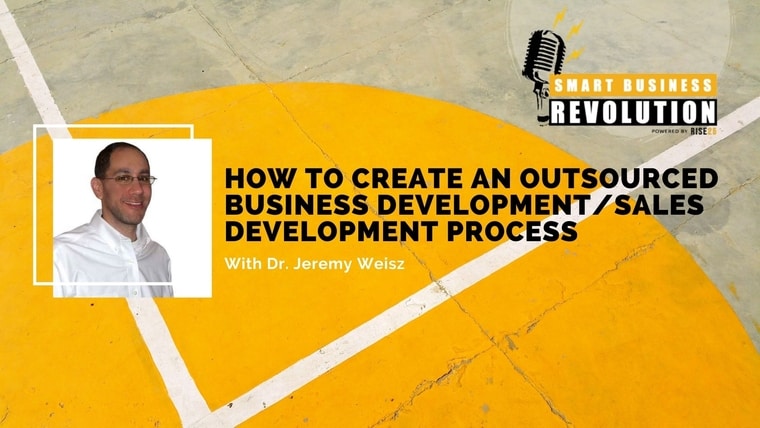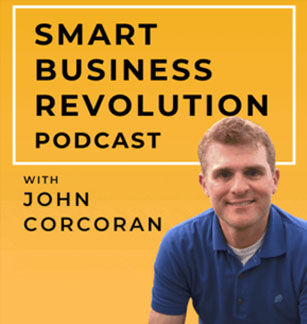 Dr. Jeremy Weisz is the Co-founder of Rise25, a company that helps B2B business owners connect with their ideal prospects, referral partners, and strategic partners through a done-for-you podcast service. Dr. Weisz has been involved in podcasting for 11 years and was a senior producer for one of the early business podcasts; he assisted in putting all of their systems in place and helped them add volume, feature, and edify various business leaders.
Dr. Weisz has also been running his own podcast, Inspired Insider, since 2011. He has featured top entrepreneurs, founders, and CEOs of companies such as P90X, Atari, Einstein Bagels, Mattel, the Orlando Magic, and many more through video interviews. Dr. Weisz also founded a nutritional supplement business and continues to run his own chiropractic and massage facility, Chiropractical Solutions & Massage.
In this episode of the Smart Business Revolution Podcast, John Corcoran is joined by Dr. Jeremy Weisz, his Co-founder at Rise25, to talk about creating an outsourced business development process. They explain the importance of having a target list, creating the right outreach message, and the right tools and procedures for delivering messages. Stay tuned.
Here's a Glimpse of What You'll Hear:
Dr. Jeremy Weisz explains what it means to get leads through a give rather than an ask
The benefits of using different content marketing tools and the importance of copywriting in creating outreach messages
Dr. Weisz and John talk about having a target list, creating the right outreach messages, and the right tools and software for doing outreach
The right way to conduct a pre-interview conversation and the actual interview with a guest
Dr. Weisz's advice on following up after an interview
Resources Mentioned In This Episode
Sponsor: Rise25
At Rise25, we're committed to helping you connect with your Dream 100 referral partners, clients, and strategic partners through our done-for-you podcast solution. 
We're a professional podcast production agency that makes creating a podcast effortless. Since 2009, our proven system has helped thousands of B2B businesses build strong relationships with referral partners, clients, and audiences without doing the hard work.
What do you need to start a podcast?
When you use our proven system, all you need is an idea and a voice. We handle the strategy, production, and distribution – you just need to show up and talk.
The Rise25 podcasting solution is designed to help you build a profitable podcast. This requires a specific strategy, and we've got that down pat. We focus on making sure you have a direct path to ROI, which is the most important component. Plus, our podcast production company takes any heavy lifting of production and distribution off your plate.
We make distribution easy
We'll distribute each episode across more than 11 unique channels, including iTunes, Spotify, and Google Podcasts. We'll also create copy for each episode and promote your show across social media.
Cofounders Dr. Jeremy Weisz and John Corcoran credit podcasting as being the best thing they have ever done for their businesses. Podcasting connected them with the founders/CEOs of P90x, Atari, Einstein Bagels, Mattel, Rx Bars,  YPO, EO, Lending Tree, Freshdesk,  and many more.  
The relationships you form through podcasting run deep. Jeremy and John became business partners through podcasting. They have even gone on family vacations and attended weddings of guests who have been on the podcast.
Podcast production has a lot of moving parts and is a big commitment on our end; we only want to work with people who are committed to their business and to cultivating amazing relationships.
Are you considering launching a podcast to acquire partnerships, clients, and referrals? Would you like to work with a podcast agency that wants you to win? 
Contact us now at [email protected] or book a call at rise25.com/bookcall.
Rise25 Cofounders, Dr. Jeremy Weisz and John Corcoran, have been podcasting and advising about podcasting since 2008.
Episode Transcript
Intro 0:01
Welcome to the revolution, the Smart Business Revolution Podcast, where we ask today's most successful entrepreneurs to share the tools and strategies they use to build relationships and connections to grow their revenue. Now, your host for the revolution, John Corcoran.
John Corcoran 0:40
All right, welcome, everyone. John Corcoran here. I am the host of this live episode, also the host of Smart Business Revolution Podcast and I'm here with my friend and business partner, Dr. Jeremy Weisz. Dr. Weisz, how are you?
Jeremy Weisz 0:52
I'm excited. This is one of my favorite topics of all time, so I can't wait to dig into it.
John Corcoran 0:57
Yes, absolutely. And go check out some of my past podcast episodes. Check out some of Jeremy's past podcasts. So we've got some great episodes up there in the archives. I've had founders or CEOs of Netflix, Kinkos', YPO, EO, Activision Blizzard, LendingTree. Jeremy? P90x, Orlando Magic. Few others, Einstein Bagels. Who else picks our pick? Sorry. 
Jeremy Weisz 1:21
Yeah, some amazing founders. Smart Business Revolution for John and Inspired Insider for me.
John Corcoran 1:25
And of course, we are also the co-founders of Rise25, where we help connect b2b business owners to their ideal prospects and this live episode we're going to be talking about how to set up for success and outsource business development and sales rep process. And so we're going to dive into that a moment. First, before we do that, I want to give a couple of shout outs. A quick to David Nilssen. He's the co-founder of Doxa7. They do outsource borderless talent. Great guy, was just on the call with him earlier this week. If you have any needs for filling staffing needs, and who doesn't these days, go check him out. And then Jeremy, anyone you want to give a shout out for?
Jeremy Weisz 2:06
Yeah, I always like the episode I did with Nick Araco, it was fantastic. And he's got an amazing network of CHRO pros. And you know, people in the executive space all over the country, some of the biggest executives all over North America, check that episode out. CFOs as well. Yeah, CFOs, CHROs. And Todd Taskey. You know, talks about selling businesses and some of the pitfalls because he helps people, especially specifically agency sell their business.
John Corcoran 2:37
Yeah, Potomac Business, tackle capitals, his business, if you have an agency you're thinking about selling, go check them out. And of course, this episode is brought to you by Rise25, where we help b2b businesses to get their clients referrals and strategic partnerships. We've done few podcasts and content marketing, you can go to Rise25media.com or email us at support@rise25media to learn more about that. But let's dive into this topic, Jeremy. So yes, there's a lot of companies that struggle with this idea of creating an outsourced business development process. Or maybe they have some biz dev reps since in house that are struggling to get good quality leads in the door. And so we thought that this edition, you know, 
Jeremy Weisz 3:18
A sales development rep and sales development process as well,
John Corcoran 3:23
Right. And so what we want to talk about here is kind of two pieces. One is how to set up the rep for success. And two, how to set up the process for success. And first, it boils down to, you know, a lot of people do is they lead with an ask, you're asking others to give you their time, you're asking for them to be inconvenience to basically show up for what a lot of people realize is a sales pitch, you know, and so I think that's why a lot of people don't get high quality people high quality leads coming in the door. So what we say is better is to lead with a give, it will actually save you time. So talk about that, Jeremy the difference between leading with a give rather than an ask?
Jeremy Weisz 4:03
Yeah, I mean, it's just again, increases your percentage. And leading with if you leave with an athlete, obviously, maybe like 100 people you contact, maybe there's one that happens to be in the market, again, when we're talking about cold emailing or cold contacting people, very small percentage, and we all get those messages. I mean, I get numbers of them a day with they're just, it's all about their services. And maybe if I happen to be in the market for that, but usually I'll ask a friend for a referral or someone they trust anyways. So if you lead with a gift, like how do you get like when John and I think about reaching out? How do you reach out in a giving fashion so that it's a value to that person? So not about us, but about them and how we can serve what they're working on? Right? Right.
John Corcoran 4:51
And some people might just ask a really broad question like how can I help which sometimes isn't all that helpful? It might seem at first valued like it would be helpful. But if you aren't sure, or you haven't talked with someone ever before, or in a long time, it can come out of right field, it's, you know, you're not sure how to handle that kind of conversation. So it doesn't end up working out that well. But you know, we believe in combining content marketing with relationship building, and content marketing, you may not believe it, but it is a give. When you give someone exposure by creating some content, you are actually giving value to them, even if you don't have a tremendous following, or audience or exposure, all that kind of stuff. So there are different flavors of content marketing there. And we've done it all books, articles, video series, podcasts, there's more and more digital tools available to us today. So let's talk about some of the different pros and cons of those different tools.
Jeremy Weisz 5:48
Yeah, I mean, again, like you said, it's featuring them and profiling them. And you've been featured in books you were featured in Dorie Clark book, and when you were featured in that book, and it came out, guess what jumped to the top of our list to do even though we had so much other things to do, was promoting that book that you're in? Yeah, um, the article, video series pockets. Obviously, we're a big proponent of the podcast, we've been doing it for over a decade and helping others do it for over a decade. And it's because it combines all of those pieces. And it's continuous. It's ongoing. And, John, I mean, you wrote for the White House, you wrote, or speechwriter for the governor of California, if you asked me to write an article, I would have gotten one out in the past 10 years, but I can talk to people and I can't have a conversation. So I find it a 30 minute conversation. I can do two to three episodes a week. And obviously, you know, we have a team that actually write the post and everything. But I can do that and get two to three blog posts up. When we think of podcasts. We also it gets repurposed as a blog post that goes on all the podcast channels, it can go a video on YouTube, it goes across, you know, 15 to 20 different channels. So I can I can have a conversation.
John Corcoran 7:11
So when you evaluate these different tools, a book and article, a video series of podcasts, you know, we've done all of them, what we found is that a lot of them are just required too much complexity, like a book could take six months could take a year to come out. So after the course of a year, I mean, books are great. But over the course of a year, finally, then, you know, you get that exposure, you give that exposure to the people who are featured in the book, The 10, or 20 people or whatever, it just takes too long. Yeah.
Jeremy Weisz 7:43
And you've done articles, I mean, you wrote for Forbes and entrepreneur. And again, like I think there's a situation of an and not an order. So like you can combine all of these sure into one but but if you're looking at, you know, maybe the there's a spectrum of complex to some right.
John Corcoran 8:00
And then the other one is like some kind of YouTube show or video series or something like that. We're not fans of putting all your eggs in one basket. If one tech company controls your future and can shut down your channel, that's not a good thing. So we do have YouTube channels, we put content on YouTube all the time. But I would never want that to be the one thing that you have just because it's putting all your eggs in one basket. So that's content marketing, obviously, we're big fans of using the podcast because of the number of relationships you can build over the course of time. It's just really efficient use of your time. And then the other thing that matters when it comes to this process of using content marketing, to build relationships is how you message it. And you have to have a really well written copy written message that gets a result. And Jerry, you have devoted 1000s of hours to studying copywriting talking to some of the best copywriting of the 21st century 20th and 21st century. And in breaking down in even done like six figure training programs that you've attended, where you studied this sort of thing. So talk a little about the importance of copywriting.
Jeremy Weisz 9:02
Yeah, I mean, when we're doing again, with the outreach message, whether it's on LinkedIn, whether it's an email, whether it's wherever it's going text message, you know, those elements a good copywritten message one is about them. There's a give there also, there has to be some kind of social proof there. So it's a copywriting one on one, right? And people will write you know, it's one of the formulas as many formulas but Ada, right attention, interest, desire action, what is that they have those components in there? There has to be some social proof and all those elements for it to be successful and it come across as something that they're going to respond to, right the goal of a message is to get a response or get that whatever action you want them to take. Right? Yeah, so all of that has to be created to have that come true.
John Corcoran 9:57
Right? Or else they they're not gonna take any Any action and good, I was
Jeremy Weisz 10:03
gonna say, you know, a lot of things can go wrong when we, when we zoom out a little bit right of this whole business development sales development process, there's a lot of things that can go wrong. So I think we're gonna touch on a few of these things, which is, and it's similar to copywriting and sending out whether it's direct mail or email or text Bill, you have to have the right targeted list, you have to have the right message to that list, you have the right tools and software to deliver those messages, you have to have the right offer, you have to have the right way of conducting a conversation with that person. And the right way, if it's a podcast specifically for give right way of conducting an actual interview, and then a key is even if you do all those right, John, you know what I'm gonna say next, you don't have the right way of following up or don't follow up. All is all could be lost.
John Corcoran 11:03
Yeah. So all those pieces are critical. Let's start at the top. So first of all right target list. Talk about the importance of that, because you know, a lot of people spray and pray, are they targets wrong? People talk about that.
Jeremy Weisz 11:15
Yeah. And I forgot there's some Gary Halbert quote, and I apologize bond, who's his son, if I'm gonna butcher it, but you know, the one thing he wants out of everything is a starving crowd, right? So if you have the right list, or you're in the right place, you want that right list, right? These people starving or you know, for your product or service, or it's a good compliment, right.