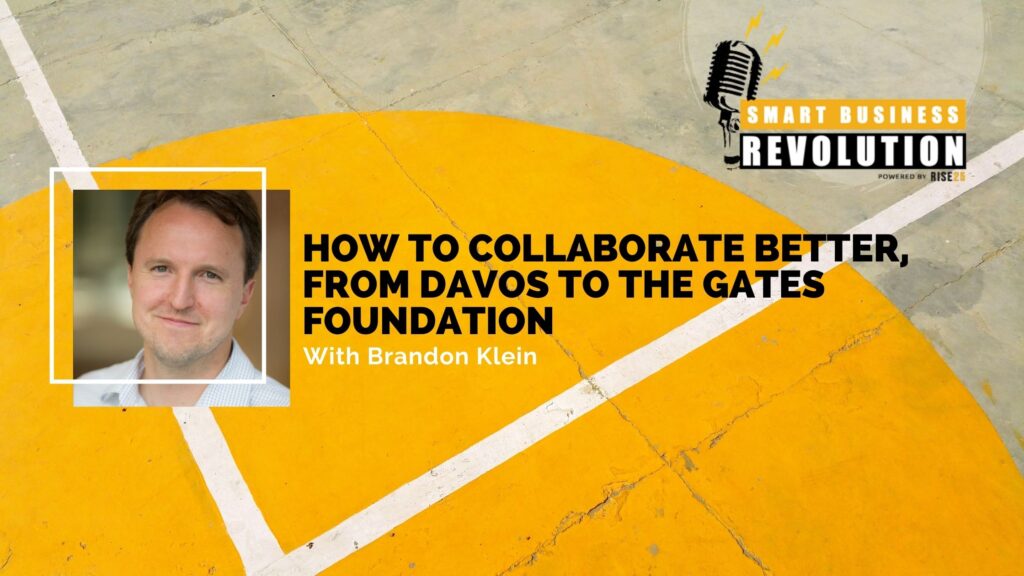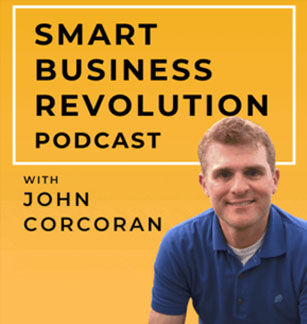 Collaboration happens at some point in the operation of almost any business. 
It doesn't always go as smoothly as we hope. 
Brandon Klein is one of the top experts in the world at facilitating collaboration.
Brandon Klein is an author and Chief Collaboration Officer for theDifference Consulting, a leading consulting agency specializing in the implementation of change. Branton wrote the #1 Amazon bestseller Facilitating Collaboration: Notes on Facilitation For Experienced Collaborators
In this episode, John sits down with Brandon to discuss the challenges of collaboration, consulting with the Air Force, and the time he traveled across Africa making a movie.
In this episode, we also talk about:
Here's a Glimpse of What You'll Hear:
The Time Brandon Drove Across the Entire Continent of Africa
What Drew Brandon to Change and Collaboration
What is a Stand-up Meeting?
How Brandon Likes to Build Collaboration with Teams
Examples of Brandon's Techniques
Brandon's Experience Working with Davos
Interacting with State Leaders and People Who are used to Commanding a Room
Using Computers and Software to Increase Business Networking
At Networking Events, the Real Experts are Usually Right Next to You
How Brandon Got His Inspiration
Why theDifference Consulting Does Things so Differently
The Experience of Collaborating with The Air Force
Working with the World Bank and the Gates Foundation
Who Brandon Thanks for His Success
Resources Mentioned:
Sponsor: Rise25
Today's episode is sponsored by Rise25 Media, where our mission is to connect you with your best referral partners, clients, and strategic partners. We do this through our done for you business podcast solution and content marketing.
Along with my business partner Dr. Jeremy Weisz, we have over 18 years of experience with B2B podcasting, which is one of the best things you can do for your business and you personally.
If you do it right, a podcast is like a "Swiss Army Knife" – it is a tool that accomplishes many things at once. It can and will lead to great ROI, great clients, referrals, strategic partnerships, and more. It is networking and business development; and it is personal and professional development which doubles as content marketing.
A podcast is the highest and best use of your time and will save you time by connecting you to higher caliber people to uplevel your network.
To learn more, go to Rise25.com or email us at [email protected].
To learn more, book a call with us here.
Check out Rise25 to learn more about our done-for-you lead generation and done-for-you podcast services.
Right Click here to download the MP3
Click here to subscribe via iTunes
Advertise on the Smart Business Revolution Podcast
Episode Transcript
John Corcoran  0:40  
Alright, welcome everybody. My guest on this show is Brandon Klein. He is the first fortune 100 chief collaboration officer. He's also the partner in the difference consulting, we've got some really amazing, well known clients like IBM, Microsoft, the Gates Foundation, CNN, dozens and dozens of other big companies where they come in, they help with collaboration activities, we're going to be talking about that. He's also the author of facilitating collaboration notes on facilitation for experienced collaborators and also the founder of an interesting new software company collaboration on AI, which is AI software to help improve team dynamics and enhance network connection. So we're going to ask him also about that as well. But first, if you're new to the show, we don't charge for this podcast, it's completely free of post hundreds of episodes, every one of them I talked to top thought leaders, co CEOs, founders, experts, ask them to break down how they built key relationships with mentors and peers and referral partners and influencers and it's all aimed at helping you to do it too. And as you know, spending time building relationships with the right people is one of the best things you can do for your business. So if you find value in this podcast, which I guarantee you you will, all we ask is you subscribe so you can receive the downloads automatically and so you can keep focusing on building relationships and growing your business this you get even even pause this right now and go hit the subscribe button on your phone right now. And also before we started this podcast is brought to you by rise 25 media which is our done for you agency focusing on helping b2b businesses, get more clients referral partners and strategic partners through a done for you podcast and done for you content marketing. Our company has over 20 years experience of podcasting. I believe personally starting a podcast, one of the best things you can do for your business, and you personally have gotten tremendous value out of it. And if you do it right, a podcast is so many things in one that's business development, networking, it's relationship building, client acquisition, even collaboration, it's so many great things at once. And so our mission through restaurant vive is to make the world a smaller place by creating those connections through that tool, helping to connect more entrepreneurs and business owners with their ideal prospects and referral partners. So they love to work with. Alright, so as I mentioned, my guest is Brandon Klein, Brandon, first, first fortune 100 chief collaboration officer, I want to find out how you you got into doing that. But first, before we get into that you were working. Earlier in your career, you actually drove across the entire continent of Africa unless in 10 bucks a day making a movie. We're just talking about this beforehand. How did that come about? Because I'm looking at your LinkedIn profile here and and film producer doesn't seem like a natural connection to all the other things that you've been doing, which are substantial in your career, how did you end up doing that project?
Brandon Klein  3:31  
When I was a little kid, my grandpa worked for 3am. I'm a homegrown Minnesota. And he would travel to Africa as we were little kids and tell stories about their. And we found out later that what Western companies were doing there, and then Western charities where we thought we were sending our money to help little kids in school or sponsor a child or whatever it was that we thought we were doing good or good intentions, were actually not received very well. In fact, there's nothing worse than then sending leftover clothes to Africa, because it just puts the shirtmaker out of business or giving shoes just put the local Shoesmith out of business. And so we wanted to see for ourselves. So we took public transportation from Cairo all the way to Cape Town over six months filming the charities and the local people that were actually impacted by what we thought were our good intentions. But oftentimes, we're not.
[continue to page 2]