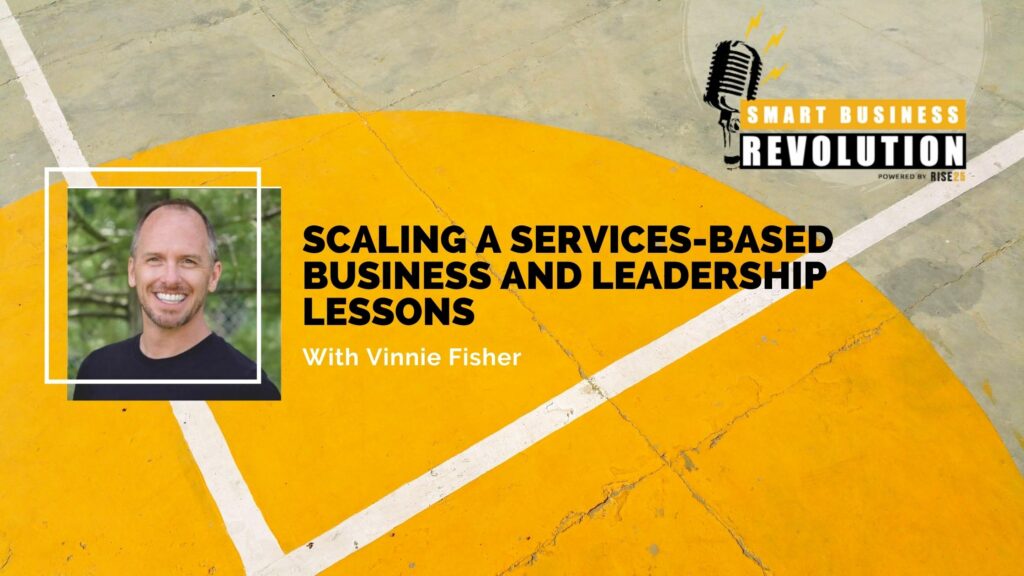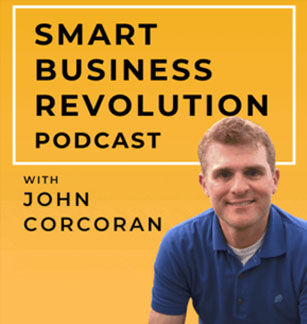 Vinnie Fisher is the Co-founder and CEO of Fully Accountable, an outsourced accounting and finance firm for small and medium-sized eCommerce and digitally-based businesses. Vinnie has 20 years of experience growing businesses to eight figures and beyond. After selling his consumer product company in 2014, he launched Fully Accountable to fill the need for modern accounting services in eCommerce and digital companies.
A lawyer by trade, Vinnie practiced tax and business law for 10 years before leaving the field in 2007 to pursue entrepreneurship full-time. He studied at the Canisius College and earned a Bachelor's degree in Political Science and Government. He also earned a law degree from the University of Toledo College of Law.
In this episode of the Smart Business Revolution Podcast, John Corcoran is joined by Vinnie Fisher, the Co-founder and CEO of Fully Accountable, to talk about the concept of "renting before buying" and how to scale a service-based business. Vinnie also explains how he develops leaders within his organization and the strategies he uses to build his company culture.
Here's a Glimpse of What You'll Hear:
Vinnie Fisher talks about the concept of renting before buying
How Vinnie brings software and people together to work seamlessly
How Vinnie identifies and develops leaders in his organization and how he helps them handle different challenges 
Vinnie talks about his in-person and remote team and the strategies he uses to build his company's culture
How businesses can manage back-office functions remotely — or by outsourcing
Vinnie's advice on becoming a better leader
How to get in touch with Vinnie Fisher
Resources Mentioned:
Sponsor: Rise25
At Rise25, we're committed to helping you connect with your Dream 100 referral partners, clients, and strategic partners through our done-for-you podcast solution. 
We're a professional podcast production agency that makes creating a podcast effortless. Since 2009, our proven system has helped thousands of B2B businesses to build strong relationships with referral partners, clients and audience without having to do the hard work. 
What do you need to start a podcast?
When you use our proven system, all you need is an idea and a voice. We handle the strategy, production, and distribution – you just need to show up and talk.
The Rise25 podcasting solution is designed to help you build a profitable podcast. This requires a specific strategy, and we've got that down pat. We focus on making sure you have a direct path to ROI which is the most important component. Plus our podcast production company takes any of the heavy lifting of production and distribution off of your plate.
We make distribution easy
We'll distribute each episode across more than 11 unique channels including iTunes, Spotify, and Google Podcasts. We'll also create copy for each episode and promote your show across social media.
Cofounders Dr. Jeremy Weisz and John Corcoran credit podcasting as the best thing they have ever done for their businesses. Podcasting connected them with the founders/CEOs of P90x, Atari, Einstein Bagels, Mattel, Rx Bars,  YPO, EO, Lending Tree, Freshdesk,  and many more.  
The relationships you form through podcasting run deep.  Jeremy and John became business partners through podcasting.  They have even gone on family vacations and attended weddings of guests who have been on the podcast.  
Podcast production has a lot of moving parts and is a big commitment on our end; we only want to work with people who are committed to their business and cultivating amazing relationships. 
Are you considering launching a podcast to acquire partnerships, clients, and referrals? Would you like to work with a podcast agency that wants you to win? 
Contact us now at [email protected] or book a call at rise25.com/bookcall.
Rise25 was co-founded by Dr. Jeremy Weisz and John Corcoran who have been podcasting and advising about podcasting since 2008.
Episode Transcript
Intro 0:14
Welcome to the Revolution, the Smart Business Revolution Podcast where we asked today's most successful entrepreneur to share the tools and strategies they use to build relationships and connections to grow their revenue. Now, your host for the revolution, John Corcoran.
John Corcoran 0:40
All right, welcome everyone. John Corcoran here. I'm the host of this show where I get to talk with so many amazing CEOs, founders and entrepreneurs of all kinds of companies and organizations ranging from YPO to Activision Blizzard, Lendingtree, Open Table, X software and many more. Also co-founder with Dr. Jeremy Weisz of Rise25, where we help connect b2b business owners to their ideal prospects. And I'm really excited today coming back another time Vinnie Fisher. He is the founder of Fully Accountable which I'll explain in a moment what exactly that is. One of the smartest business minds that I love turning to from time to time about his wisdom about everything in the world from scaling up a business he has built up multiple different businesses to eight figures and beyond hired reams of people. And so you're gonna enjoy this conversation. This episode of course is brought to you by Rise25 where we help b2b businesses to get clients referrals and strategic partnerships with done for you podcasts and content marketing. Go to rise25.com if you want to learn more, email us at [email protected]. Alright, Vinnie it's such a pleasure to have you here. And we were talking before we started recording here. And, you know, we're recording this in March of 2021. We're a year into COVID. It's been such a strange year. And one of the things that you said you talked to a lot of business owners about is the importance especially as you're scaling up and entities are renting before they buy. Talk to us about what that concept means.
Vinnie Fisher 2:12
Yeah, well, first off, John, I, I know we've been friends for a while, I just want to say thank you for having me and all the things you and Jeremy do. I like I was looking at that little screen behind you, for anyone who's not able to see what we're seeing. Are you hearing us rise up together, I just do to adjust to your partnership and what you offer to our community. I love it. And so every time I get a chance to be around you guys, I just start thinking bigger. So thanks for giving me that opportunity. So I love that. And I love all the things you guys are doing. We have some clients that just love your service. So if you guys need a shout out from not just our show here with someone, you got anyone listening, their service is killer, and it keeps growing up. So you should totally check it out. Thank you, sir, for like, it's, I think I just helped the answer a little bit. That question I've read before with my whole motto is about outsourcing. I wrote a book, the CEOs Mindset, which I want to give to everybody, anybody who wants it in your show notes, we'll give a gift page where they can just go get it, all they gotta do is give us some info. And my marketing team will give you a nice package of books, and you can happen. But what I talk about is renting before buying, there's so many people who have good ideas of things they want in their business, you know, less than 7% of companies do a million dollars of annualized revenue. So it's really hard to get there. In the early stages, you got to work at a converting offer to get customers. But then somewhere along the way you have a converting offer and what kicks in, there's a whole bunch of customers, and you're missing process and your lack expertise on your team. And today's technology in today's offer stack. You can rent that managed service so quickly from somebody. And so what I'd say is there's no reason good companies shouldn't fill an expert gap by renting it before you buy it.
John Corcoran 4:02
Yeah, it's amazing how much that has taken hold in the last 10 to 15 years. I remember you know you are a recovering attorney like myself, yes, recovering attorneys. One of the first law firms I went to go work for the guy had just started this firm, and he spent $10,000 to buy this piece of machinery, this backup server that sat in a closet and once a week on Fridays, he would take this physical tape that looked like it was from the 70s back home to his office in case the off to his home in case the office burned down the weekend. I started my own firm like a year later after that, and I got Dropbox for 10 bucks a month. Yeah, so just in like a year and a half time period. That's how much things have changed. But that's not the only gig economy. There are all these types of changes that have happened which have moved towards making it easier to start a business.
Vinnie Fisher 4:53
Yeah, the barrier to entry is lower, which means then you have to work it things like continuing to improve What you do and, you know, in our industry, the accounting and finance industry, you know, we provide this fractional service where we do the full managed service of accounting and fractional CFO for e-commerce and tech companies. Well, what I found out about this industry, because I'm not one, was that people live with about half a standard, meaning, if you do halfway you say you're going to do then that's fine. Like there's this low standard for this industry. And like, that's kind of awful. But you can put on top of that, that low tech existed, like the idea of connecting to your bank account and having real time reporting and all that. But before this wave of technology, you couldn't do those things. But now you can connect real time access with a whole bunch of tools. So the excuses go in so many categories, and we're one of them, where you can't fill in immediately. Now, you might pay a little bit more dollar for dollar in the beginning, but the investment is going to be so much cleaner, and so faster than if you go build out this whole thing and find out parts of it. You don't even want