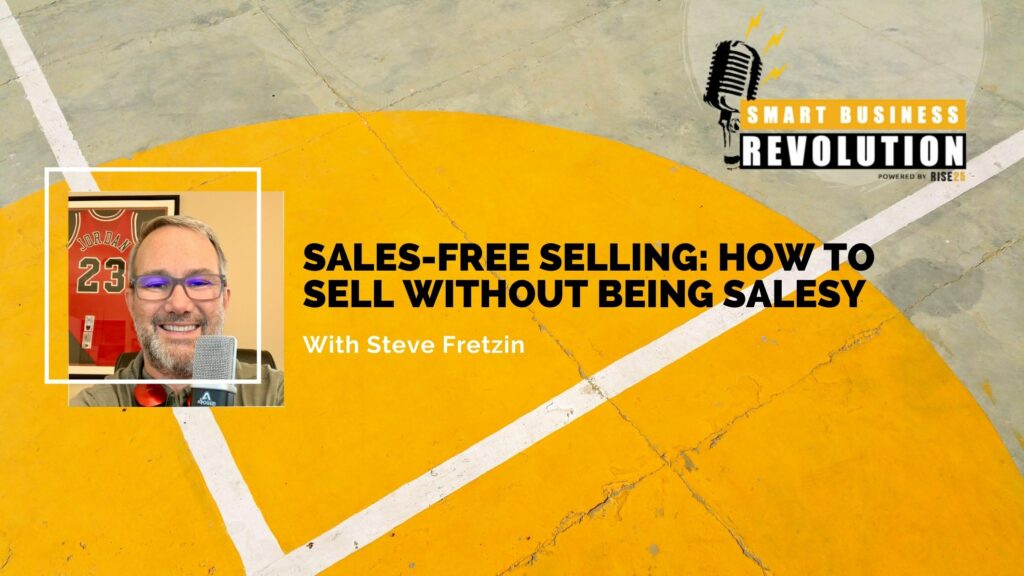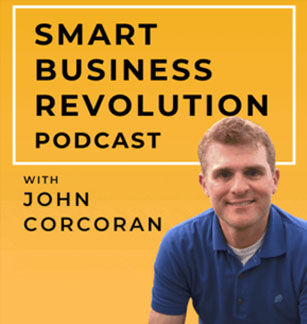 Steve Fretzin is the President of FRETZIN Inc., where he is devoted to helping law firms and lawyers master the art of business development in order to achieve their business goals and the peace of mind that comes with developing a successful law practice. He is also a three-time author of Sales-Free Selling, The Attorney's Networking Handbook, and The Ambitious Attorney.
Steve is also host of BE THAT LAWYER Podcast, a show that demystifies the most challenging elements of growing a sustainable law practice through practical tips, fresh ideas, and new methodologies. He has been featured in the Chicago Tribune, Crain's, and Entrepreneur.com and has appeared on NBC News and WGN Radio. He is a regular contributor to the Chicago Daily Law Bulletin and has published articles in Attorney at Law Magazine, the National Law Review, the American Bar Association, and the Illinois State Bar Association.
In this episode of the Smart Business Revolution Podcast, John Corcoran and Dr. Jeremy Weisz, Co-founders of Rise25 Media, are joined by Steve Fretzin, the President of FRETZIN Inc., to talk about the importance of business development and networking for lawyers and other professionals. They'll also discuss the value of relationship building, setting agendas before a meeting, and most common bad habits that people make when networking.
Here's a Glimpse of What You'll Hear:
Steve Fretzin shares why he decided to do business development coaching with lawyers
How has consumer buying behavior changed over the years?
The common pain points lawyers face when they approach Steve Fretzin
The right selling process lawyers and other professionals should follow that will them find the right clients
Steve explains why it's important to set the agenda prior to a meeting
How Steve and his clients' work have been impacted by the COVID-19 pandemic
Steve talks about some bad habits he made while networking and shares advice on best networking tips
How to balance giving to help others with helping yourself
Resources Mentioned:
Sponsor: Rise25
At Rise25, we're committed to helping you connect with your Dream 100 referral partners, clients, and strategic partners through our done-for-you podcast solution. 
We're a professional podcast production agency that makes creating a podcast effortless. Since 2009, our proven system has helped thousands of B2B businesses to build strong relationships with referral partners, clients and audience without having to do the hard work. 
What do you need to start a podcast?
When you use our proven system, all you need is an idea and a voice. We handle the strategy, production, and distribution – you just need to show up and talk.
The Rise25 podcasting solution is designed to help you build a profitable podcast. This requires a specific strategy, and we've got that down pat. We focus on making sure you have a direct path to ROI which is the most important component. Plus our podcast production company takes any of the heavy lifting of production and distribution off of your plate.
We make distribution easy
We'll distribute each episode across more than 11 unique channels including iTunes, Spotify, and Google Podcasts. We'll also create copy for each episode and promote your show across social media.
Cofounders Dr. Jeremy Weisz and John Corcoran credit podcasting as the best thing they have ever done for their businesses. Podcasting connected them with the founders/CEOs of P90x, Atari, Einstein Bagels, Mattel, Rx Bars,  YPO, EO, Lending Tree, Freshdesk,  and many more.  
The relationships you form through podcasting run deep.  Jeremy and John became business partners through podcasting.  They have even gone on family vacations and attended weddings of guests who have been on the podcast.  
Podcast production has a lot of moving parts and is a big commitment on our end; we only want to work with people who are committed to their business and cultivating amazing relationships. 
Are you considering launching a podcast to acquire partnerships, clients, and referrals? Would you like to work with a podcast agency that wants you to win? 
Contact us now at [email protected] or book a call at rise25.com/bookcall.
Rise25 was co-founded by Dr. Jeremy Weisz and John Corcoran who have been podcasting and advising about podcasting since 2008.
Episode Transcript
Intro 0:14
Welcome to the revolution, the Smart Business Revolution Podcast where we ask today's most successful entrepreneurs to share the tools and strategies they use to build relationships and connections to grow their revenue. Now, your host for the revolution, John Corcoran.
John Corcoran 0:40
Welcome. John Corcoran here. I am the host of the Smart Business Revolution Podcast. This is a live episode. We're live on LinkedIn Live every week and I'm here with
Steve Fretzin 0:50
Steve Fretzin.
Jeremy Weisz 0:52
Jeremy Weisz also.
John Corcoran 0:54
Jeremy, yeah, keep going. Jeremy, host of the Inspired Insider Podcast, check it out. It's a great podcast.
Jeremy Weisz 1:07
This is going to go on my Podcast too John. So this will go on Smart Business Revolution which I recommend people you know, just mass consume and binge listen to John's interviews. They're really good. And also check out Inspired Insider. I like to give a favorite Nolan Bushnell, who is the founder of Atari and was Steve Jobs his mentor, talks about when Steve Jobs offered him 33% of Apple for $50,000, and why he said no. So he talks about that so you can check out that episode.