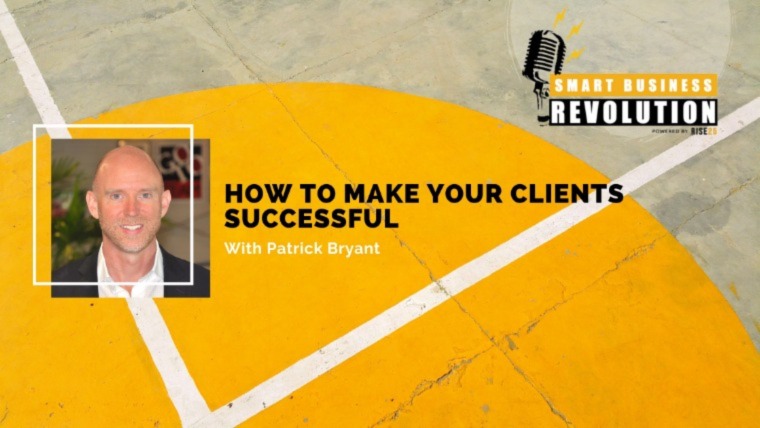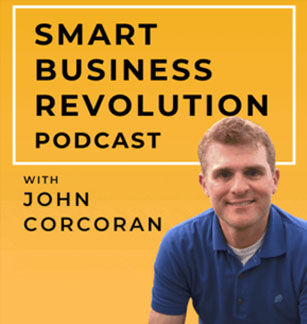 Patrick Bryant is the Co-founder and CEO of Code/+/Trust, a software development firm with offices in Washington, DC, and Charleston, South Carolina. As a serial entrepreneur, Patrick invests in new startups including, Teamphoria, Event.Gives, ADesk, and Shine Rolling Papers. He is recognized as a Liberty Fellow by Wofford College, a member of the Aspen Global Leadership Network, and a Riley Fellow granted by Furman University.
In this episode of the Smart Business Revolution Podcast, John Corcoran interviews Patrick Bryant, the Co-founder and CEO of Code/+/Trust, about how to make your clients successful. Patrick talks about the problems he solves for his clients, the benefits of attending GLC events, and his growth session at the EO Global Leadership Conference.
Here's a Glimpse of What You'll Hear:
Patrick Bryant explains what his company, Code/+/Trust, does
How Patrick helped a client create an app for his consulting business
The problems Patrick solves for his clients
Patrick talks about his session at the EO Global Leadership Conference 
The benefits of attending GLC events
Where to learn more about Patrick and Code/+/Trust
Resources Mentioned In This Episode
Sponsor: Rise25
At Rise25, we're committed to helping you connect with your Dream 100 referral partners, clients, and strategic partners through our done-for-you podcast solution. 
We're a professional podcast production agency that makes creating a podcast effortless. Since 2009, our proven system has helped thousands of B2B businesses build strong relationships with referral partners, clients, and audiences without doing the hard work.
What do you need to start a podcast?
When you use our proven system, all you need is an idea and a voice. We handle the strategy, production, and distribution – you just need to show up and talk.
The Rise25 podcasting solution is designed to help you build a profitable podcast. This requires a specific strategy, and we've got that down pat. We focus on making sure you have a direct path to ROI, which is the most important component. Plus, our podcast production company takes any heavy lifting of production and distribution off your plate.
We make distribution easy
We'll distribute each episode across more than 11 unique channels, including iTunes, Spotify, and Google Podcasts. We'll also create copy for each episode and promote your show across social media.
Cofounders Dr. Jeremy Weisz and John Corcoran credit podcasting as being the best thing they have ever done for their businesses. Podcasting connected them with the founders/CEOs of P90x, Atari, Einstein Bagels, Mattel, Rx Bars,  YPO, EO, Lending Tree, Freshdesk,  and many more.  
The relationships you form through podcasting run deep. Jeremy and John became business partners through podcasting. They have even gone on family vacations and attended weddings of guests who have been on the podcast.
Podcast production has a lot of moving parts and is a big commitment on our end; we only want to work with people who are committed to their business and to cultivating amazing relationships.
Are you considering launching a podcast to acquire partnerships, clients, and referrals? Would you like to work with a podcast agency that wants you to win? 
Contact us now at [email protected] or book a call at rise25.com/bookcall.
Rise25 Cofounders, Dr. Jeremy Weisz and John Corcoran, have been podcasting and advising about podcasting since 2008.
Episode Transcript
Intro 0:00
Welcome to the revolution, the Smart Business Revolution Podcast, where we ask today's most successful entrepreneurs to share the tools and strategies they use to build relationships and connections to grow their revenue. Now, your host for the revolution, John Corcoran.
John Corcoran 0:40
Hey everybody, this is John Corcoran with Dr. Jeremy Weisz. And this episode is a little bit different. This is a live interview that we recorded at the Global Leadership Conference from Entrepreneurs Organization, where some of the best entrepreneurs from around the globe gathered in Washington DC, to share ideas and to learn about entrepreneurship. And of course, this episode is brought to you by Rise25, where we help b2b businesses to give to and to connect to their dream 100 relationships and partnerships, helping you to run a podcast so that it generates a referral pipeline and ROI.
Jeremy Weisz 1:14
Yeah, I mean, John, after both of us have been podcasting for over a decade, the number one thing in our life is relationships. And we're always looking at ways to give to our best relationships. And we found no better way to do that over the past decade than to profile the people in companies we admire and shout from the rooftops what they're working on. And this interview is no different. So if you've thought about podcasting, you should go to rise25.com to learn more, or email us at [email protected].
John Corcoran 1:41
Thanks, everyone. Enjoy the interview.
Jeremy Weisz 1:43
Enjoy.
John Corcoran 1:58
John Corcoran here, we are live from the Global Leadership Conference from EO Entrepreneurs Organization. This is brought to you by Rise25. We are the easy button for b2b podcasts and I'm here with Patrick from Code and Trust, he is going to be speaking at this conference. And tell us a little about your company and what you guys do better
Patrick Bryant 2:16
Code and Trust develop software for entrepreneurs. So we have a ton of small businesses walk in the door every day. And say we're using maybe an Excel spreadsheet or some sort of manual process to manage something in their business. And they say, Well, we could really develop software around this and make it much more efficient. And we put a whole team of software engineers thinking like entrepreneurs around making sure that that product is exactly what they need to scale and grow their business.
John Corcoran 2:45
And you had an interesting one come to you where you had a consultant who was advising different police academies, police departments, on on marketing advice, and he came to you and you guys kind of helped him map out an app and actually created an app that took his knowledge and expertise, come to the next level. So break that down for us.
Patrick Bryant 3:07
Well, our real goal for him was to show him that right then he was in a consulting business selling his time. And we really shaped his tool into something that he could sell to the police stations now as a very scalable, innovative new tool that they wouldn't be paying for on an ongoing basis without him investing that time back into it. So really, for us that was our goal for him was to help him create this product that now police stations around the United States are using to manage their social media pose. And they're doing it I'm paying him and his business is really thriving because of this piece of software.
John Corcoran 3:47
And one of the key distinctions or challenges that they experienced was the approval process, right. So there, they were afraid to share anything afraid, really to communicate with their local stakeholders, local communities, because they were worried about the approval process internally. So you baked that into the app talk about that? Well, initially,
Patrick Bryant 4:06
he came to us wanting an app that police stations would use to post on social media and really track that content and make sure that they were doing the right thing. And as we dove in and really looked at the entrepreneurial side of it and what police stations were willing to pay for. We found out that their biggest challenge was they needed multiple levels of approval for particular types of posts to ensure that even the chief had seen it in some cases before it went out and to make that really easy on his phone, but he wasn't doing anything but glancing looking at it and improving. And so baking out that process and thinking through how that would work for them. Our goal at coding trust is to make our clients really successful by making their customers really successful. We try to skip straight to Who are they trying to help and really baked that in. So we say that we think of ourselves as a preschool teacher, where preschool teachers, they want their kids to be successful, they want your kids to be successful. They just want everyone to be successful, and it can trust. That's how we feel we have our own software startups that that we work on. And sometimes we'll take equity and other startups that we program. But a lot of times people are just paying us to bring our ideas and expertise to the table. And at the end of the day, all we get out of it is everything we want, which is they're successful, and we're happy. That's our fulfilling moment.
John Corcoran 5:32
And you are actually speaking here. So tell us a bit about what you're speaking
Patrick Bryant 5:36
to the three growth guys are here at the Global Leadership Conference. And we met at a Global Speakers Academy, that the three of us really synched up and understood that in my case, I normally talk about growing your business and how to scale and innovate, and really fine, unique innovations in a marketplace. Kris Kluver talks about how to grow yourself. And really, as a business owner, once you've built a large company, it really does get to that place that you need some help to really figure out who you want to be and what your success metrics are for your own self. And then finally, Will Scott is the third Growth Guy and talks all about your relationships with your team and your family, and how to really bring those folks into the fold with the values that you've created in those two other areas.
John Corcoran 6:32
And for those watching this, who are an EO member, maybe considering coming to GLC, what would you say to those who are watching this,
Patrick Bryant 6:39
you have to come to GLC, I mean I it is so much fun to meet the people from especially other countries, how global it is my number one takeaway, but also the relationships you've formed to be able to work with people in every part of the United States, including our relationship and how much and fun I've had hanging out with you, John, it that, to me is the reason to be here. The content is of course important, and something that is worth the time, but the network and the ability to be with entrepreneurs that are in your tribe. That's the reason to be here.
John Corcoran 7:20
And finally, for those who want to learn more about you and code and trust, where can they go learn about that?
Patrick Bryant 7:25
I'm on LinkedIn as Patrick Bryant in Charleston, South Carolina. And, also of course, codeandtrust.com.
John Corcoran 7:32
Excellent. John Corcoran. We're live from Global Leadership Conference. Thanks for watching.
Outro 7:37
Thank you for listening to the Smart Business Revolution Podcast with John Corcoran. Find out more at smartbusinessrevolution.com And while you're there, sign up for our email list and join the revolution. And be listening for the next episode of the Smart Business Revolution Podcast.