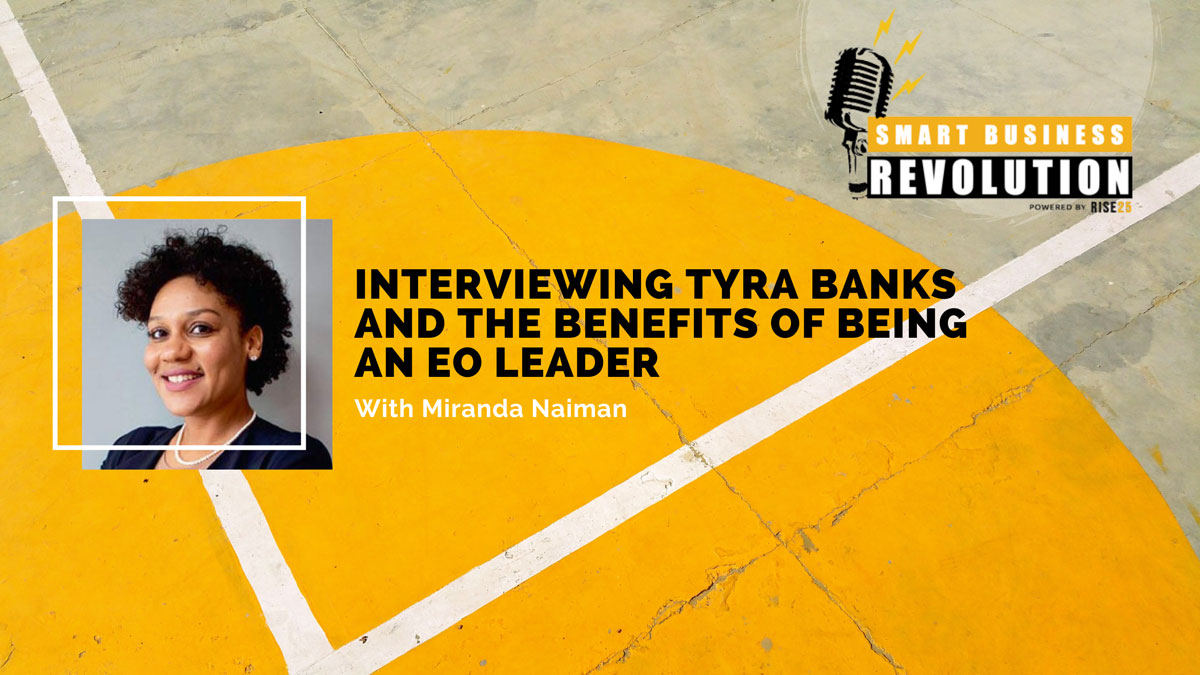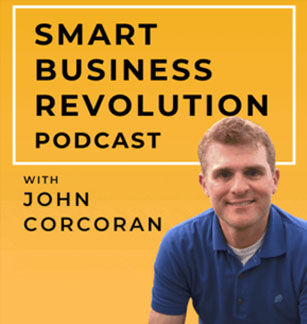 Miranda Naiman is the Founder of Empower, a human capital consulting firm based in Tanzania that provides talent, advisory, and insight services across the African continent. They serve clients in the area of talent and executive search, advisory in learning and development strategy, team building, insight research, and market intelligence. They also offer corporate retreats. Miranda is the incoming Chair of the Entrepreneurs' Organization's Global Learning Committee.
In this episode of the Smart Business Revolution Podcast, John Corcoran is joined by Miranda Naiman, the Founder of Empower, to talk about Miranda's company and her experience interviewing Tyra Banks. They also discuss the benefits of learning from other entrepreneurs and being an EO leader.
Here's a Glimpse of What You'll Hear:
Miranda Naiman explains what Empower does
Miranda's experience interviewing Tyra Banks
What attracted Miranda to leadership at Entrepreneurs' Organization?
Why entrepreneurs should attend future GLC events
Where to learn more about Miranda and Empower
Resources Mentioned In This Episode
Sponsor: Rise25
At Rise25, we're committed to helping you connect with your Dream 100 referral partners, clients, and strategic partners through our done-for-you podcast solution. 
We're a professional podcast production agency that makes creating a podcast effortless. Since 2009, our proven system has helped thousands of B2B businesses build strong relationships with referral partners, clients, and audiences without doing the hard work.
What do you need to start a podcast?
When you use our proven system, all you need is an idea and a voice. We handle the strategy, production, and distribution – you just need to show up and talk.
The Rise25 podcasting solution is designed to help you build a profitable podcast. This requires a specific strategy, and we've got that down pat. We focus on making sure you have a direct path to ROI, which is the most important component. Plus, our podcast production company takes any heavy lifting of production and distribution off your plate.
We make distribution easy
We'll distribute each episode across more than 11 unique channels, including iTunes, Spotify, and Google Podcasts. We'll also create copy for each episode and promote your show across social media.
Cofounders Dr. Jeremy Weisz and John Corcoran credit podcasting as being the best thing they have ever done for their businesses. Podcasting connected them with the founders/CEOs of P90x, Atari, Einstein Bagels, Mattel, Rx Bars,  YPO, EO, Lending Tree, Freshdesk,  and many more.  
The relationships you form through podcasting run deep. Jeremy and John became business partners through podcasting. They have even gone on family vacations and attended weddings of guests who have been on the podcast.
Podcast production has a lot of moving parts and is a big commitment on our end; we only want to work with people who are committed to their business and to cultivating amazing relationships.
Are you considering launching a podcast to acquire partnerships, clients, and referrals? Would you like to work with a podcast agency that wants you to win? 
Contact us now at [email protected] or book a call at rise25.com/bookcall.
Rise25 Cofounders, Dr. Jeremy Weisz and John Corcoran, have been podcasting and advising about podcasting since 2008.
Episode Transcript
Intro 0:00
Welcome to the revolution, the Smart Business Revolution Podcast where we ask today's most successful entrepreneurs to share the tools and strategies they use to build relationships and connections to grow their revenue. Now, your host for the revolution, John Corcoran.
John Corcoran 0:40
Hey everybody, this is John Corcoran with Dr. Jeremy Weisz. And this episode is a little bit different. This is a live interview that we recorded at the Global Leadership Conference from Entrepreneurs' Organization, where some of the best entrepreneurs from around the globe gathered in Washington DC to share ideas and to learn about entrepreneurship. And of course, this episode is brought to you by Rise25, where we help b2b businesses to give to and to connect to their dream 100 relationships and partnerships, helping you to run a podcast so that it generates a referral pipeline and ROI.
Jeremy Weisz 1:14
Yeah, I mean, John, after both of us have been podcasting for over a decade, the number one thing in our life is relationships. And we're always looking at ways to give to our best relationships. And we found no better way to do that over the past decade than to profile the people in companies we admire and shout from the rooftops what they're working on. And this interview is no different. So if you've thought about podcasting, you should go to rise25.com to learn more or email us at [email protected]. 
John Corcoran 1:41
Thanks, everyone. Enjoy the interview.
Jeremy Weisz 1:43
Enjoy.
John Corcoran 1:58
John Corcoran, and we're live here at Global Leadership Conference from EO, Entrepreneurs' Organization brought to you by Rise25. We are the easy button for a b2b podcast. And I'm here with Miranda from Empower, who had the amazing distinction of interviewing Tyra Banks on stage keynote yesterday morning. So we're going to ask about that in a second. But first, Empower is the name of your company. Tell us a little bit about what you guys do.
Miranda Naiman 2:21
So Empower is a human capital consulting firm, we're based in Tanzania, but we serve clients across the African continent, in the area of talent and executive search, advisory, so learning and development strategy, team building, and then insight research and market intelligence.
John Corcoran 2:37
And you guys put on retreats for different companies. Tell us about some of the retreats you put on?
Miranda Naiman 2:43
Absolutely, actually, the retreats are one of the most popular products that we offer, we try to provide an immersive experience for our clients. So for example, maybe we're working with a team who are going through leadership transition. So incorporating everything from building effective communication skills, making sure the team is synergized. And bonded, has a very clear vision and where they're going. We do outdoor activities as well as indoors, type of more strategic things. And it's usually a two or three day experience with some learning outside of the room as well.
John Corcoran 3:16
Sounds like a blast. I want to go to one of these They sound amazing.
Miranda Naiman 3:20
Yes, we usually have music and dance and you know, evening socials as well and dress up. So it's it's an all encompassing experience for any team. And it really helps the company to move the needle forward a little bit more.
John Corcoran 3:32
That's great. Now yesterday, you had an amazing experience. You were on stage in front of 1000 people, interviewing Tyra Banks, who has gone from supermodel to media, Maven, and entrepreneur. What was that experience like for you?
Miranda Naiman 3:45
Oh my gosh, I was super nervous. Could you tell?
John Corcoran 3:48
I could not tell it all. You played it off.
Miranda Naiman 3:51
I hit it well. I hit it well. It was a phenomenal experience and privilege, of course, being an EO member being the GLC chair for this year, to have that opportunity to even sit with her. So when the opportunity arose, I just said yes. And then had to figure it out behind the scenes, lots of preparation, lots of support from the EO learning team, the staff team, the professional team, getting questions together. And yeah, just having to learn how to control your nerves and stay focused and make sure people don't know that you're shaking and sweating under your dress. But other than that, it was a phenomenal experience. She was very down to earth.
John Corcoran 4:26
She was very down to earth. Yeah, she was very candid. She just kind of shared warts and all I felt and also shared a lot about the rawness of the entrepreneurial experience.
Miranda Naiman 4:38
Absolutely. And I think it resonated with our members. At first when we were putting the narrative together and we suggested Tyra's name. We were worried that maybe EO members would not connect with her but she came across, as you say, incredibly humble and also very open and that's what your members want. We want to go 5% We want to really understand who someone is and learn from the experience.
John Corcoran 5:00
Now you've been involved in leadership, what brought you to pursue that avenue because entrepreneurs organization offers a lot of different things. You can be a member, you can participate in a local level, you've gotten more involved. Tell us about why you decided to get involved in leadership.
Miranda Naiman 5:16
I think one of the most important parts of EO is what we call the path of leadership. And you start by serving your chapter and making sure that members are having a great experience as your members and then you start, you sort of get onto this track, and you can't stop they call it drinking the EO Kool Aid. And, you know, look around being here at GLC, these are some of the benefits you get from being a leader in EO and you start to realize that there are more opportunities, the more that you wish to serve. So I started as a learning chair and became president of my chapter, then learning experts, Global Learning committee, and I'm the incoming Global Learning chair. So I don't know how I got here. Probably on just pure adrenaline and just a deep desire to want to serve and make the organization better than it is.
John Corcoran 6:01
And considering in the last year. There's been Malala, Mark Cuban, there's been some Tyra Banks now, some great names came in.
Miranda Naiman 6:09
Yeah, we've had a lot of big names. The learning committee has been busy just trying to really, really provide value to members, specifically at a time, you know, the last two years we haven't been able to have in person events. So how do we keep our members engaged and still able to deliver great value? We all have a thirst for learning. And so that's what unites us as your members.
John Corcoran 6:30
And so for those at home watching this, what would you say to them about why they should come to GLC in future years,
Miranda Naiman 6:37
GLC is the absolute pinnacle of the EO calendar, I would say. You get to connect with like minded leaders, you get to learn you get to grow, you get to go to incredible social events. Last night, we were at the Smithsonian with a jazz band and the food and the drink was hidden amongst the artwork. It was simply phenomenal. It doesn't matter how much money you have. You cannot do that in DC on your own. So being part of EO gives you that opportunity to experience things that you wouldn't usually.
John Corcoran 7:06
And finally, how can people connect and learn more about you and Empower?
Miranda Naiman 7:11
You can find us on any of the social media platforms. I'm Miranda Naiman. So you can find me on Instagram or Twitter. Empower is Empowerlimited on Twitter.
John Corcoran 7:22
Excellent. Thanks so much, Miranda.
Outro 7:24
Thank you for listening to the Smart Business Revolution Podcast with John Corcoran. Find out more at smartbusinessrevolution.com. And while you're there, sign up for our email list and join the revolution. And be listening for the next episode of the Smart Business Revolution Podcast.