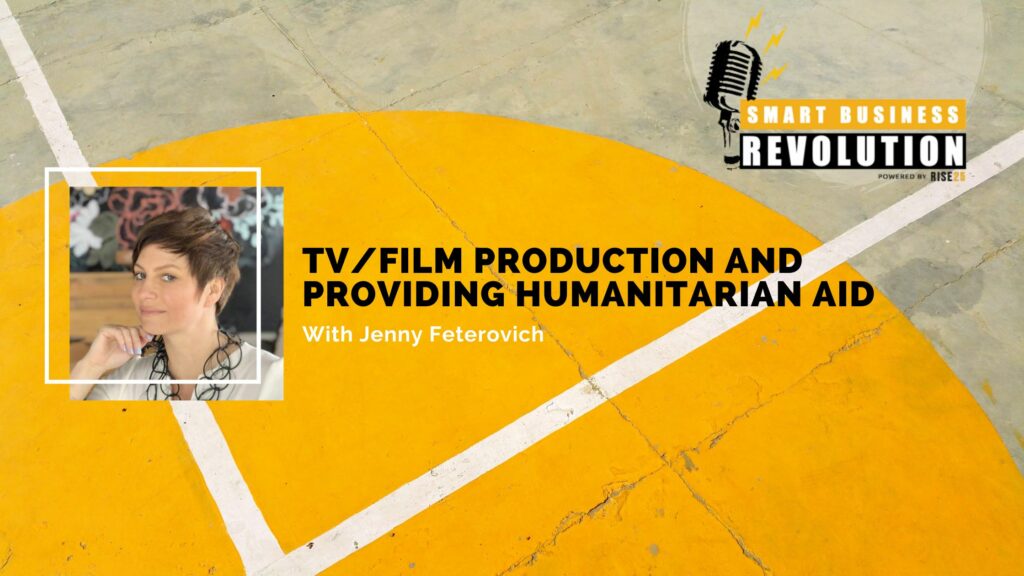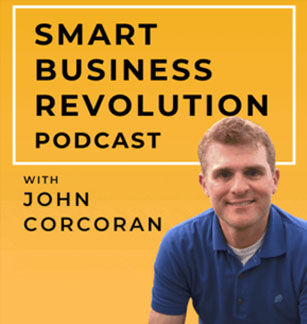 Jenny Feterovich is the Executive Producer at Arcadius Productions Inc. and Managing Partner at Parliament Studios. She is a film/TV producer, humanitarian, and speaker. Her flagship show, the critically acclaimed and Emmy-nominated PBS series Start Up, showcases entrepreneurs that have followed their dream of creating a small business. Jenny is also the President of the EO Detroit chapter. 
In this episode of the Smart Business Revolution Podcast, John Corcoran interviews Jenny Feterovich, the Executive Producer at Arcadius Productions Inc. They talk about Jenny's key projects, her inspiration for attending the Global Leadership Conference (GLC), and how she has been supporting war refugees from Ukraine.
Here's a Glimpse of What You'll Hear:
Jenny Feterovich explains what she does and some of her key projects
How Jenny has been supporting refugees in Ukraine
What attracted Jenny to the Global Leadership Conference (GLC)?
Jenny's advice to entrepreneurs on attending the GLC
Resources Mentioned In This Episode
Sponsor: Rise25
At Rise25, we're committed to helping you connect with your Dream 100 referral partners, clients, and strategic partners through our done-for-you podcast solution. 
We're a professional podcast production agency that makes creating a podcast effortless. Since 2009, our proven system has helped thousands of B2B businesses build strong relationships with referral partners, clients, and audiences without doing the hard work.
What do you need to start a podcast?
When you use our proven system, all you need is an idea and a voice. We handle the strategy, production, and distribution – you just need to show up and talk.
The Rise25 podcasting solution is designed to help you build a profitable podcast. This requires a specific strategy, and we've got that down pat. We focus on making sure you have a direct path to ROI, which is the most important component. Plus, our podcast production company takes any heavy lifting of production and distribution off your plate.
We make distribution easy
We'll distribute each episode across more than 11 unique channels, including iTunes, Spotify, and Google Podcasts. We'll also create copy for each episode and promote your show across social media.
Cofounders Dr. Jeremy Weisz and John Corcoran credit podcasting as being the best thing they have ever done for their businesses. Podcasting connected them with the founders/CEOs of P90x, Atari, Einstein Bagels, Mattel, Rx Bars,  YPO, EO, Lending Tree, Freshdesk,  and many more.  
The relationships you form through podcasting run deep. Jeremy and John became business partners through podcasting. They have even gone on family vacations and attended weddings of guests who have been on the podcast.
Podcast production has a lot of moving parts and is a big commitment on our end; we only want to work with people who are committed to their business and to cultivating amazing relationships.
Are you considering launching a podcast to acquire partnerships, clients, and referrals? Would you like to work with a podcast agency that wants you to win? 
Contact us now at [email protected] or book a call at rise25.com/bookcall.
Rise25 Cofounders, Dr. Jeremy Weisz and John Corcoran, have been podcasting and advising about podcasting since 2008.
Episode Transcript
Intro 0:00
Welcome to the revolution, the Smart Business Revolution Podcast, where we ask today's most successful entrepreneurs to share the tools and strategies they use to build relationships and connections to grow their revenue. Now, your host for the revolution, John Corcoran.
John Corcoran 0:40
Hey everybody, this is John Corcoran with Dr. Jeremy Weisz. And this episode is a little bit different. This is a live interview that we recorded at the Global Leadership Conference from Entrepreneurs Organization, where some of the best entrepreneurs from around the globe gathered in Washington DC, to share ideas and to learn about entrepreneurship. And of course, this episode is brought to you by Rise25, where we help b2b businesses to give to and to connect to their dream 100 relationships and partnerships, helping you to run a podcast so that it generates a referral pipeline and ROI.
Jeremy Weisz 1:14
Yeah, I mean, John, after both of us have been podcasting for over a decade, the number one thing in our life is relationships. And we're always looking at ways to give to our best relationships. And we found no better way to do that over the past decade than to profile the people in companies we admire and shout from the rooftops what they're working on. And this interview is no different. So if you've thought about podcasting, you should go to rise25.com to learn more, or email us at [email protected].
John Corcoran 1:41
Thanks, everyone. Enjoy the interview.
Jeremy Weisz 1:43
Enjoy.
John Corcoran 1:58
All right, John Corcoran here at the Global Leadership Conference being put on by EO Entrepreneurs Organization. And this is presented by Rise 25. And we're here with Jenny, Jenny, tell us a little about who you are and what you do.
Jenny Feterovich 2:11
Yeah, absolutely. So my name is Jenny Feterovich. I'm from Detroit, Michigan, and I'm the incoming president for the chapter for a living, I make film and television.
John Corcoran 2:20
That's great. And you've done some really interesting projects over the years. Tell us about some of the different projects you've worked on?
Jenny Feterovich 2:26
Yeah, absolutely. So my flagship show is on PBS. It's called Start Up, it's going into season 10. We basically traveled around the country, United States, and we interview entrepreneurs and small business owners about following their dreams. So it's really along the lines of You know what this is, and where we are right now is well, as of earliest, quite a few notable documentaries, including the Russian Five, which was a top box office here in 2019, for the United States and Canada, and a few other projects that have been globally noted.
John Corcoran 2:55
Yeah, and most recently, we're recording this, of course, in April of 2022, you've been heavily involved in the war that's been happening in the refugee crisis. You've got family connections to Ukraine, you want to tell us a little bit about some of the work that you've been doing? Sure, absolutely.
Jenny Feterovich 3:11
So it's very personal for me, as you said, family, friends, colleagues, business people, and in general, it's just it's human beings, right? We're witnessing a very serious crisis that we haven't seen since World War Two. This is a war. It's very painful to see. So I started it's called Real Help for Ukraine. And we have a my own group around this. And we're very heavily involved in doing work with a O'Boyle and Chad chapter. So basically, we're working inside Ukraine, we're working inside the country, we're delivering humanitarian aid, food, medical supplies, we're getting refugees out, and we're supporting all of the efforts that are happening inside Ukraine at the moment.
John Corcoran 3:49
And where can people go to learn more about that?
Jenny Feterovich 3:51
So EO Poland started a chapter. So it's ukraine.eopoland.org, you know, and I can show you your QR code that you guys could put up there so people could see it.
John Corcoran 4:01
Excellent, excellent. And then we're here at the Global Leadership Conference. Now this, of course, is a conference for emerging leaders, your incoming president, what drew you to come to this conference?
Jenny Feterovich 4:11
Oh, my God, come on. EO is a global organization. This is such a phenomenal place to meet leaders from around the world to do great experience shares to really talk about like, what is everybody's leadership style, like? What are you guys doing? Get incredible ideas, have some fun with each other? And just really, it feels so good to be back in person with incredible leadership over you?
John Corcoran 4:33
It is and so for someone who's watching this at home, who hasn't been before, what would you say to them about the experience?
Jenny Feterovich 4:38
You have to come here trust me, besides the learning the speakers, the socials, you're gonna get so much incredible value here. 100%.
John Corcoran 4:46
This is John Corcoran. We're here at the Global Leadership Conference and I'm here with Jenny and thanks for watching.
Outro 4:51
Thank you for listening to the Smart Business Revolution Podcast with John Corcoran. Find out more at Smartbusinessrevolution.com. And while you're there sign up for our email list and join the revolution. And be listening for the next episode of the Smart Business Revolution podcast.