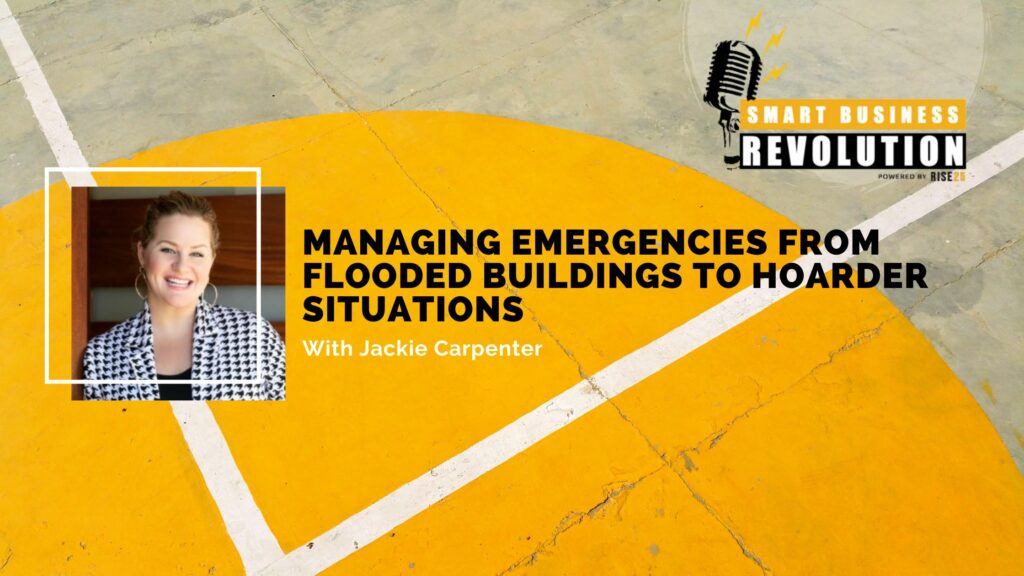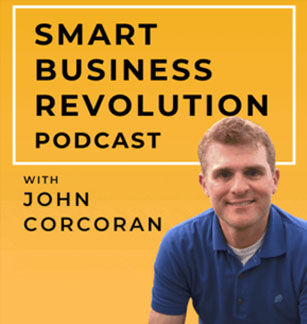 Jackie Carpenter is the CEO and Owner of Ideal Restoration, an emergency service response company that serves the San Francisco Bay Area. Jackie is an established expert in emergency restoration and environmental services, holding advanced certifications from the Restoration Industry Association (RIA) along with extensive training in hazardous materials handling. 
Jackie Carpenter, the CEO and Owner of Ideal Restoration, is John Corcoran's guest in this episode of the Smart Business Revolution Podcast. Jackie talks about the services her company provides, her experience attending a Global Leadership Conference (GLC) event, and how she has benefited from being an EO member.
Here's a Glimpse of What You'll Hear:
Jackie Carpenter explains how Ideal Restoration helps restore flooded buildings
How Jackie's company fixes hoarder situations in residential buildings
Jackie's experience attending her first GLC event
Where to learn more about Jackie and Ideal Restoration
Resources Mentioned In This Episode
Sponsor: Rise25
At Rise25, we're committed to helping you connect with your Dream 100 referral partners, clients, and strategic partners through our done-for-you podcast solution. 
We're a professional podcast production agency that makes creating a podcast effortless. Since 2009, our proven system has helped thousands of B2B businesses build strong relationships with referral partners, clients, and audiences without doing the hard work.
What do you need to start a podcast?
When you use our proven system, all you need is an idea and a voice. We handle the strategy, production, and distribution – you just need to show up and talk.
The Rise25 podcasting solution is designed to help you build a profitable podcast. This requires a specific strategy, and we've got that down pat. We focus on making sure you have a direct path to ROI, which is the most important component. Plus, our podcast production company takes any heavy lifting of production and distribution off your plate.
We make distribution easy
We'll distribute each episode across more than 11 unique channels, including iTunes, Spotify, and Google Podcasts. We'll also create copy for each episode and promote your show across social media.
Cofounders Dr. Jeremy Weisz and John Corcoran credit podcasting as being the best thing they have ever done for their businesses. Podcasting connected them with the founders/CEOs of P90x, Atari, Einstein Bagels, Mattel, Rx Bars,  YPO, EO, Lending Tree, Freshdesk,  and many more.  
The relationships you form through podcasting run deep. Jeremy and John became business partners through podcasting. They have even gone on family vacations and attended weddings of guests who have been on the podcast.
Podcast production has a lot of moving parts and is a big commitment on our end; we only want to work with people who are committed to their business and to cultivating amazing relationships.
Are you considering launching a podcast to acquire partnerships, clients, and referrals? Would you like to work with a podcast agency that wants you to win? 
Contact us now at [email protected] or book a call at rise25.com/bookcall.
Rise25 Cofounders, Dr. Jeremy Weisz and John Corcoran, have been podcasting and advising about podcasting since 2008.
Episode Transcript
Intro 0:00
Welcome to the revolution, the Smart Business Revolution Podcast, where we ask today's most successful entrepreneurs to share the tools and strategies they use to build relationships and connections to grow their revenue. Now, your host for the revolution, John Corcoran.
John Corcoran 0:40
Hey everybody, this is John Corcoran with Dr. Jeremy Weisz. And this episode is a little bit different. This is a live interview that we recorded at the Global Leadership Conference from Entrepreneurs' Organization, where some of the best entrepreneurs from around the globe gathered in Washington DC to share ideas and learn about entrepreneurship. And of course, this episode is brought to you by Rise25 where we help b2b businesses to give to and to connect to their dream 100 relationships and partnerships, helping you to run a podcast so that it generates a referral pipeline and ROI.
Jeremy Weisz 1:14
Yeah, I mean, John, after both of us have been podcasting for over a decade, the number one thing in our life is relationships. And we're always looking at ways to give to our best relationships. And we found no better way to do that over the past decade than to profile the people in companies we admire and shout from the rooftops what they're working on. And this interview is no different. So if you've thought about podcasting, you should go to rise25.com to learn more or email us at [email protected].
John Corcoran 1:41
Thanks, everyone. Enjoy the interview.
Jeremy Weisz 1:43
Enjoy.
John Corcoran 1:58
Hey, John Corcoran. I'm here at Global Leadership Conference put on by Entrepreneurs Organization, EO. This is brought to you by Rise25. We are the easy button for b2b podcasts. And I'm here with Jackie Carpenter of Ideal Restoration in San Francisco. And tell us a little bit about what you guys do.
Jackie Carpenter 2:13
Sure, John, good to see you. Ideal is an emergency service response company responding to damage-flooded buildings 24/7.
John Corcoran 2:22
And you got a lot of skyscrapers in San Francisco with a lot of water going downhill. I know that's a big part of what you guys do
Jackie Carpenter 2:29
it is the taller the building, the better the further the water flows down. We like high-density buildings. We just had one not too long ago where a couple of employees from a company went back to their floor of a high rise, I believe was the 27th floor. It was two o'clock in the morning, they had had a couple of drinks. And they were playing with the nerf ball above the cubicles. And it hit a sprinkler head and the sprinkler head goes off. And these guys leave without saying anything to anybody. And they bail, they take the elevator down, and go home. Security doesn't know what's going on for some reason. They're their alarm system didn't go off. And they didn't realize that the sprinkler head had gone off until the water hit the lobby 27 floors down. Incredible. So those are the phone calls we get when as soon as somebody realizes what's going on, we send in the Calvary we extract the water, open up the walls, and start the drying process to prevent mold growth. It's a 24/7 operation. There's always something exciting going on in San Francisco and the Bay Area.
John Corcoran 3:30
Well and you've also dealt with hoarder situations where you get called in by a city or county. And you know there's a mental illness type of situation. But hoards of trash that you have to clean.
Jackie Carpenter 3:41
Exactly. There's a lot of mental illness situations happening around. And so some of these occupants in these buildings, maybe a tenant in a low-income building. They collect things, and sometimes those things require so much. Sometimes there's an accidental death in those units, somebody slips and falls, and nobody realizes what happened until the odor permeates out to the hallway or the neighboring unit. At that point, obviously, the coroner informed us they removed the body but then we come in to do the deodorization in the cleanup and make that space safe and ready for paint and repair and to reoccupy the space.
John Corcoran 4:21
And now you and I both joined EO around the same time he Oh San Francisco. And so we've been in for a little while. This is both of our first experiences at GLC what are some of your impressions of GLC? Well, I
Jackie Carpenter 4:31
am stoked that I'm here. I didn't know it was going to be this fun and exciting. It's really opened up a whole new side of EO that I didn't see in our forums in our chapters. We are really a little bit isolated in our view of what's happening behind the scenes at a higher level. Now being on a committee I get to communicate and talk to other committee chairs and committee members about what they're doing, and how they're growing their chapters. So lots of fresh ideas and Now the trainings have been great. Everything's been wonderful. And I've got probably about 20 new contacts that I can call for anything, any questions I have on the work I'm doing with our own chapter.
John Corcoran 5:10
And what would you say for anyone who's at home who hasn't attended a GLC before? What would you say about the experience of attending?
Jackie Carpenter 5:18
It's been very important. I can't imagine the future not coming. One of the reasons I probably will stay involved volunteering on the board doing these things is so that I continue to come to these. The group's just great. Everyone here is giving a lot back to the organization. And so I think like a lot of organizations, you get what you put into it. And this is a demonstration of that. In real life.
John Corcoran 5:46
Jackie, where can people go to learn more about Ideal and you also have a speaking business you do speaking as well. So where can they learn about it?
Jackie Carpenter 5:52
Idealsf.com is our emergency service company Ideal Restoration in San Francisco. And then also Jackiecarpenter.me is a new speaking platform that I'm just getting started on.
John Corcoran 6:05
Excellent. Thanks so much, Jackie. John Corcoran here, live at Global Leadership Conference.
Outro 6:11
Thank you for listening to the Smart Business Revolution Podcast with John Corcoran. Find out more at smartbusinessrevolution.com. And while you're there, sign up for our email list and join the revolution. And be listening for the next episode of the Smart Business Revolution Podcast.