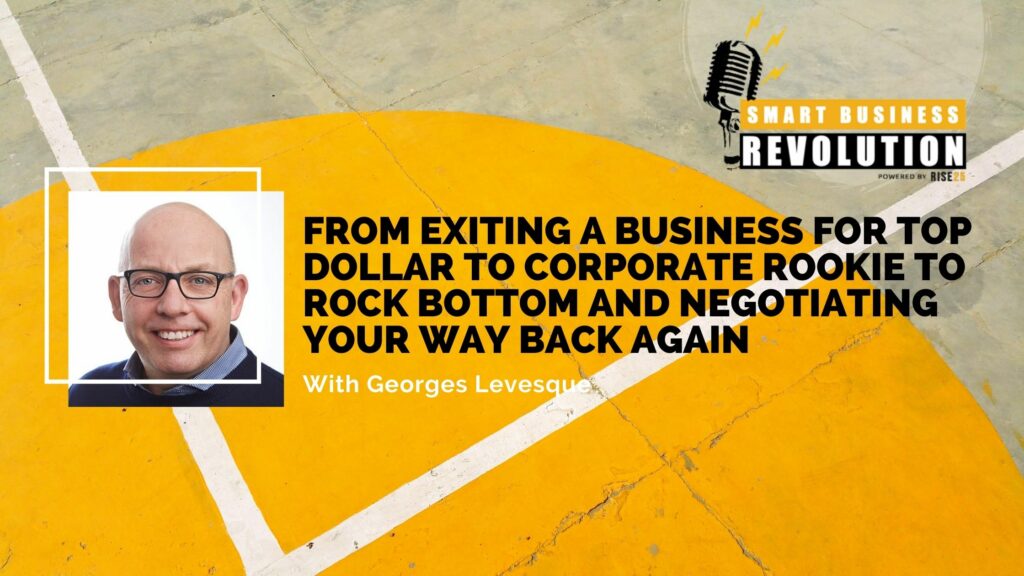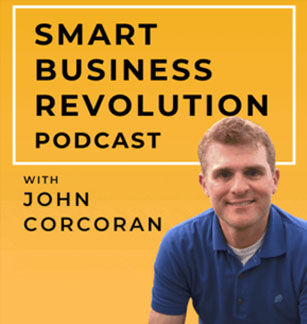 Georges Levesque is the President of Levesque Negotiation, a firm that provides negotiation training and advice. He is trained in advanced negotiations and business strategy at both the MIT School of Entrepreneurship and the Harvard Business School.

Georges is also a senior executive with EF Education First, the world's largest educational organization with over 52,000 employees in 114 countries. He is a longtime entrepreneur, professional speaker, and proud supporter of small businesses. He was also a former board member of the Entrepreneurs Organization (EO) and has traveled to over 100 countries. 

Georges Levesque, the President of Levesque Negotiation, is John Corcoran's guest in this episode of the Smart Business Revolution Podcast where he talks about negotiation strategies and how he trains entrepreneurs and executives to negotiate effectively. Georges also shares his experience in transitioning into the corporate sector after leaving self-employment, selling his business, and how he overcame some personal challenges in order to build another successful business.
Here's a Glimpse of What You'll Hear:
Georges Levesque talks about how he started an import & export company right after college and how being a member of EO helped his business
Why Georges bought out his U.S. business partner, how he built his business after 9/11, and how he learned to do sales
How Georges found a buyer and sold his business and what the transition period after the sale was like
Georges explains how he got to work with EF Education First and what he learned about himself and the corporate environment after being his own boss
Georges shares what drew him into the art of negotiation and why he decided to share his learnings and negotiation strategies with others
The personal challenges Georges went through and the entrepreneurial skills that helped him get over them
How Georges maintains his relationship with EF Education First 
The people Georges respects and admires in his industry and those he acknowledges for his achievements and success
Where to learn more about Georges Levesque and his work
Resources Mentioned:
Sponsor: Rise25
At Rise25, we're committed to helping you connect with your Dream 100 referral partners, clients, and strategic partners through our done-for-you podcast solution. 
We're a professional podcast production agency that makes creating a podcast effortless. Since 2009, our proven system has helped thousands of B2B businesses to build strong relationships with referral partners, clients and audience without having to do the hard work. 
What do you need to start a podcast?
When you use our proven system, all you need is an idea and a voice. We handle the strategy, production, and distribution – you just need to show up and talk.
The Rise25 podcasting solution is designed to help you build a profitable podcast. This requires a specific strategy, and we've got that down pat. We focus on making sure you have a direct path to ROI which is the most important component. Plus our podcast production company takes any of the heavy lifting of production and distribution off of your plate.
We make distribution easy
We'll distribute each episode across more than 11 unique channels including iTunes, Spotify, and Google Podcasts. We'll also create copy for each episode and promote your show across social media.
Cofounders Dr. Jeremy Weisz and John Corcoran credit podcasting as the best thing they have ever done for their businesses. Podcasting connected them with the founders/CEOs of P90x, Atari, Einstein Bagels, Mattel, Rx Bars,  YPO, EO, Lending Tree, Freshdesk,  and many more.  
The relationships you form through podcasting run deep.  Jeremy and John became business partners through podcasting.  They have even gone on family vacations and attended weddings of guests who have been on the podcast.  
Podcast production has a lot of moving parts and is a big commitment on our end; we only want to work with people who are committed to their business and cultivating amazing relationships. 
Are you considering launching a podcast to acquire partnerships, clients, and referrals? Would you like to work with a podcast agency that wants you to win? 
Contact us now at [email protected] or book a call at rise25.com/bookcall.
Rise25 was co-founded by Dr. Jeremy Weisz and John Corcoran who have been podcasting and advising about podcasting since 2008.
Episode Transcript
Intro 0:14
Welcome to the revolution, the Smart Business Revolution Podcast where we ask today's most successful entrepreneurs to share the tools and strategies they use to build relationships and connections to grow their revenue. Now, your host for the revolution, John Corcoran.
John Corcoran 0:40
All right. Welcome, everyone. John Corcoran here. I'm the host of the Smart Business Revolution Podcast where I talk with smart CEOs, founders and entrepreneurs of all kinds of companies and organizations from YPO to EO, Activision Blizzard, Lendingtree, Open Table, Xsoftware, and many more. I'm also the co-founder of Rise25 where we help connect b2b business owners to their ideal prospects. And before I introduce today's guest, I want to give a big shout out to Marina Byezhanova, I hope I'm saying that right, one of our past guests. Go check out brandofaleader.com. She was great, loved her energy. And she introduced me to today's guest, which is Georges Levesque. Georges is the President of Levesque Negotiation, a firm providing negotiation training and advice right out of my own heart since I spent many years practicing law and studied negotiation. And he was so persuasive that he even helped to help guide what we're going to talk about beforehand. So we're talking about negotiation strategy a bit. He's also a senior executive with EF Education First, the world's largest educational organization with over 52,000 employees in 114 countries. He's also a longtime entrepreneur, professional speaker and proud supporter of small businesses. He has been active in EO (Entrepreneurs' Organization), which is a wonderful organization and has traveled over 100 countries.
And in addition to being a lifetime entrepreneur, he also went to go work in a larger corporate environment. And really, that's where he really felt like he learned a ton. So we're going to talk about the differences between those two, and also had some real big personal challenges after selling his company, including going through a divorce. And we'll talk about how some of the entrepreneurial skills he'd learned that helped them to climb out of that. But first, before we get to that, this episode is brought to you by Rise25 Media, our company, which helps b2b businesses to get clients, referrals and strategic partnerships with done-for-you podcasts and content marketing. If you want to learn more, go to rise25media.com. You can also email us at [email protected]. Alright, Georges, I'm so excited to have you. And this was a long time coming, working on getting this scheduled. And you have an interesting story because you were graduating from college, and you thought, here's what I'll do, I'll start an import export company. That seems rather simple, right? I'm joking, of course, like, how does one do that when they're graduating from college? Just go start something as complex as an import export distribution company.