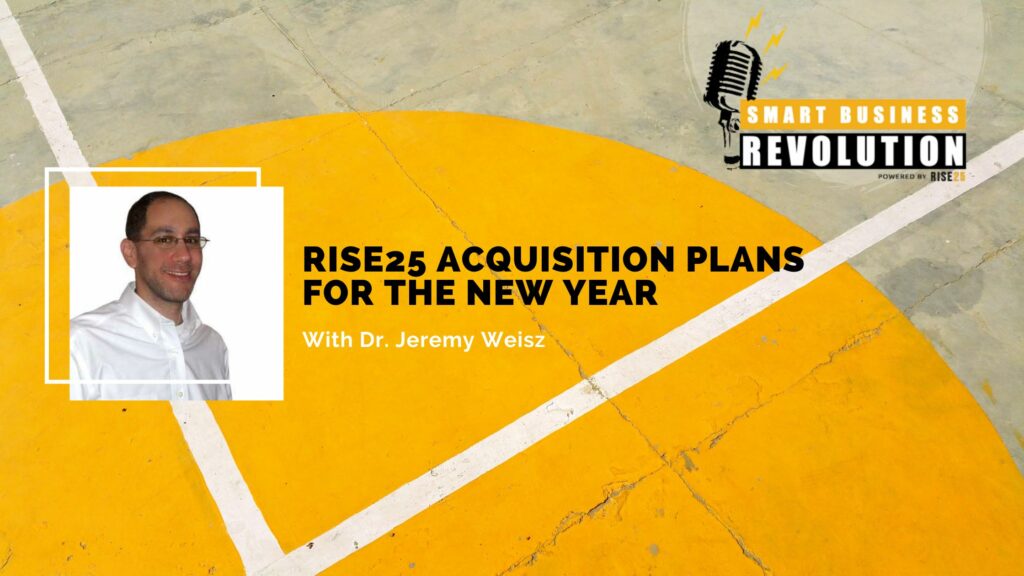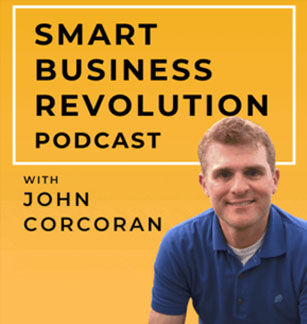 Dr. Jeremy Weisz is the Co-founder of Rise25, a company that helps B2B business owners connect with their ideal prospects, referral partners, and strategic partners through a done-for-you podcast service. Dr. Weisz has been involved in podcasting for over 11 years and was a senior producer for one of the early business podcasts; he assisted in putting all of their systems in place and helped them add volume, feature, and edify various business leaders.
Dr. Weisz has also been running his own podcast, Inspired Insider, since 2011. He has featured top entrepreneurs, founders, and CEOs of companies such as P90X, Atari, Einstein Bagels, Mattel, the Orlando Magic, and many more through video interviews. He also founded a nutritional supplement business and continues to run his own chiropractic and massage facility, Chiropractical Solutions & Massage.
In this episode of the Smart Business Revolution Podcast, John Corcoran sits down with Dr. Jeremy Weisz, his Co-founder at Rise25, to share their goals for the year 2023. They talk about their acquisition plans, company values, and criteria for investing in companies.
Here's a Glimpse of What You'll Hear:
Dr. Jeremy Weisz and John Corcoran share their acquisition plans for the year 2023
Why company values are important for Rise25
The criteria of companies Rise25 looks to acquire
Why diversification is essential for Rise25's investment plan
Resources Mentioned In This Episode
Sponsor: Rise25
At Rise25, we're committed to helping you connect with your Dream 100 referral partners, clients, and strategic partners through our done-for-you podcast solution. 
We're a professional podcast production agency that makes creating a podcast effortless. Since 2009, our proven system has helped thousands of B2B businesses build strong relationships with referral partners, clients, and audiences without doing the hard work.
What do you need to start a podcast?
When you use our proven system, all you need is an idea and a voice. We handle the strategy, production, and distribution – you just need to show up and talk.
The Rise25 podcasting solution is designed to help you build a profitable podcast. This requires a specific strategy, and we've got that down pat. We focus on making sure you have a direct path to ROI, which is the most important component. Plus, our podcast production company takes any heavy lifting of production and distribution off your plate.
We make distribution easy
We'll distribute each episode across more than 11 unique channels, including iTunes, Spotify, and Google Podcasts. We'll also create copy for each episode and promote your show across social media.
Cofounders Dr. Jeremy Weisz and John Corcoran credit podcasting as being the best thing they have ever done for their businesses. Podcasting connected them with the founders/CEOs of P90x, Atari, Einstein Bagels, Mattel, Rx Bars,  YPO, EO, Lending Tree, Freshdesk,  and many more.  
The relationships you form through podcasting run deep. Jeremy and John became business partners through podcasting. They have even gone on family vacations and attended weddings of guests who have been on the podcast.
Podcast production has a lot of moving parts and is a big commitment on our end; we only want to work with people who are committed to their business and to cultivating amazing relationships.
Are you considering launching a podcast to acquire partnerships, clients, and referrals? Would you like to work with a podcast agency that wants you to win? 
Contact us now at [email protected] or book a call at rise25.com/bookcall.
Rise25 Cofounders, Dr. Jeremy Weisz and John Corcoran, have been podcasting and advising about podcasting since 2008.
Episode Transcript
Intro 0:14
Welcome to the revolution, the Smart Business Revolution Podcast, where we ask today's most successful entrepreneurs to share the tools and strategies they use to build relationships and connections to grow their revenue. Now, your host for the revolution, John Corcoran.
John Corcoran 0:40
All right, welcome, everyone, John Corcoran here. This is a different style of an episode because I'm here with my business partner and friend, Dr. Jeremy Weisz, Co-founder of Rise25. And, you know, every year we take some time to step back and reflect on what we did last year, and what we want to do in the year ahead and set some rocks and big goals for our company. And so in this episode, we're going to be talking about why we are planning to do an acquisition of company or companies in 2023, why that's a big rock for us, and what some of our criteria are, for 2023. And of course, if you are new to this program, or to Inspired Insider, this would be going on in both podcasts, check out our archives, lots of great interviews with smart CEOs, founders and entrepreneurs from all kinds of companies for Netflix, Kinkos', P90x, Einstein Bagels, Atari, you name it. So check out the archives. 
And of course, this episode is brought to you by our company, Rise25, where we help b2b businesses to get clients, referrals, and strategic partnerships with done-for-you podcasts and content marketing. And you can learn all about what we do at rise25.com. Alright, so Jeremy, let's, let's launch into it here. So we're looking to do a few acquisitions this year, you and I, you know, I've been now in the podcast space for about 26-27 years, between the two of us not even counting all of their amazing team who've been in for a number of years now. So we have a lot of experience in this space. And we want to acquire a few other companies or that are going to join up with us and help us really in our mission to help b2b companies to build amazing relationships with referral partners, strategic partners, clients. So let's talk Jeremy about the criteria, what we're looking for in those types of companies.
Jeremy Weisz 2:26
Yeah, I mean, the the first thing, when we were discussing this that we came up is values. So you want to talk a little bit about from, from a value standpoint, forget about the revenue or what the company does we really want the values aligned. Yep.
John Corcoran 2:45
Yeah, absolutely. And so are we taken our values very seriously, we use them to filter everything that we do from hiring people to what we decide to do with the business. And one of our writers actually came up with this term, give back GIVE, BACK, each of them stands for a different thing, I won't go into all of them. Now it's on our careers page, if you want to check that out. But a few of them that really important to us is one being generous giving to others. That's really what podcasting is about. It's giving to others, giving them exposure, giving them publicity, giving them a pedestal, asking them about their background, to tell their stories to share it with future generations. That's one of the pieces education, visualize growth and expansion. That's what we're talking about here. Investing wise of being frugal, you can check out some of those other core values. But we definitely want any company that we acquire, we want there to be overlap in terms of shared values. But let's talk about the ideal type of company. Jeremy, there's two different categories we're looking at.
Jeremy Weisz 3:49
Yeah, I mean, we help b2b companies get clients or referral partners using done for you podcasts and content marketing are an easy button and do the strategy, accountability and execution. So we are looking to acquire a company that complements our services that we provide. And so it kind of falls into two different categories. Right? So one, is there an agency in the podcast space, or maybe they're a Podcast Producer that works with b2b clients. And the second one, John is a b2b agency that could provide additional services to our clients
John Corcoran 4:29
may be complimentary to the work that we do right now. Maybe there's some overlap in some of the work that we do, or maybe there isn't. There's some services that we don't provide that are still generally in the podcast base. So this could be you know, a done for you book company that helps b2b companies to create a book that they use to market their services, a podcast guest booking services company, podcast advertising agencies that are placing ads on podcast lead generation company that's using cold email or direct mail in order to reach out to prospects, or maybe a social media content agency of some sort that's helping to create and share content for clients, b2b current clients online. What are some other criteria? Jeremy that we're looking at?
Jeremy Weisz 5:12
So the age of the company, right? So we want some type of longevity? It made they're just a pen, but at least two years in business. Yeah. And maybe they have a longer, you know, they may have a track record in the industry for much longer, but maybe they started this business two years ago, right? Yeah. Another big one for us is the team is trained, and has some kind of, they have some kind of documented procedures in place in SOPs, so that there's a training process, and you know, acquiring a team. And having a team that knows what they're doing, and has these things documented is important. What about from a revenue perspective,
John Corcoran 6:04
from a revenue perspective, what we're looking at now is gross revenues from $200,000, on the low end to about 1.5 million on the high end, and an EBITDA of at least $100,000 is what we're looking at. You know, one of the things I wanted to mention, though, is that for the company that we're looking to acquire, I think what would be motivating for them is, it could be a founder that wants to move on, or it could be a founder that still wants to be part of the company afterwards. But we're looking for a company that wants to be part of a larger initiative. We've got a great team now all over the globe. And we put a lot of effort into building camaraderie and, and doing events to reinforce our core values. We do a book club every month where we get together and and go through a book, or a masterclass course, or something like that. We have a monthly meeting where we're sharing what we're doing as as a company, and we're getting to know one another. And we're sharing ways in which we're learning or improving ourselves. Personally, those things are important to us. And one of the things that attracted our team members that have come to work with us is that you can be in any part of the globe. And you can be part of this team of teammates that you work together on. And, you know, it's right in our core values. But one of our core values is being niceness, recovering lawyer had dealt with many years of combativeness, and I don't want to deal with that. Now, I know you don't either. So we want people that are nice to one another. And we want clients that are nice to us. And so if that's attractive to you, then that might be this might be a good opportunity for you. Anyhow,
Jeremy Weisz 7:41
another one is diversification. Right, talk about diversification as far as client diversification.
John Corcoran 7:49
Yeah. So for us, you know, for us and for the company that's being acquired, there's some greater certainty from diversification. So we have a diversified client base, but within the b2b space, and we do have, we're looking for other types of clients that are coming in, especially if there are perhaps enterprise types of clients. We haven't had as many of those. But we're open to different types of clientele.
Jeremy Weisz 8:21
And what if one client representing too much
John Corcoran 8:26
yes, yes. So if you were not looking for a company that has over reliance on one particular client, so if any one client represents more than 40% of the company's revenues in the trailing 12 months, that probably would not be a good fit for us.
Jeremy Weisz 8:46
Are there any other criteria that we're looking for, that we haven't mentioned?
John Corcoran 8:54
I think those are the main ones. We're always open to a conversation. So if you're watching or listening to this, and it piques your interest, and you're not sure if your company would be a good fit or not, or if you know someone else who has a company that you think would be a good fit, we encourage you to shoot us a message, send us a message on LinkedIn, you can email me [email protected] or [email protected]. Reach out and we're always open to a conversation. All right, and we will wrap things up there. So thanks, everyone, and we'll talk to you again soon.
Outro 9:28
Thank you for listening to the Smart Business Revolution Podcast with John Corcoran. Find out more at smartbusinessrevolution.com. And while you're there, sign up for our email list and join the revolution. And be listening for the next episode of the Smart Business Revolution Podcast.