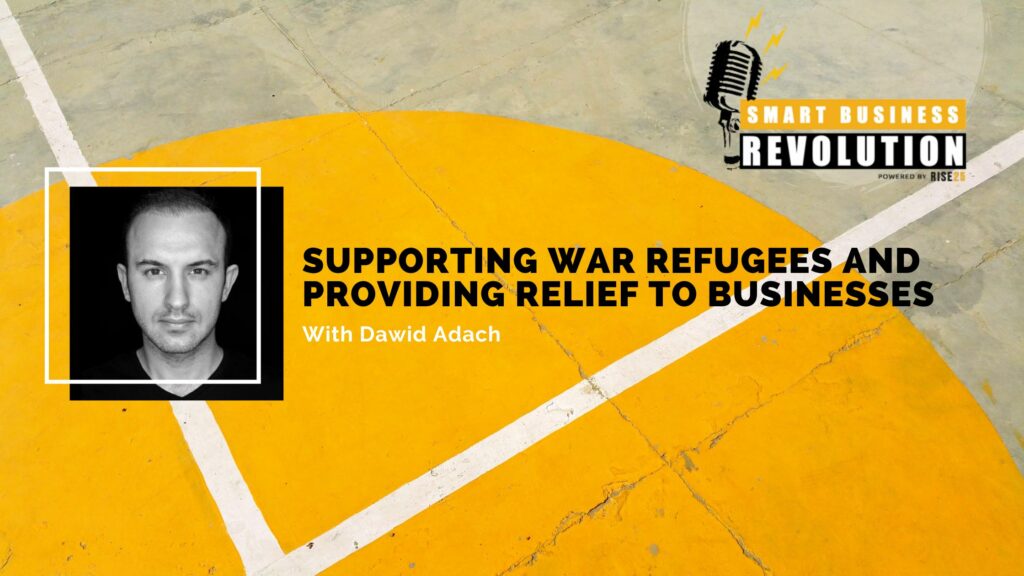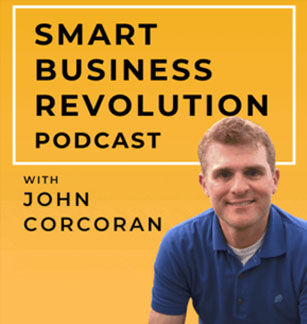 Dawid Adach is the Co-founder of Material Design for Bootstrap (MDB), a free material design framework for web developers. He is an entrepreneur, a full-stack developer, and a member of the supervisory board at AI REV. Dawid was a founding member of the EO Poland chapter and served as President from 2021 to 2022. He has a master's degree in computer science from the Warsaw University of Technology. 
In this episode of the Smart Business Revolution Podcast, John Corcoran interviews Dawid Adach, the Co-founder of Material Design for Bootstrap, about his work supporting war refugees. Dawid explains how the EO Relief Fund in Poland was started, how EO members in Poland supported Ukrainian refugees, and his experience being an EO member.
Here's a Glimpse of What You'll Hear:
Dawid Adach talks about the services his company provides
How the EO Poland chapter has been supporting Ukrainian refugees
The current state of war in Ukraine 
Dawid talks about attending EO events and his experience being an EO member 
Where to learn more about EO Poland
Resources Mentioned In This Episode
Sponsor: Rise25
At Rise25, we're committed to helping you connect with your Dream 100 referral partners, clients, and strategic partners through our done-for-you podcast solution. 
We're a professional podcast production agency that makes creating a podcast effortless. Since 2009, our proven system has helped thousands of B2B businesses build strong relationships with referral partners, clients, and audiences without doing the hard work.
What do you need to start a podcast?
When you use our proven system, all you need is an idea and a voice. We handle the strategy, production, and distribution – you just need to show up and talk.
The Rise25 podcasting solution is designed to help you build a profitable podcast. This requires a specific strategy, and we've got that down pat. We focus on making sure you have a direct path to ROI, which is the most important component. Plus, our podcast production company takes any heavy lifting of production and distribution off your plate.
We make distribution easy
We'll distribute each episode across more than 11 unique channels, including iTunes, Spotify, and Google Podcasts. We'll also create copy for each episode and promote your show across social media.
Cofounders Dr. Jeremy Weisz and John Corcoran credit podcasting as being the best thing they have ever done for their businesses. Podcasting connected them with the founders/CEOs of P90x, Atari, Einstein Bagels, Mattel, Rx Bars,  YPO, EO, Lending Tree, Freshdesk,  and many more.  
The relationships you form through podcasting run deep. Jeremy and John became business partners through podcasting. They have even gone on family vacations and attended weddings of guests who have been on the podcast.
Podcast production has a lot of moving parts and is a big commitment on our end; we only want to work with people who are committed to their business and to cultivating amazing relationships.
Are you considering launching a podcast to acquire partnerships, clients, and referrals? Would you like to work with a podcast agency that wants you to win? 
Contact us now at [email protected] or book a call at rise25.com/bookcall.
Rise25 Cofounders, Dr. Jeremy Weisz and John Corcoran, have been podcasting and advising about podcasting since 2008.
Episode Transcript
Intro 0:00
Welcome to the revolution, the Smart Business Revolution Podcast, where we ask today's most successful entrepreneurs to share the tools and strategies they use to build relationships and connections to grow their revenue. Now, your host for the revolution, John Corcoran.
John Corcoran 0:40
Hey everybody, this is John Corcoran with Dr. Jeremy Weisz. And this episode is a little bit different. This is a live interview that we recorded at the Global Leadership Conference from Entrepreneurs' Organization, where some of the best entrepreneurs from around the globe gathered in Washington DC, to share ideas and to learn about entrepreneurship. And of course, this episode is brought to you by Rise25, where we help b2b businesses to give to and to connect to their dream 100 relationships and partnerships, helping you to run a podcast so that it generates a referral pipeline and ROI.
Jeremy Weisz 1:14
Yeah, I mean, John, after both of us have been podcasting for over a decade, the number one thing in our life is relationships. And we're always looking at ways to give to our best relationships. And we found no better way to do that over the past decade than to profile the people in companies we admire and shout from the rooftops what they're working on. And this interview is no different. So if you've thought about podcasting, you should go to rise25.com to learn more, or email us at [email protected].
John Corcoran 1:41
Thanks, everyone. Enjoy the interview.
Jeremy Weisz 1:43
Enjoy.
John Corcoran 1:58
All right, John Corcoran here. We're here at the Global Leadership Conference put on by EO, Entrepreneurs Organization. This is brought to you by Rise25. We are the solution for b2b podcasting. And I'm here with Dawid, who's the President of the EO Poland chapter. And we're gonna talk in a moment about what that experience have been like, but tell me professionally what your business is.
Dawid Adach 2:18
So thank you for having me. I'm working in IT industry. So we're actually making software.
John Corcoran 2:24
And it's about 60 days into the crisis in Europe, the war, the refugee crisis, EO Poland chapter has been incredibly involved in helping refugees on the ground. Tell me a little bit about what the last 3060 days have been, like,
Dawid Adach 2:41
as you said, the 60 days. So it's a long time. So when the war started, first, my whole chapters, you know, get involved, I would say as a normal human beings, so they, we jumped into our cars, we went to the border, we get people into our houses, and then we fought like, how can we use our companies to do to help Ukrainians. So we change our offices into temporary shelters, we get people there, you know, we offer whatever we could. And then I felt like, Okay, we have this amazing organization, which you know, is, so how can we make use of it to help these people? So then we, we decided we're going to organize the EU fund for the Ukrainian relief, to raise money and then to spend it whenever it's needed. And that's what we did. And also at the same time, I've got I was just blasted with, you know, the 1000s of messages all around for it from EU members. Hey, how can we help? What can we do? And you know, did that was really amazing. I have never ever seen something like that before. So we raised by now $540,000, which is really amazing amount. And we are spending this like whenever it's needed.
John Corcoran 3:50
Wow. And what's the what's it like on the ground today? As we're 60 days into it now, there's more refugees still coming in? Are they are they still coming in?
Dawid Adach 4:01
Unfortunately, they're I mean, this, as I said, it's six has been 60 days already, but the war is going on. You know, we have fights in different areas. So some of the cities like Mario bowl are shut down there are there is no way to get out of the city, as soon as they will open the corridors that we have a new way. So it's coming in waves actually. So we still have new refugees coming on, which is which is sad, but that's how it is. And you know, just to give you some perspective, we are talking about 8 million refugees, internal refugees within Ukraine, another five to six millions, which fled out of Ukraine and almost two, almost 3,000,002.5 2.6 You never know the exact numbers but few 2.5 million landed in Poland so you know, we try to help them you know, there are brothers and sisters so we are doing whatever we can to help.
John Corcoran 4:52
Just heartbreaking watching it unfold from the United States. You mentioned this organization EO has been I'm really involved. You came out here to Global Leadership Conference. Have you been to previous GLCs? And what's the experience been like for you being here now?
Dawid Adach 5:09
Yeah, I've been to the to the previous one. The next you know, the EO Poland chapter is quite young one because we were like three years old. So we were quite new to today's but, you know, I love this organization. You know, I very much enjoyed it. So I was one that was on the one of the founding members there. But so I already liked it a lot. But because of whatever is happening right now, and all the support we've got, I think it was, I've never was proud to be a member of any organization like this before. So it's like, it's a great support. 
John Corcoran 5:40
Where can people who are watching this at home, where can they go learn more about the work that you're doing?
Dawid Adach 5:45
Sure. So if you want to learn more, if you want to see what we are doing, if you can, if you want to support or just spread the word, just go to ukraine.eopoland.org. So it's like ukraine.eopoland.org, and then you're gonna get older. 
John Corcoran 6:00
And I have to say, you made it extremely easy for anyone to donate a meal, five meals, 10 meals, I know our company bought some meals there. We're happy to do it. But very easy to do. So thank you for setting that up. This is John Corcoran. We've been live at Global Leadership Conference and thank you for watching.
Outro 6:17
Thank you for listening to the Smart Business Revolution Podcast with John Corcoran. Find out more at smartbusinessrevolution.com. And while you're there, sign up for our email list and join the revolution. And be listening for the next episode of the Smart Business Revolution Podcast.