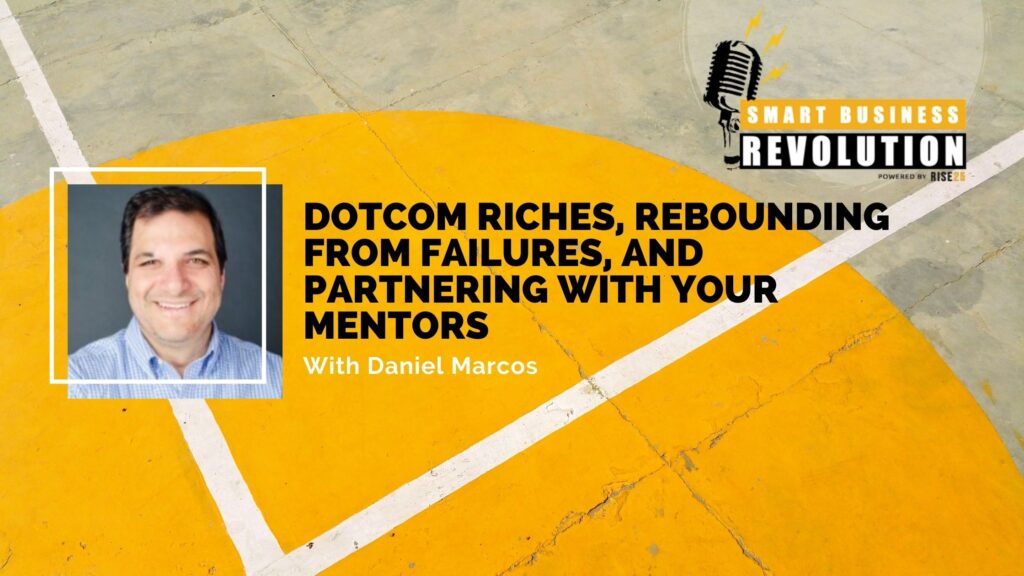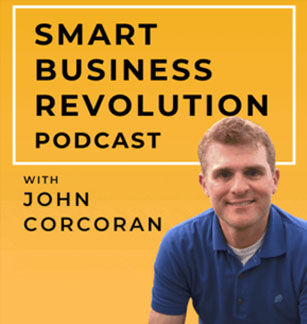 Failure.
Everyone avoids it, yet it can be our greatest teacher.
Those who learn from it, like this week's guest, can go on to the highest success.
Daniel Marcos is the Co-Founder and CEO of Growth Institute, a premier online training company engineered for mid-market companies worldwide. Daniel has been a CEO for over twenty years and is a keynote speaker on the subject of scaling business. Daniel partnered with Verne Harnish in the founding of Growth Institute.
In this episode, John Corcoran sits down with Daniel Marcos to talk about starting a business when he was eight, learning from failure, and whether the Entrepreneurial spirit is learned or cultivated.
In this episode, we also talk about:
Here's a Glimpse of What You'll Hear:
How Daniel Started His First Business at Eight Years Old
Are Children Born with an Entrepreneurial Spirit, or is it Learned?
Daniels Mentors When He was a Child
How Daniel Started Mexicos First Online Trading Business
The MIT Course Birthing of Giants
Starting a Company Just Before the Crash of 2008
The Lessons Daniel Learned From a Failed Company
Daniels Experiences in EO and YPO
Who Daniel Thanks for His Success
Resources Mentioned:
Sponsor: Rise25
Today's episode is sponsored by Rise25 Media, where our mission is to connect you with your best referral partners, clients, and strategic partners. We do this through our done for you business podcast solution and content marketing.
Along with my business partner Dr. Jeremy Weisz, we have over 18 years of experience with B2B podcasting, which is one of the best things you can do for your business and you personally.
If you do it right, a podcast is like a "Swiss Army Knife" – it is a tool that accomplishes many things at once. It can and will lead to great ROI, great clients, referrals, strategic partnerships, and more. It is networking and business development; and it is personal and professional development which doubles as content marketing.
A podcast is the highest and best use of your time and will save you time by connecting you to higher caliber people to uplevel your network.
To learn more, go to Rise25.com or email us at [email protected].
To learn more, book a call with us here.
Check out Rise25 to learn more about our done-for-you lead generation and done-for-you podcast services.
Right Click here to download the MP3
Click here to subscribe via iTunes
Advertise on the Smart Business Revolution Podcast
Episode Transcript
John Corcoran 0:40
Alright, welcome everyone. My guest on the show is my friend Daniel Marcos. Daniel is the co-founder and CEO of the Growth Institute. He's been a CEO coach for over two decades a keynote speaker and scaling businesses. He's a member YPO and EO serves as an ambassador to Singularity University and the CEO of EXO education in partnership with Celine Ishmael, another author, and speaker who I'm a big fan of, and so we got a lot of topics to cover in a short period of time. 
But first if you're new to this show, we don't charge for this podcast, I publish hundreds of episodes, every single one of them I talked to top business leaders, CEOs, founders and experts and ask them to break down how they built their businesses but equally as importantly the key relationships with clients mentors, peers, referral partners influencers that are the backbone of any business and I asked them to share how you can do it to to grow your business. So if you find value in this podcast, which I know you will, all we ask is you subscribe so you receive these downloads automatically and you keep on improving your relationships to grow your business regularly and consistently. And before we get into this interview, this podcast is brought to you by Rise25 media which is our done for you agency helping b2b businesses get more clients referral partners and strategic partners through a done for you podcast and done for you content marketing, your company has over 20 years of experience with podcasting. And we believe firmly that starting a podcast one of the best things you can do your business and you put personally, it is so many things at once is business development, networking, client acquisition, referral marketing, it even allows you to have a conversation with people whose work you admire and to learn from them like I'm about to do right now with Daniel Marcos. And it's also part of our greater mission through restaurant alive to make the world a smaller place by creating connections helping you to connect with more of the people that you want to connect with. You want to learn more about that go to Rise25.com. 
Now, as I mentioned, my guest is Daniel Marcos. I've known Daniel for a number of years now, Daniel, and I've wanted to interview you for quite some time for quite a while you actually put me off you said I don't know if that's my thing. And then fortunately for me, you started your own podcast. And I think that kind of turned your around to the idea of being a guest on podcast. Now you have the official Spanish language EO podcast. EO an organization that I belong to, EO accelerator program, great organization, started in part by Verne Hornish. And, you know, Daniel, but you started at in entrepreneurship at a young age, you were just telling me before we started recording that you actually subdivided your parents garage in order to start a business at the age of eight. Tell us about that.
Daniel Marcos  3:13  
That's correct. So I have two cousins, I was living in Mexico City them to costumes living in Monterey. And they build this tank in their in their backyard. And they put like 10 fish, and like a year later, they got like 1000 fish. So I saw my causes without any to the same. So we divided my parents crash in half. And I put this big tank, we call it we call it the tank of happiness, because the fish really reproduce really fast. So it's to reproduce fish there and then sell them in a parent's garage. And I did that for a couple of years. It was a lot of fun out of the home my parents allowed me to do because they put a real wall like like a concrete wall in the middle.
[continue to page 2]