A little while ago, I got a blog critique from Chris Garrett.?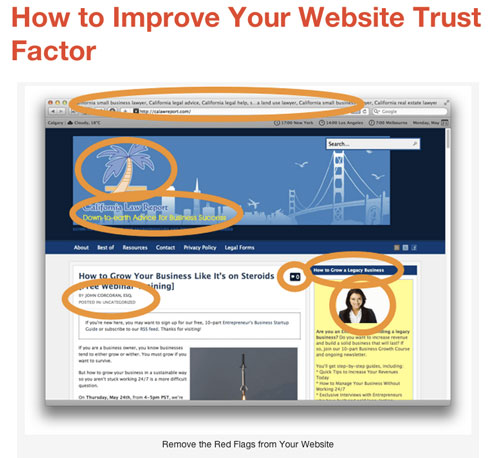 (If you haven't heard of Chris, he's basically one of the leading authorities in how to use blogging effectively and to establish credibility.)
I figured it had been a couple of years since I started blogging and it was time to get an outside expert's advice on how I could improve this forum and make it better.
Funny story about Chris' critique: the deal is you can either pay him to do a critique over the phone, or he'll write it up and publish it on his well-read blog.
I figured his blog would give me a little burst of extra traffic, so I signed up for a public critique on his blog.
A few days after I signed up, Chris sent me an email asking if I could talk over the phone.
I thought that was odd.
When we got on the phone, he said my blog was good, but… I needed to change basically a bunch of things about it. Like the header, the theme, the newsletter and even the URL.' Ouch.
He said he wanted to break the news gently to me over the phone rather than just taking me to task publicly on the blog.' Double ouch.
But you know what' He was right. About everything.
And he confirmed an earlier critique I'd gotten from Naomi Dunford in which she basically said many of the same things.
The truth is, my focus has evolved from the law to entrepreneurs and business.
My audience has moved from within Northern California to worldwide.
Although I am a lawyer, I have moved from writing about 'law', to writing about topics such as how to use email marketing for business, how to craft bills for clients effectively, and how to create a blog for business.
I've also moved into hosting free webinars and teleseminars which train entrepreneurs and business owners on how to grow their business in a smart and strategic way and how to use email marketing to double business revenue.
That's where this blog is headed, and it's time the name, domain, and everything else matched up.
The goal now is to be a forum and a resource for entrepreneurs and business owners.
It's definitely not a stuffy lawyer's blog, most of which suck.
Hence, the 'California' and 'Law' in the name aren't so relevant anymore, and will soon go away.
Starting now, you're going to see some major changes to this blog, many of whom have already been implemented. These changes will include:
a new name
a new WordPress theme
new resources available to email subscribers
more webinars with guest speakers
more focus on providing value and advice to entrepreneurs and business owners
continue to add members-only guest speakers to Business Profit Academy
Chris did say I was doing a lot of things well, including offering webinars and teleseminars, and he said the content of the blog was good.
And he guessed that once I implement the changes he recommended, I would build greater trust with my audience and the number of readers would continue to go up. I think he's right.
So I feel like we're headed in a good direction, and I am certainly pleased with the amount of traffic the blog is receiving, which has continued to increase steadily.
What do you think' Anything else you think I should change'
-John
P.S.' I want to credit writer/blogger Chris Guillebeau who gave me the idea to get a blog critique from Chris Garrett in his manifesto "279 Days to Overnight Success." Also check out Chris Guillebeau's book The $100 Startup: Reinvent the Way You Make a Living, Do What You Love, and Create a New Future (affiliate link) which is an excellent book.
P.P.S.' I would also highly recommend Chris Garrett if you have a blog and want to get some feedback on it.
Related Reading: