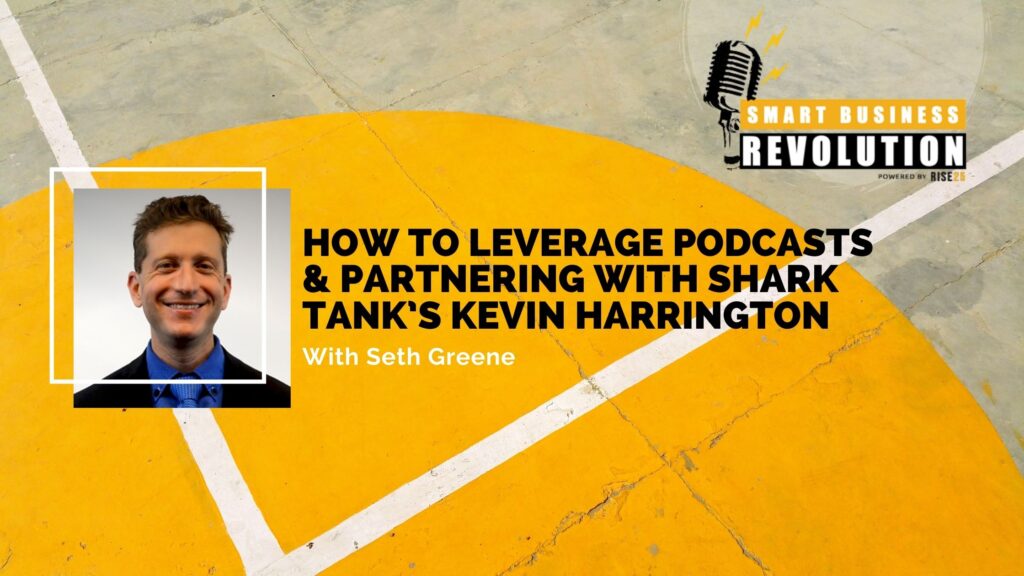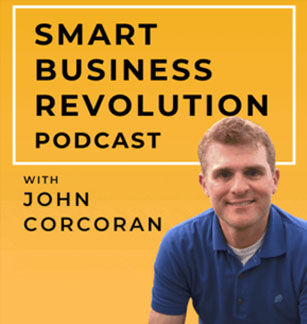 The growth of podcasting has been taking place for years now and shows no signs of slowing down anytime soon.
Knowing how to leverage a podcast in your business can increase your reach and your bottom line.
Seth Greene has paved the way.
Seth is CEO of the direct response marketing firm Market Domination LLC, a seven-time best-selling author, and co-host of the SharkPreneur podcast with Kevin Harrington of Shark Tank.
In this episode, Seth sits down with John to talk about all things podcasting, how he met Kevin Harrington, and why he doesn't worry about ad revenue from his podcast.
In this episode, we also talk about:
Here's a Glimpse of What You'll Hear:
How Seth Greene got into podcasting
Why Seth's book idea morphed into a podcast and a new income stream
Millennials Buy More Physical Books Than Any Other Group
Why Do Successful Podcasts Podfade?
The Difficulties of Getting a Return on a Podcast
The Story of How Kevin and Seth Started SharkPreneur
Reciprocity and Networking is a Big Benefit of Doing a Podcast
Why Seth Loves to be on Podcasts
The Benefits From Appearing on Other People's Podcasts
Seth's Advice for New Podcasters
How to Maintain Your Relationships Once You Connect Through Podcasts
Take Every Opportunity to be on Media Because You Never Know Who Will Hear It
Trade Guest Appearances With Other Podcasts
Learn From Your Guests on Your Podcast
Don't Get Hung Up on Audio Equipment
Seth's Background in Direct Response Marketing
Why Seth Doesn't Try to Earn Income Through Ads in the Podcast
Who Seth Thanks for His Success
Resources Mentioned:
Sponsor: Rise25
Today's episode is sponsored by Rise25 Media, where our mission is to connect you with your best referral partners, clients, and strategic partners. We do this through our done for you business podcast solution and content marketing.
Along with my business partner Dr. Jeremy Weisz, we have over 18 years of experience with B2B podcasting, which is one of the best things you can do for your business and you personally.
If you do it right, a podcast is like a "Swiss Army Knife" – it is a tool that accomplishes many things at once. It can and will lead to great ROI, great clients, referrals, strategic partnerships, and more. It is networking and business development; and it is personal and professional development which doubles as content marketing.
A podcast is the highest and best use of your time and will save you time by connecting you to higher caliber people to uplevel your network.
To learn more, go to Rise25.com or email us at [email protected].
To learn more, book a call with us here.
Check out Rise25 to learn more about our done-for-you lead generation and done-for-you podcast services.
Right Click here to download the MP3
Click here to subscribe via iTunes
Advertise on the Smart Business Revolution Podcast
Episode Transcript
John Corcoran  0:40
Alright, welcome everyone. My guest is Seth Green. He's the CEO of the direct response marketing for market domination LLC, a seven time best selling author and the co host of the shark printer podcast with shark tank's Kevin Harrington, which was actually named recently one of the top 10 podcasts listened to in 2018 by NASDAQ really impressive. So we're going to talking about one of my favorite topics, which is podcasting. Why you need a podcast for your business. Now more than ever, he runs and manages podcasts for people. So he's got really deep experience in this area. And I'm really interested to pick his brain on all this. And this episode is brought to you by rise 25, the lead generation agency business which I co founded in 2013, with my business partner, Dr. Jeremy Weiss, and our mission is to help to connect you with your best referral partners and customers. And, you know, we we spend a lot of time with that and in targeting the right types of people for you to be with. And what better way to do that, of course, then with a podcast, one of the best tools out there. And so Seth, I'm excited to talk to you about this. You got started with podcasting. I don't know what year it was. Exactly. But you had a separate podcast before the podcast you did with shark printer. What led you to podcasting originally? When did you get started?
[continue to page 2]