Goals are the fuel in the furnace of achievement.

— Brian Tracy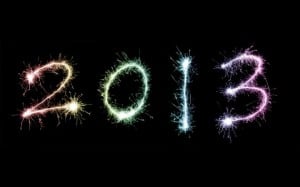 Welcome to my first annual review!
The goal of this review is to go over what worked and what didn?t work in the past year, what I believe I can do differently, and to lay out my goals publicly for the new year.
But first, a quick aside: I was talking with a friend recently about setting annual goals and I mentioned that writing down your goals makes you far more likely to actually achieve those goals.
I asked her if she had goals for 2013 and she said ?yes.? Then I asked what they were and she said ?isn?t that, like, a secret??
I said no way! The more people you tell about your goals, the more people there are to keep you accountable and the more likely you will follow through on them.
What happens if you break a goal you kept as a secret to yourself? Not much.
And that?s why I?m sharing my goals for 2013.
There are two core focuses of this review: first, to look back and to reflect, and second, to look forward, using the lessons from the past year to set a clear path for the future.
The forward-looking hope is to define the outer contours of a plan for the next 12 months, including what matters to me and what I hope to achieve in the next year.
I was inspired to do this annual review by a number of others, but most of all it is an outgrowth of my focus in the past year on setting clear goals and planning out my work before jumping in to it.
But first, before I get into what I did well and not so well, here are a few specific ground rules for this review:
I must be honest with what worked and what didn?t work in the past year. Lying to myself and others will not help me improve.
Goal themes may be broad, but specific goals must be concrete and tangible.
Part of setting goals is

 

motivation

 

— to motivate both you and me to work hard, take risks, and to achieve more. Setting modest, luke-warm goals doesn?t light anyone up, so I am most definitely

 

not

 

going for luke-warm in this annual review.
So let?s talk about what I did well, not so well, and where there?s room for improvement from the past year.
My Review of 2012
Family
Of course, the most important thing to me is my family. My son turned two during 2012 and it has been a thrill to watch him grow up.
Here he is. I have no idea who let him play with that trash can.
A big part of the decision to work for myself was having control over my schedule so that I could spend more time with my family. Although owning one?s own business is not easy, I think I?ve done a good job of balancing family time with work time.
For example, in June, we found out my son needed to get ear tubes because he had experienced multiple ear infections since he was born. There were multiple doctor appointments and the actual surgery itself, and fortunately I was able to work around my schedule to be there for all of them.
I don't want to imagine what I would have missed if I had been working for a big law firm with strict billable hour requirements. I'm grateful I wasn't put in that position of deciding between work and family.
Of course, raising a 2 year old isn?t always a ball of wax, and he certainly had his moments of ?terrible two?s.? It?s also difficult having two working parents who work full time.
But I wouldn?t trade it for anything, and I hope in the coming year my wife and I will learn more tricks and techniques to balance all the demands that come with having two parents who work full-time.
One of my wife and I's shared goals for 2012 was to have my wife, Nicole, take more time off of work to spend with our son and recharge her batteries.
One of the reasons my wife decided to become a community college counselor is because they get generous time off. However, as I went through law school then worked to establish my legal career she unfortunately hasn't been able to take off as much time as she would have liked, given our need for the extra income.
During 2012, my wife was able to take about 4-5 total weeks off during the summer, which was more than she'd taken off previously.? She also took off a greater portion of her winter break than she did during 2011.
Our goal for 2013 is for her to take about 6 weeks off during the summer.? We also hope to work from Lake Tahoe for about 2-3 weeks of that time, during which I would be working remotely.
Aside from giving my wife more time to spend with my son, we also had two big family goals at the start of 2012 to accommodate our growing family. The first was to sell the small condo we were living in.
We had lived in this small, two-bedroom, one-bath condo since 2003 and we outgrew it long before my son showed up.
The second big family goal was to get a bigger car to accommodate the toddler and his ever-growing collection of things that travel everywhere he goes.
Although we wanted to achieve both of these goals within the next few years, we weren?t expecting to achieve both during 2012.
Ironically, we ended up achieving both of these big goals during the past year – with about 12 hours to spare.
We sold our condo last summer, and moved into a 3 bedroom, 2 bath house just down the road. We stayed in the same town w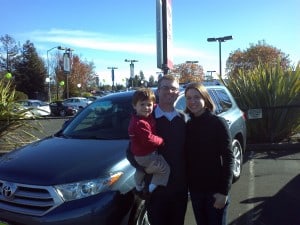 hich allowed me to continue serving on our town?s planning commission.
Then, my 2002 Honda Accord finally reached its last legs in mid-December, and on December 31st, 2012, my wife and I drove off in our new Toyota Highlander with plenty of extra room for our son.
Like just about everything else, our son has already made it clear this is "my car."
Although both of these goals took time, energy and money, they set a foundation for the future.
In fact, if there's any theme to this year's annual review, it's setting a foundation for the future.
Business Victories & Struggles During the Past Year
I've written previously about my big long-term goals for my business, so I won?t recount them here. In the immediate term, my goal has been to develop and deepen long-term relationships with more small business and entrepreneurial clients, and I believe I have done that.
I worked with over 50 different clients during 2012, the majority of which were small business owners or entrepreneurs.
My clients included everything from an emergency services consulting firm to a wine distributor, angel investors, a swim school, and a commercial photography studio. I did everything from drafting contracts to negotiating operating agreements to serving as a strategic sounding board prior to key business maneuvers.
I started publishing "Client Spotlights" on this blog during 2012 which highlight some of the interesting work these clients are up to.
I am happy with the clients I have been working with and the types of work I?ve been doing. Many of my past clients have come back to me more than once, which is a great sign. The best source of new business is repeat business.
One challenge has been keeping a steady flow of work from month to month. At the beginning of 2012, I was incredibly busy. I was so busy in fact, that it left me little time for planning, developing new clients and even serving smaller clients.
Although the money was good, it was a very unhealthy way to run a business. The majority of my business was from 2-3 large clients. That?s a recipe for disaster.
You never want to depend too much on a handful of clients, or else you will be left searching for work if and when those large clients don?t need you any more. This rule applies no matter what line of work you are in.
As you might expect, once work from those few clients slowed down in the spring, then I needed to scramble to find new client work to fill in the gaps.
Although revenues dipped, the good news was I was able to develop new clients and revenues were consistent over the course of the year. There were peaks and valleys to be sure, but nothing disastrous.
But the lesson for me was that it?s important to avoid the ?marketing rollercoaster? and to move away from services that are totally dependent on the billable hour.
Here are the two problems. Problem #1:? you get busy with client work, so you neglect everything else, including marketing.? Then your client work dies down and you need to frantically market to get new client work. It's a marketing rollercoaster.
The ?billable hour? problem is as follows: there are only so many hours in the day, and I can only charge so much per hour. If you want to increase revenues you need to work more hours in the day. That's not so good for having a life and a family.
Also, if you?re sick, on vacation, or pulled away from the office, you?re not making money. You are tied to your desk. You are a machine.
That?s why one of my big goals is to diversify my revenue to the point where I am no longer 100% dependent on my active, daily involvement for money in the door.
How to Avoid the Billable Hour Problem & the Marketing Rollercoaster
There are two alternatives to solve these problems. One is the old-school services firm model: to hire other attorneys to work for me, freeing up my time to bring in more business. It?s a standard service-based business model.
I don't like doing things the standard way.
The other option is to develop services or products which serve the target clients I love working with in a ?one-to-many? model rather than one-to-one. These are services or products that would require significant up-front investments of time and effort, but which require more minimal involvement to maintain after they are set up. This is typical of a product-based business.
The benefit is the snowball effect – your efforts can snowball over time.
Simple examples of professions that lean more toward the one-to-many product model are authors, artists, and filmmakers.
One of my goals for 2013 is to develop these new product-based revenue sources.
The Importance of Using Planners
I've often told my clients that a successful business does not mean doing any one thing well; it means completing thousands of small and large tasks, executed consistently over time. I definitely learned that lesson in the past year.
Around September, I started using weekly and daily planners which really helped me to focus and tackle the hundreds of small and large activities you need to execute as a small business owner.
These planners (which you can download for free from Charlie Gilkey?s Productive Flourishing) made a big difference in the amount of tasks I completed on a daily and weekly basis, and they also led to a greater feeling of accomplishment and personal satisfaction.
I plan to continue with active daily and weekly planning during 2013, and I want to get even more focused by sitting down to plan on a quarterly and monthly basis.
The Importance of Setting Your Foundation
There were two big foundation-setting ?fundamentals? which took up a huge amount of my time in 2012, but which didn?t produce any revenue in the short term. Nevertheless, these two items were crucial.
First, I switched my practice from a sole proprietorship to a professional corporation. This change required dozens of small time consuming steps, from forming the corporation with the Secretary of State to closing & opening new bank accounts to switching my credit card processing system over to changing my letterhead.
I switched to a professional corporation because it will result in some tax savings and some liability protection. I?m glad I did it, but it was a huge pain in the butt. It would have been much easier to set up my firm the proper way from the beginning. I wish I had done that.
The second big foundation-setter was rebranding my blog to make it more consistent with my business focus (which I discuss more below).
Both of these steps were hugely time consuming, produced little revenue in and of themselves in 2012, but were still absolutely critical for achieving my long-term goals.
But taking on these two projects in the same year did highlight the importance of balancing cash flow with work on activities that produce no short-term cash flow.
As important as your long-term foundation-setting projects may appear, do not sacrifice short-term cash flow in the process.
My First Online Coaching Program for Entrepreneurs: Business Profit Academy
On New Year?s Day 2012, I woke up and said to myself: if I want to continue developing my online presence and diversify my revenue using one-to-many products, then I need to create an online course.? And I told myself that this was the year.
I ended up partnering with Kevin Waldron to create Business Profit Academy, a 8-week video training program to help entrepreneurs and business owners to grow their businesses.
We ran the program live in February – March 2012 and now offer a self-study program. Running the program live took a couple of hours per week and now that it?s established, it takes little to no time at all to maintain.
What's great about the program is it's very complimentary to the work that both Kevin and I do, and its very existence helps with building both of our own reputations and our personal brands.
I?m really proud that Kevin and I were able to overcome the numerous technical and motivational barriers in creating our first online program. We learned a great deal, and I hope that Kevin and I can set aside the time to run the program live again or something similar during 2013.
Goodbye California Law Report, Hello Smart Business Revolution
As I mentioned above, one of my biggest achievements during 2012 was completely revamping my blog. Here?s the back story.
In late spring, I got a blog review from Chris Garrett, who is a very well-respected expert in using blogging to develop your expertise to a larger community.
As polite as Chris is, his advice was harsh (and spot-on) ? he said I need to completely revamp my blog.
His advice was tough love, but it was very astute. Years ago, I had named my blog California Law Report because I was a lawyer and most of my clients were located in California.
In the intervening years, I had shifted my focus toward entrepreneurs and small business owners, many of which were not even located in California. The disconnect between the focus of my writing, interviews and videos and the name of the blog was jarring and confusing to readers.
Oh yeah, and the blog was ugly.? To put it more nicely: the look and feel of the site was long overdue for a refresh.
It was bitter medicine ? but the doctor was right.
So I took a deep breath and completely rebranded ?California Law Report? as ?Smart Business Revolution,? changed the URL, installed & configured a new WordPress theme, and started churning out new and more focused content.
I also shifted the focus of my blogging to be a lot more personal.
I never used to write about my personal experiences and experiments with entrepreneurship. Now, I share what has worked and what hasn?t worked for me, products I like and don?t like, and share my goals, successes and failures.
I put myself 'out there' a lot more publicly, but I also use myself as a guinea pig for my readers' benefit.
It is all aimed at helping entrepreneurs and business owners, like myself, to navigate the roller-coaster of running and growing a business.
Later blog critique of Smart Business Revolution by blogging experts David Risley and Chris Drucker confirmed that I was on the right track.
I also finally launched a podcast to go along with the new blog, and that has been a great addition.
Having a podcast gives you a wonderful opportunity to connect with others who have come before you and who are doing work you are interested in. It gives you an excuse to email people you admire and ask them for an interview – which most of them are happy to grant, as interviews promote their products and services. It's a win-win.
In fact, I set a goal for myself to do 52 interviews over the course of 52 weeks during 2013, and I will feature each of these interviews on the podcast.
The Importance of Coaching
Another big decision I made during 2012 was to start working with a business coach. I ultimately choose Judi Cohen of Warrior One, who focuses on working with attorneys, especially attorneys who have an entrepreneurial bent like myself.
I have thoroughly enjoyed working with Judi, and she has continually probed, tested, questioned assumptions, and pushed me to achieve more.
The lesson here is whether you work with a mentorship group, coach, or other mentor, you should have someone who you meet with regularly to keep you accountable and focused as an entrepreneur and small business owner.
My Business Growth Strategy
Working with Judi and informed by the many books I have read in the past year, I have been honing my business strategy. I?ve often said that businesses that fail don?t always fail because they did one thing wrong ? they fail because they didn?t spend their time wisely doing the things that matter the most.
In that spirit, I?ve honed in on the things I should focus my time on.
Time is the one commodity we all have equal amounts of, no matter how big our business. As a business owner, whether we have $500M a year in revenue or $50,000 a year, we make similar choices about what we do with our limited time available.
Those choices about how to spend our time can turbo-charge or torpedo a $500M a year company just as easily as they can do the same for a $50,000 a year company.
The lesson here is to spend your time wisely, and to spend your time on the things that will drive growth today and tomorrow.
So, without any further explanation, here are the goals which I plan to focus on during 2013, based on what I?ve found works for me.
My Goals for 2013
1. Balance Life and Business Better
First of all, I agree with author and entrepreneur Danielle LaPorte who says that it is impossible to achieve work-life balance. Everyone is out of balance, so chasing a constantly elusive goal of "life balance" simply leaves us all frustrated and/or depressed.
Having said that, I do want to do what I can to fulfill my family obligations.
Family is my #1 priority, and running one?s own business can frequently get in the way. I easily get excited about business opportunities so it?s very easy to get sucked up in working on new things that come along when you should be spending time with family.
During 2013, my goal is to be constantly vigilant and aware of my work/life balance on a daily basis. I think finding that elusive balance requires constant re-calibration, and so I plan to communicate well with my wife to be sure I am not spending too much time working on business goals and away from life goals.
Business should always be in service of life. Not vice-versa.
2. Be a Good Human and Connect With Others
One big lesson I learned in the past year is the importance of making honest, sincere and human connections with others who have business and strategic overlap with your own business goals.
It?s critical that you make these connections in a sincere and helpful way, and that you lead by trying to help them first, long before you ever ask for anything for yourself.
To those who are generous and helpful first, good will come.
If you go around sending emails to busy, important people asking for them to help you with something – before you?ve done anything for them – you won?t get very far.
That?s why I?m going to approach this goal like I would any series of offline relationships.
I?ve always been great at networking offline, but I discovered I have not done a good job in networking with others online.
During 2013, I plan to focus on developing relationships with others who have come before me, and who currently serve? communities similar to the audience of small business owners and entrepreneurs I have been developing here at Small Business Revolution.
I have already identified numerous authors, writers, attorneys, thought leaders and business strategists whose example I want to follow and who I want to get to know better, and who I want to get to know me better.
Although the list of these individuals is long, you will see many of their names on the list of 52 individuals I want to interview during 2013. I also hope to meet some of them at the New Media Expo and BusinessNext conferences in Las Vegas, where I will be speaking next week.
These are people who I admire and/or respect. I want to help them by promoting their books, courses, podcasts and blogs. Like any relationship that begins offline, I will do it out of a sincere desire to be helpful and useful because that is who I am.
If you follow my Twitter stream, you'll see how I am working on developing many of these relationships. I will also blog about it during the upcoming year.
3. All Business Efforts & Activities Must Serve Your Business Goals
Another big lesson I learned in 2012 was that my time is valuable, and I need to focus my efforts on activities that will serve my larger goals, and firmly but politely decline opportunities that do not serve that larger goal.
For example, for the past few years, I have done one-time, 60-minute consultations with real estate owners who have a real estate problem, such as a short sale problem, a foreclosure, or other problem.
I have felt personally very good about the service this provides as I?ve helped dozens of clients to work through tricky financial problems. But for the most part, it has attracted the wrong kind of client for me. It also sent the wrong message to other professionals about the kind of work I do and want to focus on in the future.
That?s why I created a new type of 60-minute consultation for 2013: The Business Critique & Evaluation.
Although I will not stop doing real estate consultations, my goal during 2013 is to start attracting as many business owners to my 60-minute Business Critique & Evaluations as I once did to my 60-minute real estate consultations.
Why did I create the Business Critique & Evaluation? A key turning point for my business this past year was the blog critiques I got from Chris Garrett and David Risley.
I realized that I could offer a similar service – which similarly pivoted off of my expertise as a small business attorney working with entrepreneurs every day – to offer valuable business and legal advice.
Instead of critiquing a blog, I would be critiquing a business.
I?m really excited about this idea, and can?t wait to start offering them during 2013. If you act quick, you can submit your business for one of two free critiques I plan to offer in mid-January .
The bottom line is these business critiques are much more in line with my larger business goal of establishing my expertise as a business thinker and business strategist, and that?s why I?m going to be focusing my efforts on developing this service.
4. Do More Planning
As I mentioned above, I started using Productive Flourishing's paper planners during 2012 to organize my weeks and my days. You can read about how I use the planners in this post.
During 2013, I plan to start using more of the planners, such as quarterly goal planners to plan goals for the upcoming three months and the blog post calendar.
This annual review is also an outgrowth of my commitment to doing more planning on a prospective basis.
5. Structure Your Business For The Business You Want, Not the Business You Have.
You may have heard of the saying ?Act as if.? Wikipedia defines the term as meaning ?imitate confidence so that as the confidence produces success, it will generate real confidence.?
To me, ?Act as if? means you should set up your business to be the business you want it to be rather than focusing on the present.
I followed this motto from the very beginning. When I first went to work for myself, I made the decision to use scaleable tools that would enable growth rather than restrict it.
These tools included Dropbox, Google Voice, WordPress.org, Clio (a cloud-based practice management software for small law firms), Aweber (email marketing), and Myfax.com (a virtual fax number). I have also used Gotowebinar.com, Autoteleseminar.com, and other resources to communicate with larger audiences.
As my business grows, these tools will enable me to serve a larger audience without major headaches of retrofitting my tools and resources to accommodate greater needs.
During 2013, my challenge will be to add new tools selectively to control costs so that I don?t constrict my own growth, but I also don?t add too many expenses to the bottom line too quickly.
6. Balance Long-Term Efforts with Short-Term Cash Flow
As I mentioned above, it?s not always easy to balance activities which produce an income in the short term (my law practice) with efforts which I know will pay off and snowball in the long term (developing Smart Business Revolution into an indispensable resource for entrepreneurs and small business owners) in an even-keeled way.
The problem is either I get very busy and have almost no time for the blog, and so it gets ignored for weeks on end, or I get slow, and I spend too much time on writing blog posts, tweaking with the design, researching new entrepreneurs to interview for the blog, etc.
The key is consistency and balance, even when busy. That requires careful planning and being ruthlessly efficient with time-wasters such as content consumption.
In 2013, I will use my planners more to plan out my blog post, podcasting and interview schedule, so that when I?m busy I don?t neglect to work on these tasks, and when I?m slow, I continue to devote only the time necessary to the blog rather than overdoing it.
7. Spend One Hour Per Day Learning
One of the things I did well during the second half of 2012 was I spent a lot of time reading great business books and thinking about how I can improve my business.
I have reviewed a number of these books on my blog (you can check out my reviews of Drive by Dan Pink, Uncertainty by Jonathan Fields, and The Impact Equation by Chris Brogan and Julien Smith).
My goal during 2013 is to spend one hour per day reading and thinking about great business books. In particular, I can't wait to read Dan Pink's new book To Sell Is Human and Seth Godin's new book The Icarus Deception. I will be sure to do quick video reviews and to post them here.
You would be surprised how easy it is to find an extra hour per day for reading. You can either get up early or read at night before you go to bed. Or you can cut down on one kind of reading that doesn't help you progress (such as reading People magazine or Sports Illustrated) to free up time reading business books that will help your business grow.
I also started listening to books on CD – most of which I got for free from my local library. Even though I only have a 20-minute one-way commute, I was able to read three books in about six weeks just by listening to books instead of the radio in the car.
8. Find Your Larger Purpose
One of the books I re-read during 2012 and which has had a big influence on me was Drive by Dan Pink. (You can check out my podcast interview of Dan Pink here).
In Drive, Dan Pink uses 50 years of social science research to explain the ?third drive? – that is, the most common motivators for workers today.? He found there are three common motivators for most people when it comes to their work – self-autonomy, mastery and purpose.
He finds that truly driven, successful and happy people tend to be those who have autonomy over their work, the opportunity to achieve mastery in their work by being challenged on a regular basis, and who have a larger purpose in the work they do.
I realized I have numbers one and two down, but since I started my law firm in 2011, I have not defined a larger purpose.
What is the purpose in practicing law? One purpose is helping entrepreneurs and business owners to build their dream businesses. That?s a great purpose. But it?s not all.
I did a lot of thinking during 2012 about what my larger purpose should be. I knew I don?t want to be another lawyer who plugs away for 25 years in a small office then just turns off the lights on the way out. That would be far too boring. I have a bigger vision for myself.
After a lot of deep thinking, I decided that my businesses (both the Corcoran Law Firm and the affiliated Smart Business Revolution) would join 1 Percent for the Planet for 2013.
1 Percent For the Planet is an organization that asks its member companies to donate one percent of their revenues to environmental causes.
I decided to join because participating will allow me to get back in touch with my commitment to environmental causes which I?ve focused on earlier in my career when I worked in politics and public affairs consulting.
I also wanted to be a member of 1 Percent For the Planet because I want to send a message that there is a greater goal at work here. The goal is to help entrepreneurs and business owners to build epic businesses, sure. But the larger goal is to do this work as a citizen of the world, to give back to the rest of humanity and to help care for this precious planet to deliver it to future generations.
I want my son to live in a world that has abundant forests, clean water, and healthy oceans, and by joining 1 Percent For the Planet, I feel like I'm doing my small part.
Incredibly, by joining 1 Percent For the Planet, the Corcoran Law Firm became the first law firm in California to be a full-fledged member of this fast-growing environmental nonprofit. I?m really proud of that.
I don?t know if joining 1 Percent For the Planet will attract more like-minded, driven and environmentally conscious business owners to come work with me, and frankly, that?s not why I?m doing it (although it would be nice). I will report back at the end of 2013 to let you know how it turns out in terms of any financial benefit to the bottom line. For now, I know it feels pretty damn good.
Finally, I could use your help. I will be collecting suggestions from family, friends, clients and readers over the next year for which environmental groups I should donate my 1% to. I'd love to get your suggestions for which environmental groups I should pick.
Please feel free to leave a comment at the bottom of this post letting me know which environmental groups you think I should support.
Concluding Thoughts
Finally, I want to say I was inspired to write this first annual review by two others. First, I was inspired by author, entrepreneur and blogger Chris Guillebeau. Chris spends nearly a week each December to look over what he did right and what he did wrong. Chris Guillebeau is four two countries away from completing his quest to visit every nation on this world, which he plans to finish off in April of this year.
He also published a book last year, an incredibly popular blog, sells travel guidebooks and organizes a tremendously popular annual conference called the World Domination Summit which I plan to attend in July.
If that's not a testament to what annual planning can accomplish, I don't know what is.
I was also inspired by author and entrepreneur Jonathan Fields, who wrote an incredibly candid and honest annual review last year.
I thank them both for serving as such a great example for others like myself. They both are great examples of leaders who start with a commitment to helping others first, then figure out a way to support themselves second.
By focusing on their readers first, they both have built passionate and committed communities of followers and not so coincidentally, have been rewarded financially with great success (or so I gather anyways). I hope I can follow in their footsteps.
That?s it for me and 2012. Thank you for reading and for being a part of my community.
What do you think of my goals for 2013? Have you written down your goals for the coming year? Please leave a comment below and let me hear about it.
— John
?Photo credit: Christmas Stock Images