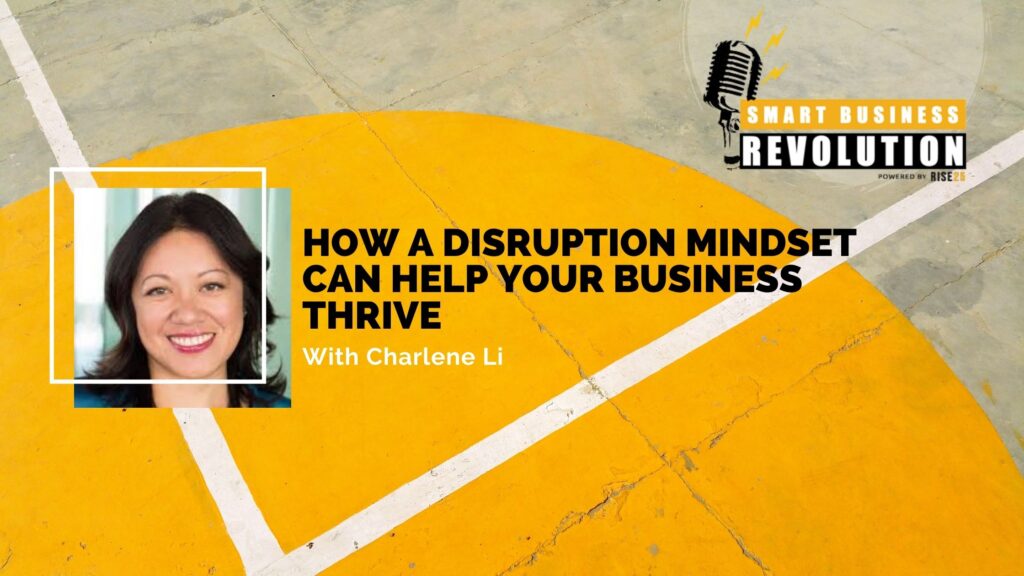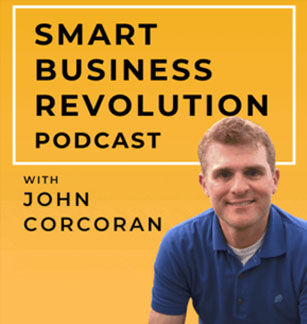 One of the biggest dangers of running a business is becoming stagnant in a world which can change in the blink of an eye.
The right kind of mindset is needed to know when a fresh perspective is needed within a company. It is the key to maintaining success.
It's a mindset that needs to place willingness to change and disrupt oneself front and center.
Charlene Li has literally written the book on how to develop that Disruption Mindset.
Charlene is the Founder and Senior Fellow at Altimeter, a consulting company which helps companies thrive through self-disruption. She is the author of six books including her newest, The Disruption Mindset, as well as the New York Times best-selling book Open Leadership.
In this episode, John sits down with Charlene to discuss her new book, why companies need to disrupt themselves, and some companies around today who live the disruption mindset…and some that don't.
In this episode, we also talk about:
Here's a Glimpse of What You'll Hear:
Some Examples of Disruptive Companies and Companies Who Disrupt Themselves
Some Examples of Companies Who Failed to Disrupt Themselves
Why Companies Need to Disrupt or Die
The Example of Adobe: Going Against Trends to Serve Future Customers
Disruptive Companies Need a Customer-Focused Strategy and the Right Kind of Employee
The Example of T-Mobile: Re-Branding Themselves With a Customer Focus
Being Disruptive Means Creating a Movement
Living in a World of Flux: it is Essential to Be Flexible and Empower Employees to Have Agency in a Business
Altimeter, Charlene's Disruptive Analyst Firm
Why Charlene Decided to Change From a Subscription Model to Offering Her Service for Free
Why You Should Try to Find New and Different Ways to Serve the Customer
The Modern Landscape of Business With Influencers, Analysts, Consultants, and Analyst Companies
ABR: Always Be Researching
The Process that Altimeter Follows
Utilizing Organizations Like YPO
How to Change and Improve the Culture of a Company
The Successes and Eccentricities of Elon Musk
Who Charlene Thanks For Her Success
Resources Mentioned:
Sponsor: Rise25
Today's episode is sponsored by Rise25 Media, where our mission is to connect you with your best referral partners, clients, and strategic partners. We do this through our done for you business podcast solution and content marketing.
Along with my business partner Dr. Jeremy Weisz, we have over 18 years of experience with B2B podcasting, which is one of the best things you can do for your business and you personally.
If you do it right, a podcast is like a "Swiss Army Knife" – it is a tool that accomplishes many things at once. It can and will lead to great ROI, great clients, referrals, strategic partnerships, and more. It is networking and business development; and it is personal and professional development which doubles as content marketing.
A podcast is the highest and best use of your time and will save you time by connecting you to higher caliber people to uplevel your network.
To learn more, go to Rise25.com or email us at [email protected].
To learn more, book a call with us here.
Check out Rise25 to learn more about our done-for-you lead generation and done-for-you podcast services.
Right Click here to download the MP3
Click here to subscribe via iTunes
Advertise on the Smart Business Revolution Podcast
Episode Transcript
John Corcoran 0:40
Alright, welcome everyone. My guest is Charlene Li, and she's the best selling author of six books, including the New York Times bestseller, open leadership and also co author of the critically acclaimed book groundswell her latest book is the disruption mindset, which is being published in August of 2019. recording this a couple of months before it comes out. So got a preview of it, which is really cool. And we're going to be talking about some of these, you know, important concepts that are really driving in affecting our economy today that disruptive businesses that are you know, everyone's talking about, everyone's focused on that are really changing things in our economy, and this episode is actually brought to you by rise revived media, which is the boutique marketing agency I co founded with my business partner, Dr. Jeremy Weiss in 2015. With the mission of helping to connect more businesses with their best referral partners, and customers rise 25 Media connects your ideal prospects, referral partners and strategic partners, using our done few services and done for you b2b podcasts. It's part of our larger mission to make the world a smaller place by connecting business owners and business professionals to the people that they love to work with. So to learn more, go to rise 25 dot com, you can book a call with us at rise 25 dot com slash call. And as I said, My guest Charlene for the best, you know, two decades has been helping people to really see the future. That's what she does. And she's written six best selling books. As I mentioned, she's also an entrepreneur, founder and senior fellow at altimeter, which is a disruptive analyst firm that was acquired in 2015 by profit. And she speaks all over the globe. She has been on 60 minutes PBS NewsHour, ABC News, NBC, CNBC, all kinds of different places. And, you know, Charlene, thanks so much for being here. And this is really a timely book, considering you know, you and I were literally right across the bay from each other. Hi, I'm in, in in Marin, and you're over in San Francisco. San Francisco is Silicon Valley is the heart of disruption. Right? We love disruptive companies. Uber's from here, Facebook's from here, Google's from here. We're surrounded by it. Why is this a relevant topic that you chose to write about? Now?
[continue to page 2]