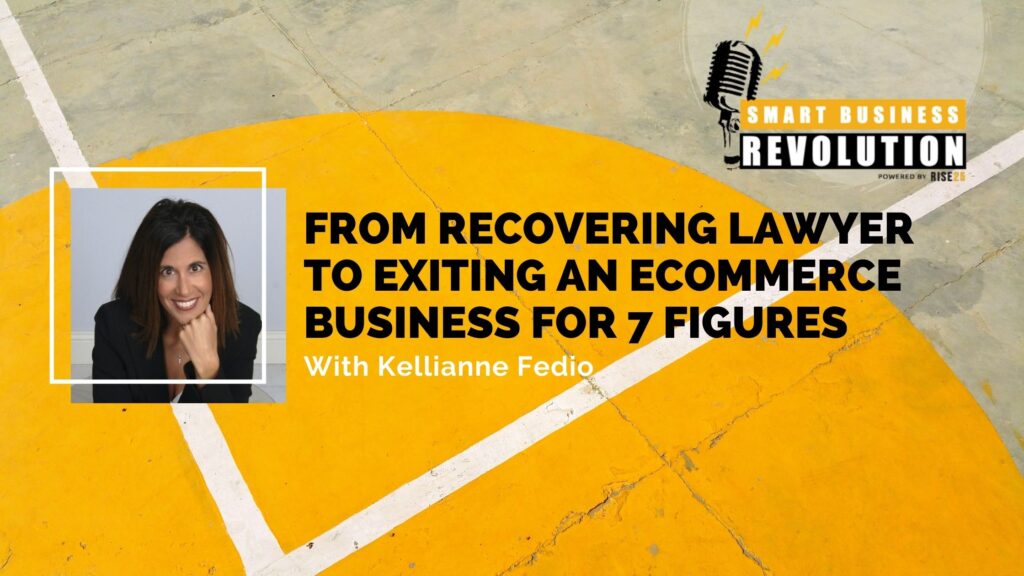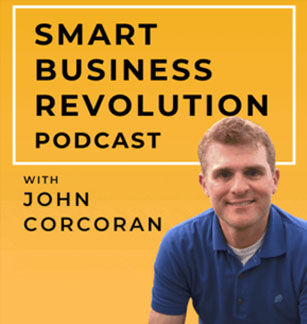 Kellianne Fedio is a Founder, Chief Amazon Strategist, and Exit Planning Advisor. She is a recovering attorney who went from practicing law to founding and scaling up her own multi-million dollar e-commerce brand. She then had a successful 7-figure exit from the business and now helps other brands to identify and maximize profit opportunities using Amazon businesses.
Kellianne is also the co-host of the Amazing Exits Podcast where she and her business partner, Paul Miller, share insights and feature top experts and brands to talk about their journeys in e-commerce.
Kellianne Fedio, Founder, Chief Amazon Strategist, and Exit Planning Advisor, joins John Corcoran in this week's episode of the Smart Business Revolution Podcast. She talks to John about her transition from practicing law to becoming an e-commerce and Amazon expert, and how she moved from there to coaching and consultancy.
Here's a Glimpse of What You'll Hear:
Kellianne Fedio talks about her background in law and litigation, and the frustrations she had as a practicing lawyer
Why Kellianne decided to start a business and go into e-commerce
Kellianne discusses how brands can protect themselves on Amazon and the product categories where she sold her products
The challenges Kellianne faced in the process of developing and growing her own e-commerce brand
How the COVID-19 pandemic has affected the international supply chain and e-commerce brands
How Amazon is prioritizing essential product categories affected many sellers
How being a lawyer prepared Kellianne to become a good entrepreneur
Kellianne's advice to fellow entrepreneurs looking to sell their businesses and where entrepreneurs can find buyers for their business
Kellianne talks about transitioning into coaching and consulting
The people Kellianne acknowledges for her achievements and success
Benefits of working with an Amazon expert to prepare for the best exit for your business
Resources Mentioned:
Sponsor: Rise25
Today's episode is sponsored by Rise25 Media, where our mission is to connect you with your best referral partners, clients, and strategic partners. We do this through our done for you business podcast solution and content marketing.
Along with my business partner Dr. Jeremy Weisz, we have over 18 years of experience with B2B podcasting, which is one of the best things you can do for your business and you personally.
If you do it right, a podcast is like a "Swiss Army Knife" – it is a tool that accomplishes many things at once. It can and will lead to great ROI, great clients, referrals, strategic partnerships, and more. It is networking and business development; and it is personal and professional development which doubles as content marketing.
A podcast is the highest and best use of your time and will save you time by connecting you to higher caliber people to uplevel your network.
To learn more, go to Rise25.com or email us at [email protected].
To learn more, book a call with us here.
Check out Rise25 to learn more about our done-for-you lead generation and done-for-you podcast services.
Right Click here to download the MP3
Click here to subscribe via iTunes
Advertise on the Smart Business Revolution Podcast
Episode Transcript
Intro 0:14
Welcome to the Revolution, the Smart Business Revolution Podcast where we ask today's most successful entrepreneurs to share the tools and strategies they use to build relationships and connections to grow their revenue. Now, your host for the revolution. John Corcoran.
John Corcoran 0:40
All right. Welcome everyone. John Corcoran here the host of the Smart Business Revolution Podcast. You know, every week I get to talk to smart CEOs, founders and entrepreneurs of companies and organizations like YPO, EO, Activision Blizzard lending tree, OpenTable, x software and many more, most of the co-founder of Rise25, where we help connect b2b business owners to their ideal prospects and referral partners. And you know, a big shout out this week going to Liran Hirschkorn check out incrementumdigital.com. He introduced us to this week's guest Kellianne Fedio when we ran an event a while back and you know, I was like this is a really smart woman turns out she's a recovering attorney just like me. And so we'll talk a little bit about how she went from practicing law to founding and scaling up her own multimillion dollar e-commerce brand and then had a successful seven figure exit and now she helps other brands to identify and maximize profit opportunities using Amazon businesses. So we're gonna get diving, diving deep into that and if you want to learn more about her and her new business, go to amazingexits.com, where her and her business partner Paul Miller, have a groundbreaking podcast which we're helping them with very proud of that, where they share insights and get bring on top experts and brands to talk about their journey in e-commerce. You can also go to digitalshelfstrategy.com to connect with Kellianne directly.
[continue to page 2]