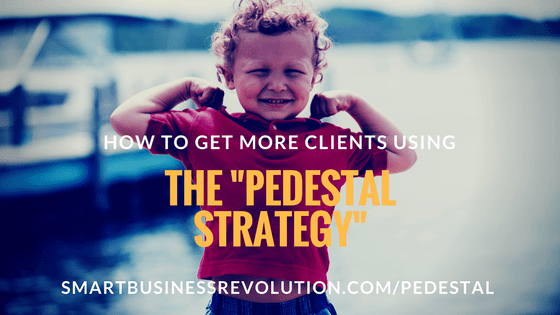 You ever have trouble connecting with a big client prospect?
Maybe you recently got a great lead? and you?re just wishing/hoping/praying they become a client.
But you reach out and then …. it?s nothing but crickets.
Don?t worry – we?ve all been there.
It?s not easy getting clients, especially when those clients are big, successful, and too busy to return your call or email.
But don?t despair, because there is a solution – and it?s easier than you think.
Why It Is So Hard to Connect with Prospects
Maybe your ideal client is a busy CEO.
Maybe it?s a busy HR exec.
Maybe it?s working Moms.
Doesn?t matter.
No matter who your ideal client is, they?re probably busy. Because everyone is too busy these days.
You know and I know how hard it is to get a returned email or a phone call.
Especially in today?s day and age.
I get emails every single day from readers and podcast listeners who want to know how they can connect with their prospects and get calls and emails returned.
I even give away email templates which work like magic – but the job is still hard if you don?t use the templates right.?
And it is especially hard to connect with your prospects when you are viewed as a ?seller? – someone seeking to connect so that they can sell a service or a product.
It?s like everyone suddenly has ?spidey sense? for people who trying to sell these days.
So how do you get through?
How do you get clients when it feels like an uphill battle just to get people to return your emails or phone calls?
Do you ?
Just dial the phone again and again and again?
Do you need better ?cold email? templates?
Maybe use some super ninja software?
It?s none of these things.
After a career spanning a stint as a White House Aide, a speechwriter to a Governor, 10 years as a practicing lawyer and running 3 separate multiple six figure businesses, I figured out a formula which you can use in any industry to get clients – no matter what kind of client you are pursuing.
I didn?t invent this formula, and I?m not the only one who uses it. In fact, it?s been tested millions of times. And I?ve used it throughout my career to connect with VIPs, Influencers and high level clients.
I call it ?The Pedestal Strategy.?
What Is ?The Pedestal Strategy??
Let me ask you this? what if you had a strategy that could ?cut through the noise,? bypass gatekeepers, grab your prospects? attention and take you straight to talking directly with decision makers, without being salesy or forcing you to stumble over awkward small talk?
That?s the Pedestal Strategy.
The Pedestal Strategy is a system for using proactive "profiles" as a means of reaching, connecting with, and developing a trust-based relationship with prospective "Dream" clients.
In the rest of this post, I?m going to lay out exactly how you can do this.
First, you don?t do what the masses are doing.
I believe when everyone else is zigging, you should zag.
Rather than ambushing your prospects with something you need or want from them (like to hire you), you put your prospect or lead or prospective client (or current or past client) ?on a pedestal.?
I mean you give them an honor, give them publicity, promote them, or somehow direct a spotlight of attention towards them and their business or interests.
When you do this, you will find it is like turning on a lightbulb.
Rather than people avoiding you, your prospects will suddenly be excited to connect with you.
You can do this in a variety of ways, including by featuring or profiling the prospect (I?ll explain how in a moment). And you don?t need a huge platform to do it.
It also leverages the power of reciprocity because when you do this, you will find your prospect wants to repay you in some way.
Why does the Pedestal Strategy work?
Everyone likes to be recognized. And everyone has priorities they are working on which (surprise!) are different from your priorities.
When you give someone recognition – perhaps recognition they will be proud of and brag about to their friends and family – you become a hero. And they will seek to repay that debt of gratitude. ?
It also works, frankly, because most people are lazy. The majority of people who reach out to prospects try to cut straight to the sale.
They follow the Old School Strategy. Cut straight to asking without any giving.
They think this is more efficient, but it?s not.
When you receive an overwhelming number of incoming requests and demands, you tend to just tune them all out.
I?ve seen this for years with my podcast. I get dozens of emails a week from publicists or self-promotion seekers who send me cookie cutter emails asking if they or a client can be a guest on my podcast.
No give, just straight to the ask.
It is so overwhelming and they are all so consistently the same that I just tune them out.
Every once in awhile – very rarely – I see a very smart strategy come through where someone tries to lead by delivering value, rather than immediately pitching.
This is so rare that emails like this literally pop out in my inbox. It?s like seeing a solar eclipse.
But the amazing thing is that the Pedestal Strategy is actually more efficient and more effective and more rewarding than going straight to the ?ask.? It only requires a shift in priorities.
The reason why the Pedestal Strategy is more efficient is because rather than spamming a mass of prospects with hundreds of emails, you can practice an 80/20 approach and focus on a small minority of those numbers, and you will see better results. ?
I would rather pursue the Pedestal Strategy by profiling 10 of the right people rather than wasting time spinning my wheels trying to pursue 100 people and hoping that a few of them pay off.
Example of the ?Pedestal Strategy? in Action
A few years ago, I wrote an article in Forbes titled ?25 Professional Networking Experts to Follow in 2015.?
When I wrote that article, it made a huge impression on the people who I mentioned in the article, many of whom were bestselling authors and keynote speakers – many of whom I didn?t know, and didn?t know me.
Years later, a few of them still cite the fact that they were listed in that article on their about pages or in their bios or even their email signatures.
In fact, you could even say it ?put me on the map.? It really got the attention of the thought leaders in my niche. They referred me business, recommended me for speaking opportunities and business partnerships, and some even became clients.
Now before you say ?but I don?t write for Forbes!? let me be clear: you don?t have to write for Forbes or any big name publication in order to do this.
Imagine for a second that you write an article similar to my Forbes article. And you highlight 25 leaders in your industry — your ?Dream clients? who you would love to work with.
People who normally wouldn?t even return your call.
Now, before you think for even a nanosecond ?this strategy won?t work for me because I don?t write for Forbes? or ?this won?t work in my industry,? or ?I don?t know any of my prospects who would say ?yes? to this,? just hang on a second.
You do not need to write for Forbes (or any big name publication) to use this strategy.
In fact, to use this strategy, you just need to follow 4 simple steps.
Step 1: Approach
Step 2: Platform
Step 3: Publish and Promote
Step 4: Follow Up and Offer MVO
Let?s break them down one at a time.
Step 1: ?Approach
Before you approach anyone, you should be clear on who you are going to approach and why, and you should have a very short, succinct pitch.
If you are going to write an article, then you should also have a title or headline in mind.
The title or headline should position the prospective client in the best light – so that they would really be excited to be listed in that profile.
Here are a few formulas you can steal for the article:
?20 Emerging Leaders in _____[Name of Industry].?

?10 _______[Name of Industry]_____ Leaders to Watch in _____[next calendar year].?

?5 Up and Coming _____[Job Title]______ in _______[your Geographic region]____.?
As for who you should approach, you should proactively create a list of prospective clients who you want to contact.
Creating a list in advance will make sure that you are disciplined and focused on the people you reach out to.
This is important because often I see people start leveraging a platform (like a new podcast) and they get ?drunk? with excitement and start reaching out to interview high profile authors or speakers who they?ve admired for awhile simply because they can.
Simply because you can get someone to do an interview with you is not a good rationale, and you should be disciplined and focused on who you decide to reach out to.
Step 2: Platform
Where should you publish this profile?
In general, when you are getting started I recommend keeping things simple. You can
You should choose somewhere that will be relevant to your prospects, which will make them feel honored, if possible. This could be an industry journal or a local publication.
For example, when I was full time practicing lawyer, I got listed as a ?Super Lawyer Rising Star? for my region.
I don?t even know who nominated me, if anyone. Super Lawyers magazine is a made-up magazine designed to get lawyers to advertise in it. And it works like a charm.
Shortly after Super Lawyers announced I would be listed, I was bombarded by emails and phone calls from their sales reps asking if I wanted to ?boost? my profile listing by paying to advertise.
Why does it work? Because the lawyers who are listed feel honored and celebrated and out of a spirit of reciprocity (and a misplaced assumption that old school generic print advertising still works), they are willing to drop a chunk of change to advertise. ?
Magazines have done this for years, publishing annual issues with the ?Best Restaurants? or ?Best Doctors? etc.
Now, you can employ this strategy which major publications have used profitably for years.
Where else can you publish? You can also publish your profile very easily in an online platforms like Medium or LinkedIn or on your own blog.
For years, I employed this strategy by writing profile articles for Huffington Post and Forbes, and I published profiles of thought leaders like Ryan Holiday, Lewis Howes, and Jaime Tardy.
But I quickly learned that writing these articles was very time consuming and I could make more connections by using a podcast instead. So now I primarily use my podcast. ?
Here are a few more ideas?
White Paper. Create a white paper which you upload to your company website. ?
Book or Ebook. Want to get a returned email quickly? Reach out to someone and say you want to profile them in a book.
The catch is you do actually need to write and publish the book or ebook, though nothing says it has to be a long book or published by a traditional publisher.
A ?State of the Industry? Report. I love the idea of publishing a ?State of the Industry Report? once a year. You can build quite a reputation by doing so.
Let?s say your company is Acme Consulting and you consult with health care companies in Tennessee. You are seeking to connect with CEOs of local hospitals so they can hire you to do consulting.
You create the Acme Consulting State of Tennessee Health Care report and you interview a dozen local Tennessee CEOs to be included in the report. You even push it out using a press release and manage to get some industry coverage.
There?s a California real estate law firm named ?Miller & Starr? which publishes an annual California legal guide. Both the guide and the law firm has built a reputation as the leading authority on this area of law.
A Video. Hate writing? Record a video. Post it to YouTube and embed it on your blog. ?
Here?s an example of a super easy video profiling the Top 10 Most Inspirational CEOs of Tech World:
In that video, they didn?t even do interviews – perhaps because the 10 Inspirational Tech CEOs are all very busy and would be hard to reach. But it can be a good way to get on the CEOs? radar screens and earn an interview later.
If you do interview people on video, you can also take that interview and have it transcribed. Then pay a writer to turn the transcripts into an ebook. ?
Hate being on video? Do an audio-only podcast.
Hate being on video, writing, and talking to people?
Allright, you?re screwed. I can?t help you.
Just kidding. But you could also use this strategy on a free blog you?ve set up yourself, or in a local newspaper, or an industry journal.
You can publish to a free platform like Medium or LinkedIn.
The point is to bestow prestige upon these prospects and to use profiles as a ?shortcut? to reach highly qualified Dream Clients who normally are impossible to reach.
Step 3: Publish and Promote
Your next step is to publish the profile and to promote it. When you promote it, you definitely want to reach back out and let the people who are listed in the interview know that you?ve promoted it.
You could even make it easy for them to promote it, which they may be excited to do. You can do this by making it easy for them to share on social media and by drafting email copy which makes it easy for them to email it out to their lists.
Step 4: Follow Up and Offer MVO
OK now that you?ve published the profile, does that mean you can (finally) pitch them?
Not necessarily. In some circumstances, there may be an immediate opportunity to discuss business. But I wouldn?t push it.
You don?t want to seem like your profile was just a ruse to pitch your service or product.
Instead, what I do is try to deepen the relationship.
Use the profile to get to know as much as you can about the prospect.
Ask questions about your prospects needs and wants, which then can help you to figure out how you can be most useful and how to tailor your pitch (when it does come).
Also, demonstrate you are more than just a one-trick pony.
Trust is built by being consistent over time. So deepen the relationship further by following up consistently and keeping in touch. Some people are slow to warm up to new relationships so they are going to need multiple touches to build up trust.
In my interview with the author Jeff Goins, Goins said that when he first built a relationship with his mentor Michael Hyatt, he probably followed up with Hyatt 60 or 70 times before Jeff ever even got close to doing an ?ask.?
Personally, I seek to build trust by making introductions and being helpful and useful.
Eventually though, you will want to make an offer. At this point, I suggest offering what I call a ?Minimum Viable Offer? or ?MVO.?
Your MVO is like a pack of gum at the grocery store; it is very easy for someone to pick it up. There is little friction and a buyer doesn?t need to hesitate or think too much.
No one spends months deciding whether to buy a pack of gum. They just buy it because the downside is not significant.
However, the MVO is not free ? it is a discreet, specific, limited-time, limited-budget project is a specific outcome. The objective of the MVO is to move the potential client from no provider-client relationship into a professional services-client relationship.
This low-risk opening project will provide an opportunity for the client to work with you for a short period of time.
But that?s a topic for another blog post!
What to do Next
So here?s what you should do next.
Step 1 – Brainstorm a list of 10-15 Dream Clients who you would love to work with.
Step 2 – send each of them an email.