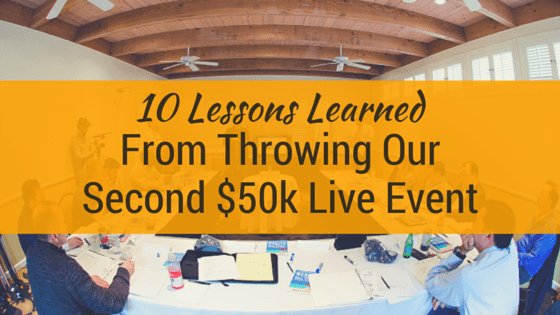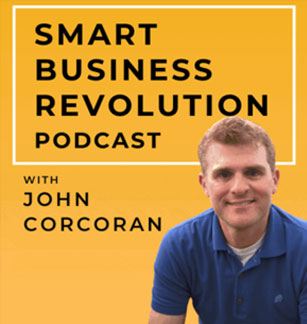 If you don't absolutely love the idea of throwing a live event, then don't do it.
That's what I learned throwing a live event earlier this year.
For the second time in 5 months, I put together with my business partner Dr. Jeremy Weisz, a live 2 day event for high level, driven entrepreneurs. And for the second time, the event grossed $50K.
You can read about what we learned from the first event here.
This time around, the event was held in the heart of Napa/Sonoma wine country.
But let me tell you… man, it wasn't easy. It was a shit ton of work.
(That's a technical term.)
Don't get me wrong. I enjoyed doing it, even if there were times I wanted to pull my hair out.
But there are better ways to make money which are less stressful and much easier.
So why do I do it?
As I write about here at Smart Business Revolution, there is simply no substitute for bringing people together face-to-face.
There's no better way to bond and forge strong relationships than hanging out with someone in person. Over the course of a couple of days together, you can create greater movement and momentum than you could during months of working on your own.
And when you are the person who has brought all the other people together – whether it's organizing a group dinner at a conference you're attending, or bringing people together for coffee in your local community – then you get a big hand in determining what that group looks like.
And that's what makes live events so powerful.
So here are 10 lessons I learned from throwing our second $50K live event:
1. Beware of the Heart Attack Signup Curve
My friend Sterling Valentine warned me about something he calls the Heart Attack Signup Curve for live events.
It simply means everyone is going to sign up at the last minute, and you'll probably have a heart attack waiting for those signups to come in.
Ask anyone who has thrown live events and they'll probably tell you (IF they are honest) the same thing.
What can you do about it?
First, I suggest you follow the burn the boats strategy – don't give yourself an easy out or you will likely convince yourself to cancel it.
Having said that, I also recommend you protect your downside. We did this by being very careful not to lock ourselves into major financial commitments with the hotel or restaurants.
Also, get started telling everyone you know about the event well in advance. The earlier you start working on an event, the better.
Personally, I found working with my partner Jeremy to be a huge help.
He was relentlessly upbeat and committed. There were times when I wanted to pull a blanket over my head and grab a cup of strong tea and a bag of Cheetos and give up, and he was like General Sherman during Sherman's March to the Sea.
He was not going to give up, no matter what. That is the attitude you need to have.
Surround yourself with that kind of relentless positivity because the biggest and most insidious enemy when you throw live events will be doubt.
And believe me – doubt will be pervasive and come dressed in wolf's clothing.
Family members will think they are being helpful when they make comments like Do you think maybe you should cancel and try another time? or Do you think maybe you're not ready to take on this large an event?
Whatever you do, don't let these doubts get in your head and impede your determination.
2. Insist on Quality Attendees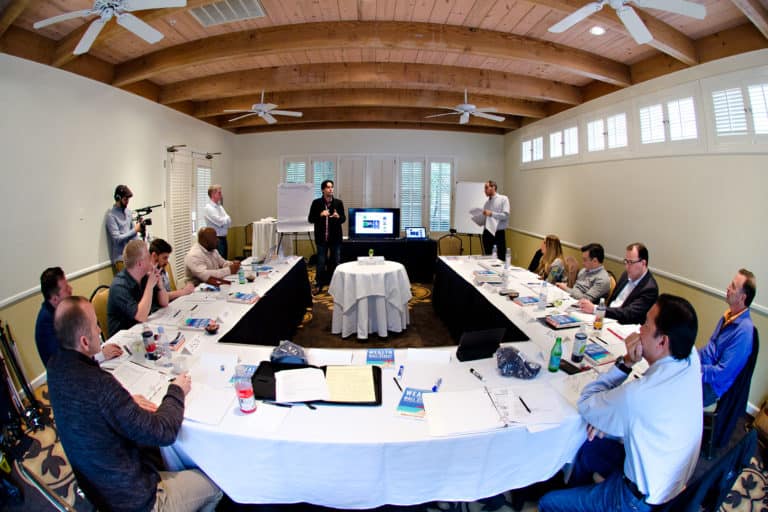 Jeremy and I drew a line in the sand and we insisted on keeping the bar high when it came to our attendees.
When you have an event that depends on the group to contribute, as we did, then you need to put your foot down and insist on only the highest quality people attending.
We could have easily made tens of thousands more by compromising on quality, but it would have compromised the experience for everyone.
We had some great attendees this time around, including:
Justin Krane
Justin is a financial Coach for Women Entrepreneurs. He helps female entrepreneurs to get a better understanding of the money flowing through their businesses. What was interesting to me about Justin is he's already been phenomenally successful as a Certified Financial Planner yet is excited about building a group coaching business which truly lights him up.
Brian May
Brian is the Founder of Black Entrepreneur and the creator of a successful Google Adwords management business. He's had amazing success building up Black Entrepreneur, with a number of his posts going viral and getting a flood of traffic back to his website.
Bill Bricker
Bill is the founder of San Francisco-based startup IntroStellar which seeks to do two things, each of which is genius. First, they are building a software platform that would pay people to make introductions which would get their friends jobs. And second, the same platform would allow people to connect talented diverse job candidates in their network to job opportunities to encourage diversity hiring. If they can pull off either, I think it could be a huge win.
Jason Treu
Jason is the founder of Be Extraordinary, and a business and executive coach. I loved Jason's infectious enthusiasm. He's the kind of guy who you just want to have around because he lights up the room and everyone around him.
Arlen Miller
Arlen offers marketing services to local companies in Pennsylvania to help them get the word out about who they are and what they do. But his larger mission is he's a storyteller at heart, and working towards help more people to capture individual stories. I love that, and have loved watching how much progress he has made since our event.
Robert San Luis
Robert is an author, speaker, and investor/entrepreneur. A two-time attendee, he is the author of "Wealth Without Wall Street." He has an against-the-grain message that most personal finance advisors are simply trying to sell investment products that are unreliable and not good for average investors. He's the son of Filipino immigrants who came to the United States, became doctors, then got taken advantage of by financial con men and swindlers, which drives what he does today.
Ciji Siddons
Ciji has a great personal story – she went from working in food service as a bartender to running a multiple six figure business in the network marketing industry. She's expanding her business into doing more speaking and mentoring of young entrepreneurs.
John Lombard
Originally from Canada, John has lived in China since 1993. He runs two businesses – a business focused on advising North American companies on how to source products in China — basically they help obliterate language and cultural barriers to help these companies get products made in China. And he runs a cultural intelligence business (website still under construction) and is writing a book about cultural intelligence.
He also previously served as personal speech trainer to the Mayor of Beijing for his presentation to the International Olympic Committee about why China should host the Olympic Games. John also came to our Austin Entrepreneur's Retreat.
John is also cohosting an upcoming Global Roundtable Mastermind October 20-23, 2016 with Itzik Amiel – check it out.
Eric Douay
Eric is the founder of Fair Merchant Solutions, which is an honest and transparent payment provider, something truly rare in the payment processing industry. Eric's mission is to "liberat[e] merchants from the tyranny of excessive transaction fees." What's not to love about that?
Alex Dantas
Alex Dantas founded Jorli where they created an app that transforms your old (or current) cell phone devices into a multi purpose security alarm system.
It started as joke, to create a motion alarm for your cell phone to prank family and friends. But then users from all over the world — and especially in the developing world where people cannot afford a traditional alarm system — began installing the app in older android devices, and placing them in strategic places around their homes (behind the door, on top of the windows, expensive electronic devices) to alert them when someone breaks in.
With the current version, they were able to scale to over 3 million downloads. Pretty amazing to see where this is going.
3. Clear your Schedule Beforehand
I made the dumb mistake of thinking I could have a normal schedule during the last week before the event, complete with other meetings and appointments unrelated to the retreat.
I ended up having to cancel and reschedule all of those. There are always going to be last minute things you need to attend to, so it's best to clear your schedule well beforehand.
4. The Hotel Will Try to Screw You
Hmmm how do I put this nicely?
Certain hotels will treat you like their bitch.
They will treat you how a protester gets treated at a Donald Trump rally.
You know that scene with the gimp in Pulp Fiction?
Well, when you negotiate with a hotel for a group event, it's kind of like that scene in Pulp Fiction.
And you can guess who is the gimp.
(Hint: it sure ain't the hotel.)
I hate being cynical, but if you're throwing a live group event, many hotels will see you as their sugardaddy and it's Friday and papa just got paid.
Of course, there are plenty of hotels that won't do this. But you've been warned.
Let me give you an example, shall we?
A few days before our event, we asked about getting a white poster board, dry erase board, and an extra TV set up in the corner of our group meeting room.
The first sign of trouble was when instead of saying sure, we can set that up, they said we'll send you a proposal.
A proposal for a whiteboard?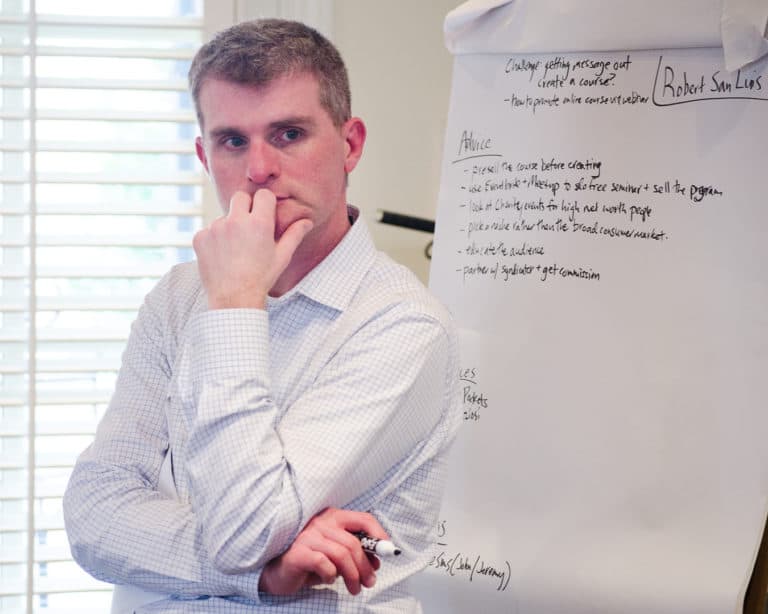 At the beautiful Austin Travaasa hotel where we hosted our prior event, these things were included with the room we rented, so we figured it couldn't be too much.
Right?
Wrong.
The proposal they sent us made me throw up a bit in my mouth.
They wanted $2,600 for a white poster board, some pens, a TV in the corner and a dry erase board.
For that price, we could have bought a dozen big screen TVs and given them away as party favors to each of our attendees.
They even wanted to charge us $300 for 25 people to access the hotel wifi from the meeting room, even though wifi was free throughout the hotel.
Also, in most of the U.S., service fee is 15 percent, or 20 percent for really good service.
Not in this time warp. They charge a standard 21 to 23 percent tip across the board for anything related to food.
Want a dozen Clif bars?
Not only will they charge you $5 per Clif bar, but they will tack on 23 percent for laying them out on a table.
This isnt 21 to 23 percent for exceptional service mind you. The fee is just tacked on, whether you get good service or not.
Its not really a tip when you have to pay it. And it doesn't really incentivize good service.
I could go on and on, but I wont bore you. Suffice it to say: if you ever do a live event and negotiate with a hotel, be very, very careful.
I would even say don't do it yourself. We even brought in a guy, Tom Pasha, whose company negotiates with hotels on your behalf for free. They negotiate thousands of hotel nights for groups each year, and take a commission on the sales of the individual hotel rooms so you pay nothing additional out of pocket.
We would have been lost without him. Check out his website here.
So what did we do about the AV? I'm sure they just figured we would bend over.
But if we had, that wouldn't make us very good entrepreneurs, would it?
The day before the event, Jeremy took an Uber to a Best Buy and bought a TV, white board and poster board and markers, and we brought them all in ourselves.
TVs weigh as much as a laptop these days. It was easy. And we returned it afterwards.
You've been warned.
5. Begin Planning Early
There are always more details to attend to than you would think.
So you're best off planning at least 6 months in advance.
One of the nice things about doing an event more than once is you really benefit from creating a system. There were a lot of details which were easier the second time around in Napa because we'd already figured them out at our prior events.
6. Don't Forget the Small Details
It's easy to overlook small details. For example, we had to print up little name tent cards at the last minute for seating assignments.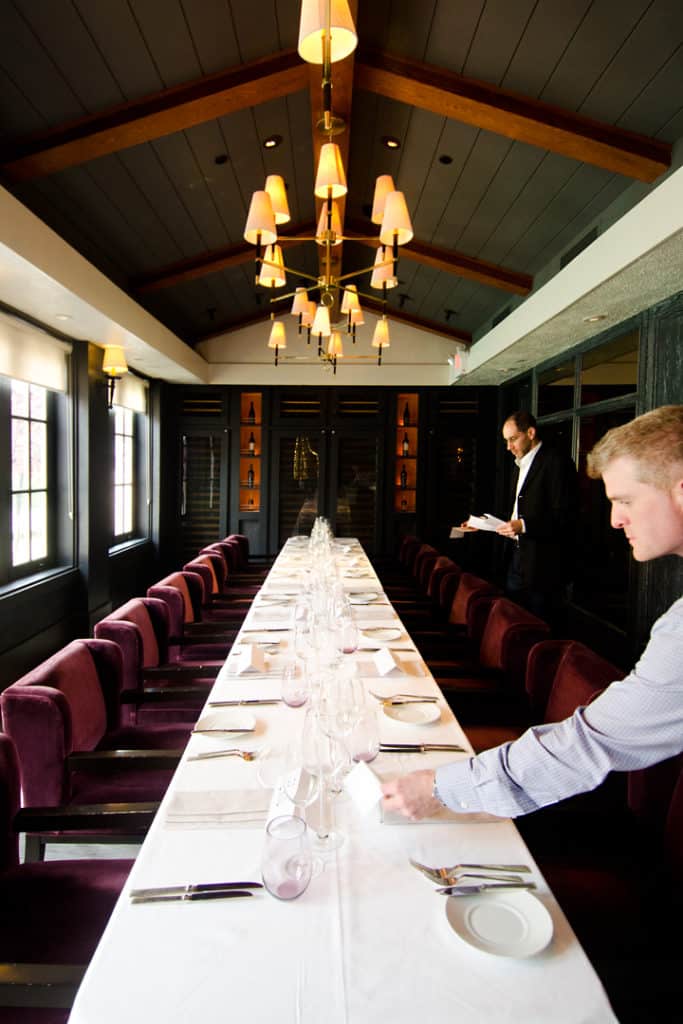 I had to hand write them. It would have been a nicer touch to have these cards printed up professionally rather than my own chicken scratch.
7. Create a Detailed Agenda and FAQs
The larger the group is, the more likely you will be flooded with a lot of questions in the days and weeks leading up to the event. Be sure to create an agenda ahead of time which answers all the questions people have before they arrive, and it will save you a ton of time answering questions.
Heres a copy of our Agenda and FAQs document in case you want to copy our model.
8. Be Different, Be Unique
There are many, many cookie cutter events. It's easy to go to one event and copy everything they do. But it's much harder, and more rewarding, to break the mold.
Have you ever been to a wedding where the entire wedding feels like it was a reflection of what the parents of the bride and groom wanted, and not a reflection of the bride and groom's individual personalities?
I hate that. I'd much rather go to a wedding that is a perfect reflection of the personalities of the bride and groom. Maybe they have a beloved pet so they use the pet in the ceremony (like my friend Bryan & Camille's wedding), or maybe they despise long ceremonies so they have a ceremony that lasts no longer than 5 minutes (like my friends Jason & Chrissy's wedding).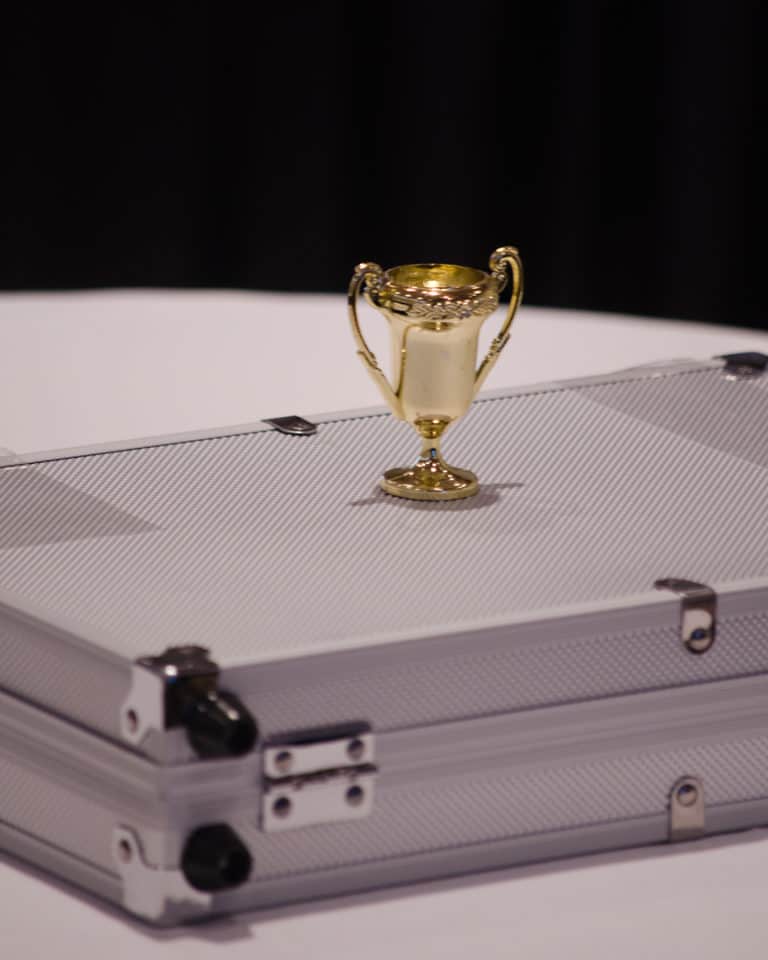 So I say bring your own personalities into the event and make the event a reflection of how you would create it, not how others would do it.
9. Document your Systems Afterwards
Immediately after the event is over, while the event is still fresh in your mind, it is important to document your processes so you can improve the process next time.
I use the systems templates created by Tim Francis over at ProfitFactory.com. Tim attended our first event in San Francisco and our second retreat in Austin, and impressed everyone with his thorough understanding of how to systematize your business.
You can download Tim's systems templates (the same templates I use) here.
Systemizing isn't just a desirable idea. It's absolutely necessary. If you don't systemize your processes, your quality will suffer and you'll inevitably feel more overwhelm and you'll be more likely to give up.
Which leads to me to my final point
10. Don't Give Up
It's very easy to get done with a live event and tell yourself well that was a pain in the ass, and promise to never do it again.
But I think that is the easy way out.
Before I started doing my own live events, I noticed how a lot of people I knew would throw an event once, and then never again. And I always wondered why they only did it once, especially if it seemed like the event went well.
Now I know why.
Nothing that is worth doing is easy.
As I always say, I do not have a monopoly on good ideas. So if you have any additional suggestions about holding live events, I'd love to hear them in the comments below.
Amazing Photography by Matt Monroe