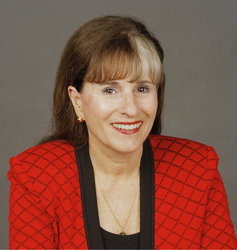 Have you ever seen a master mingler work a room? Someone who is really good at diving into a roomful of strangers, making friends and having a blast at the same time?
My guest on episode 43 of the Smart Business Revolution podcast is a true master mingler. (I worked for another.)
25 years ago, Susan RoAne broke ground with her book, How to Work a Room (referral link). At the time, people were just beginning to become savvy to the importance of socializing in a business context.
Today, there are more "rooms" — especially online — but working a room is no less important. In fact, being able to mingle and socialize and develop relationships with people is more important than ever.
Susan actually lives in Marin County, not too far from me. We met when our mutual friend Dorie Clark got the three of us together for dinner while Dorie was in from out of town.
After we recorded this interview, I actually had the privilege of "going? mingling" with Susan – we went to a TEDx networking event together.
That's right – I mingled with the Mingling Maven.
(She's trademarked that term, but I can't find the "TM" thingy. You get the idea.)
Anyways, all I can say is she's the real deal. She worked that room like … like … she had written the book on the subject.
I felt like a guy with two left feet.
In this interview, we discuss:
how to master face-to-face savvy socializing today, in a social media world
how to make friends and make connections when talking to strangers
how to communicate with people where they are most active online.
Enjoy!
Resources from this Episode:
Right Click here to download the MP3
Enjoy the show!
Click here to subscribe via iTunes