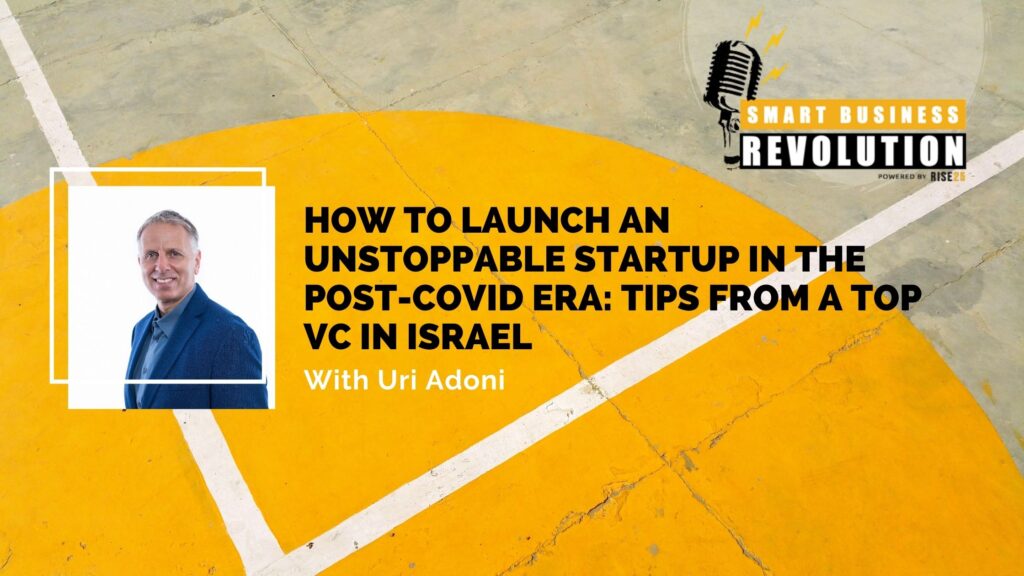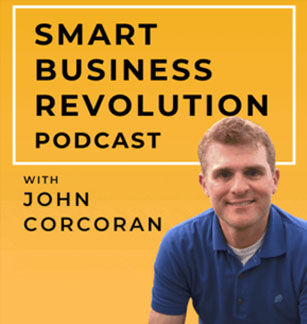 Uri Adoni is the author of the book, The Unstoppable Startup: Mastering Israel's Secret Rules of Chutzpah. He has over 20 years of experience in high-tech and over 12 years of being a partner at Jerusalem Venture Partners (JVP) Media Labs, one of Israel's leading venture capital firms with an impressive track record of IPOs on the NASDAQ and M&As to large leading multinational firms.
Prior to joining JVP, Uri was the CEO of MSN Israel (Microsoft Networks) and was one of Israel's new media pioneers. In his military service at the IDF (regular and reserve), he was an officer (major) and served as commander of a combat unit. He has also served on the board of several high-tech companies and in early and late stage companies.
In this episode of the Smart Business Revolution Podcast, John Corcoran is joined by Uri Adoni, an author and venture capitalist, to talk about how businesses could start and grow in a post-crisis era. Uri also talks about the reason why he decided to write his book, Israel's unique history and why it has an amazing start-up culture, and he also gives his top advice to companies on how to build unstoppable teams.
Here's a Glimpse of What You'll Hear:
Why Uri Adoni decided to write his book, The Unstoppable Startup; Mastering Israel's Secret Rules of Chutzpah
How Israel's unique history has contributed to the 6 rules that comprise the chutzpah
Why Israel has a leading edge in new technology
Uri's advice to companies on how to build unstoppable teams
How Uri's portfolio companies have been reacting to the global health pandemic
Uri explains what he means by 'thinking like a camel and not like a unicorn' when starting and running a business
Why businesses should build a strong advisory board and what companies have been doing to get ready for post-crisis growth
The people Uri acknowledges for his achievements and success
Where to learn more Uri Adoni and his book
Resources Mentioned:
Sponsor: Rise25
Today's episode is sponsored by Rise25 Media, where our mission is to connect you with your best referral partners, clients, and strategic partners. We do this through our done for you business podcast solution and content marketing.
Along with my business partner Dr. Jeremy Weisz, we have over 18 years of experience with B2B podcasting, which is one of the best things you can do for your business and you personally.
If you do it right, a podcast is like a "Swiss Army Knife" – it is a tool that accomplishes many things at once. It can and will lead to great ROI, great clients, referrals, strategic partnerships, and more. It is networking and business development; and it is personal and professional development which doubles as content marketing.
A podcast is the highest and best use of your time and will save you time by connecting you to higher caliber people to uplevel your network.
To learn more, go to Rise25.com or email us at [email protected].
To learn more, book a call with us here.
Check out Rise25 to learn more about our done-for-you lead generation and done-for-you podcast services.
Right Click here to download the MP3
Click here to subscribe via iTunes
Advertise on the Smart Business Revolution Podcast
Episode Transcript
Intro 0:14
Welcome to the Revolution, the Smart Business Revolution podcast where we ask today's most successful entrepreneurs to share the tools and strategies they use to build relationships and connections to grow their revenue. Now, your host for the revolution. John Corcoran.
John Corcoran 0:40
All right. Welcome everyone. John Corcoran here, the host of the Smart Business Revolution podcast. And you know, each week I get to talk to really interesting CEOs, founders, investors, entrepreneurs and all kinds of companies from organizations like YPO and EO, to companies like Activision Blizzard, Lending tree, Open Table, x software, and many more. I'm also the co-founder of Rise25 where we help to connect b2b business owners to their ideal prospects and quick shout out before I get into today's guests, first of all my business partner Jeremy Weisz, who he introduced who interviewed him for his podcast Inspired Insider. So go check that out. And then also Sophia Moriarty of Smith Publicity, who first introduced us to Uri, who I'll introduce in a second and also Kate Lydon of Lydon brands, and Ed Robinson. This is shared out of Maryland who I just interviewed. Coincidentally, yesterday, I will be publishing that episode very soon. So thanks to all of them.
[continue to page 2]