Hi, my name is John Corcoran. You probably arrived here because you saw my post on the Sparkline. You and I already have one thing in common: we both admire Corbett, Caleb and Chase and the work that they do.
As a special gift for readers of the Sparkline, I offer you this free ebook.
This 5,000-word ebook includes 10 specific "secret" political strategies and tactics that you can use in your business right away. I also include exercises to help you make small, but meaningful changes to your business.
What You Get When You Sign Up
the FREE ebook "10 Ways to Use Secret Political Tactics and Strategies to Grow Your Business," including the story about how I got Rob Lowe to play me on TV.
access to the subscribers-only "Political Entrepreneur Toolkit" with resources showing you how you can take ideas from successful politicians and use them to grow your business (yes, really).
information on upcoming free webinars and teleseminars for subscribers only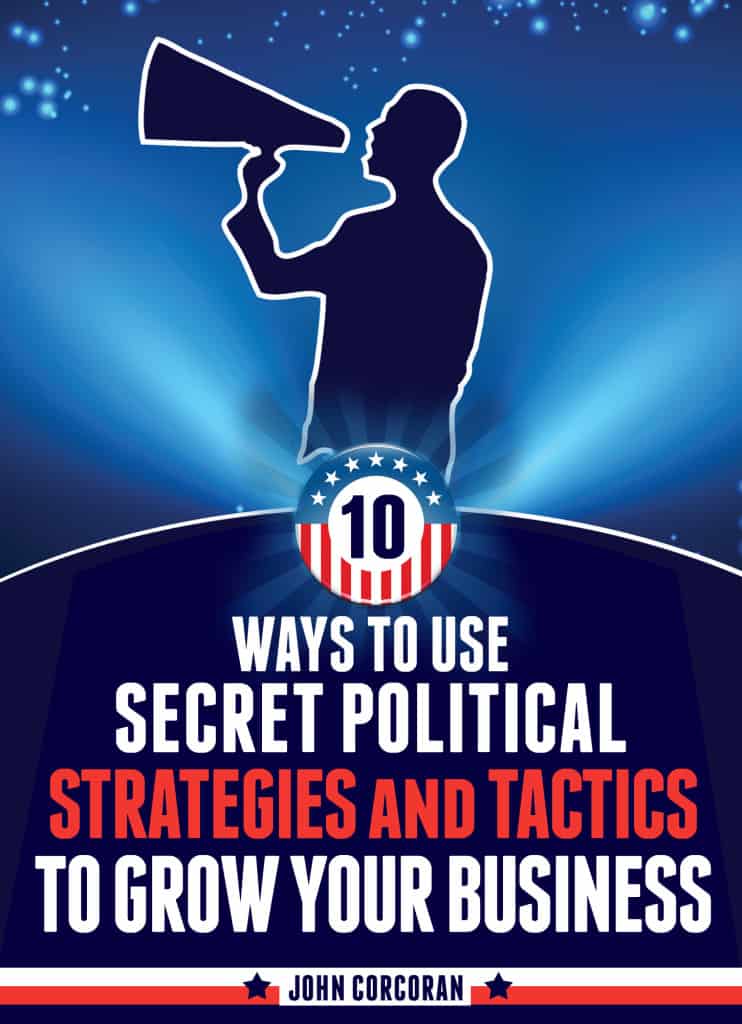 What People Are Saying About John Corcoran:
John Corcoran is someone I trust for sound, practical advice. Recently, I was stumped as I was working through an issue with my business. He and I got on the phone and he helped me think through my idea in a way I couldn't after hours of trying. He is a creative problem solver whose background in politics gives him a unique take on
I wanted to let you know what a positive affect you had on me today. When I sent you my email after signing up for your site I honestly didn't expect to hear anything back. I just hoped that I might glean something to get things moving for me. Your energy, the offers of actual networking you did and extending a hand when you said "Anything else I can do to help?" floored me. This long winded email is my way of saying thank you. You gave me hope in mankind again and the faith and energy to get up again tomorrow and fight the good fight. You've had an impact on someones life and I'll remember you for it.?
"I've worn a lot of hats in my career. I've worked in politics and in Hollywood, and for the past few years, as an attorney working with small business owners and entrepreneurs.
I created SmartBusinessRevolution.com to share my experiences and the connections I see between successful political strategies and how those strategies can work in business as well."
John Corcoran: Lawyer, Business Advisor, Former Clinton White House Aide