Drum roll please … I am very excited to present my very first Smart Business Revolution podcast!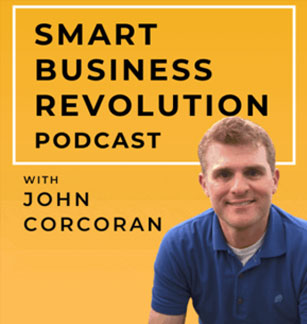 If you've been reading this blog for awhile, you know there have been a lot of changes in the past year.
We basically overhauled the entire site, and adding a podcast was a major goal of mine.? In fact, I have wanted to start a podcast for more than two years now, and it is very satisfying to see it finally up and running.
The goal of the podcast is similar to the blog – to help coach entrepreneurs and business owners on how to grow their business in a smart and savvy way that doesn't require their 24/7 attention.
One major advantage of this podcast is I will be able to share one-on-one interviews with successful entrepreneurs and business owners. You will be able to hear directly from people who have built large businesses out of very little, and learn from their mistakes and missteps.
In fact, we already have a number of these interviews queued up and ready to go.? In future episodes in the weeks ahead, we will feature:
an interview with Peter Shankman, creator of "Help A Reporter Out."? Shankman created HARO to meet an unfulfilled need – connecting reporters who need sources with experts who would like to be quoted. He?ll tell us about how his business model doesn?t charge its users anything on either side (reporters or sources), but makes thousands of dollars each month.
An immigrant to the U.S. who started a disaster recovery business in a small warehousing facility from scratch then built it up to 230 employees in 5 offices and $24 million a year in revenue.
the owner of a virtual assistant outsourcing business on how virtual assistants can help your business and how she uses information products to supplement her income.
the founder of a pioneering and successful dot-com business that helps consumers find lenders to finance the purchase of a home, car, boat, other large items.
and many more.
I also recently put together an ambitious list of over 50 entrepreneurs and business icons (with the help of my business coach) who I'd like to interview over the next 12 months for this podcast.? Maybe I will write up a blog post listing all of those entrepreneurs so that we can track my progress.
As for this first episode, I spent a little time explaining my motivation for the podcast and what I hope to provide.? In this particular episode, you will learn:
My commitment to you as a listener of the SBR podcast (in other words, why you might be interested in listening)
Why I strongly believe in sharing what I know and have learned from working day in and day out with small businesses and entrepreneurs.
Why I am going to use this podcast to share what I?ve done in my business, including what has worked and what hasn?t worked.
So without further explanation, here is the podcast.
Right click here to download the MP3 (you can also listen directly by clicking "play" at the bottom of this post)
One final note: as I mentioned, this project has been many months in development. In fact, even though I wanted to launch a podcast more than two years ago, I always got tripped up on the technology.
I'd like to thank Pat Flynn who created a tremendous 6-video podcasting tutorial that helped me finally get this podcast launched. If you are thinking about your own podcast, I suggest you check out his tremendous resource.
Enjoy the show!