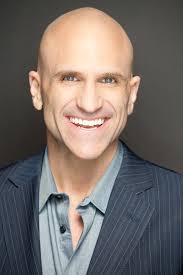 Need public speaking tips? You've come to the right place.
Michael Port is the master of public speaking, and he has plenty to say about how to become a better public speaker.
But first, let me give you some background on how I got to know Michael.
One of the best decisions I have ever made happened right after I had decided to quit my job at a law firm back in 2011.
I had just started working for myself. I was new at everything.
I hadn't run a business before. I hadn't had to rely on myself to court clients and put food on the table.
And one of the first books I read was?Book Yourself Solid by Michael Port.
That book showed me how to get clients, market myself, how to build relationships, how to keep in touch, how to sell even if you hate selling. It was an MBA in a 300 or so pages.
The book has had a huge impact on my business, and it was one of my inspirations for focusing on relationship-building through this podcast and through my blog.
I?ve also recommended the book dozens or hundreds of times to other business owners and clients.
>And so it was a very pleasant surprise when earlier this year, I got introduced to Michael Port through a mutual connection, Matthew Kimberley, who is actually Michaels business partner in his BYS coaching business.
Michael is the real deal. He is sincere and genuine and really wants to help.
And that's why its a huge pleasure to bring him on this podcast.
Today, Michael is actually working on something new ? showing YOU how to become a better speaker by being a great performer.
Whether you need to speak to a small room of investors, to clients, or to a packed hall at Carnegie Hall in New York City.
>h3>In this podcast, we discuss:
Why it's more important than ever to be able to be able to speak your ideas clearly
Why and how to be a better performer when speaking ? whether to an audience of thousands or just 1 or 2
How to use improve and humor in a speech
How to interact with your audience
The #1 thing you need to focus on leading up to a big performance
Michael discusses his new public speaking course Heroic Public Speaking in this interview. If you sign up through my my affiliate link by October 28th, I am throwing in lifetime access to Connect with Influencers, a $500 value, as a bonus. So act quickly!
Enjoy!
Resources from this Episode:
Transcript of Interview:
Transcribed by GMR Transcription