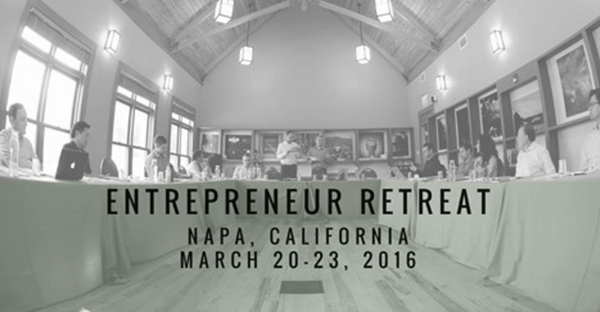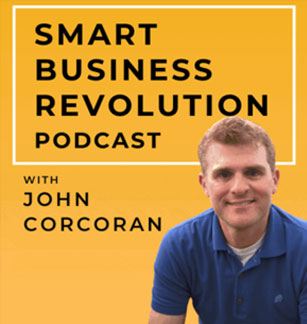 Want to hear something crazy?
Just 16 days from now, I'm co-hosting a live retreat at the Fairmont Sonoma in the heart of wine country.
For 2 days, a small closed door roundtable of 14 entrepreneurs will meet to share what's working and to push through challenges.
If you're ready to create breakthroughs in your business, the clock is ticking because the last retreat filled up, and this one will too.
Now, we're going to be doing something unheard of…
We're going to have FOUR 8-figure entrepreneurs join us.
And they're not just coming to party and then take off.
They're going to be sitting right next to you, rolling up their sleeves and providing specific advice and feedback on YOUR trials, opportunities and challenges with YOUR business.
That's not even the crazy part. (Wait for it…)
We still have openings for the event, and were talking about how we could make this a slam dunk and take out all the risk for you.
So we stayed up two nights straight drinking Monster Energy drinks and brainstormed the craziest risk free guarantee.
What we dreamed up is unprecedented in the live event space …
We're calling it our Too Many Monster Energy Drinks Zero Risk Guarantee… we are so confident that you will get tremendous value from our group that if for any reason you feel you did not get at least 3x the value you paid to attend the event, then we will work one on one with you to make sure you have tripled your investment, or we will refund 100% of your money and reimburse you up to $700 for travel and expenses.
You heard that right. If you are unhappy for any reason at all either at the retreat or even up to 6 months after you are back home, then ask for a full refund and we will send you a check.
(Told you it was crazy! And wait until you see the bonuses at the bottom.)
Here's why we're so confident making this guarantee
Check out what attendees said about our last event in Austin in November: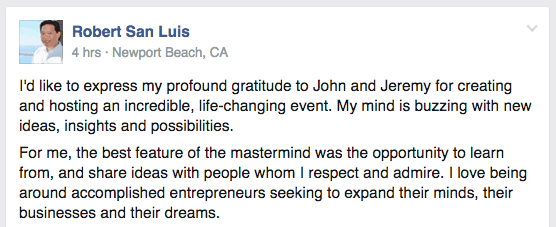 John Lombard, who came all the way from China for the event, said it was well worth the trip (his travel time was longer than the actual weekend together).

I love what Adrienne said (thanks Adrienne!)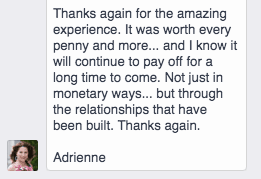 Here's what Robert Hartline (who owns an 8-figure business) said:

Dr. Jeff Van Meter said it was a great space for talking about, learning from others, and in general working on your business:
Really smart entrepreneurs – the ones destined for greatness – know it's not enough to consume free podcasts, emails, webinars and blog posts.

If you want to create massive shifts in your business… if you want to grow to 7 and 8 figures … if you want to break through challenges holding you back … then you need to get out from behind your laptop and your phone and go spend time in-person, face-to-face with other smart entrepreneurs. I've been preaching this for years.
When you invest in putting yourself in a room with the cream of the crop, you get astronomical results.
Imagine if you could come together with a group of other highly successful entrepreneurs who were all running 6, 7 and 8 figure businesses.
Imagine if you could step away from your business for a few days to focus 100% on working on your business, and break through current barriers.
Imagine if you could get specific feedback on your ideas, learn what is working today, make course corrections that save you thousands of dollars and years of wasted effort, and slingshot your way to the highly profitable and satisfying business you've dreamed about.
It was this vision that motivated myself and cofounder, fellow entrepreneur Dr. Jeremy Weisz, to create Entrepreneurs Retreats.
We wanted to create a community of smart entrepreneurs who recognize we're all stronger when we work together.
We wanted to take the best of the best from the events we've attended and make an even better event (we both spend five figures each year going to live events).
We wanted to pay it forward by giving YOU the opportunities we had – and introducing you to the entrepreneurs in our networks (like the FOUR 8-figure entrepreneurs who will be with us in Napa–see more details below).
We're doing this because when you bring smart entrepreneurs together, magic happens.
Relationships have meant EVERYTHING to my business.
In the past two years, my business has grown tremendously. I've been profiled in Forbes and mainstream books alongside icons like Seth Godin and Dan Pink.
My email list has gone from under 900 to 30K. My income doubled what it was in 2013.
NONE of this would have happened if it weren't for the relationships I've built.
I want the same for you.
Now about those four 8-figure entrepreneurs 
Most of the time if this collection of talent gathers at one event, they are on stage in front of hundreds of people. You're lucky if you get within 100 yards of them.
That's not the case here.
You will have plenty of time in a small room of fewer than 20 people to get to know these leading entrepreneurs.
And they will provide specific feedback and advice on YOUR businesses.
So who are they?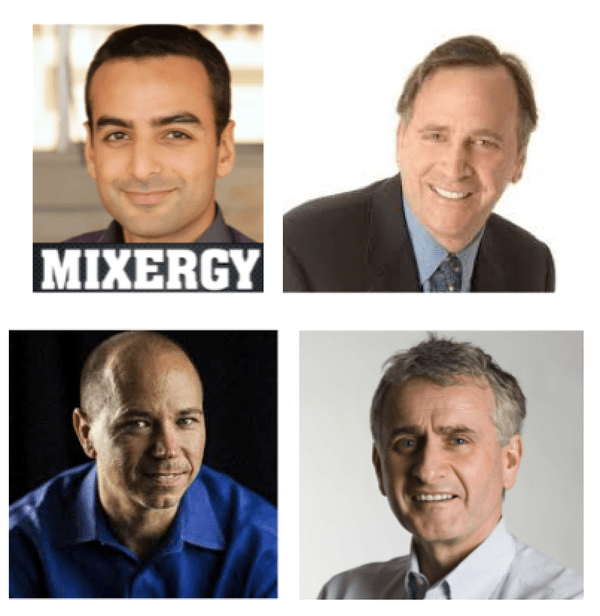 I have never heard of an event with four 8-figure entrepreneurs providing advice and strategies in the mastermind room with everyone else.
Each of these entrepreneurs charges tens of thousands to work with them – if you can even get them.
And one of them, Kevin Waldron, has a coaching program that costs $50,000 per person.
Between the four of them, there is easily over $200,000 worth of coaching value.
So will you be in this picture 2 weeks from now?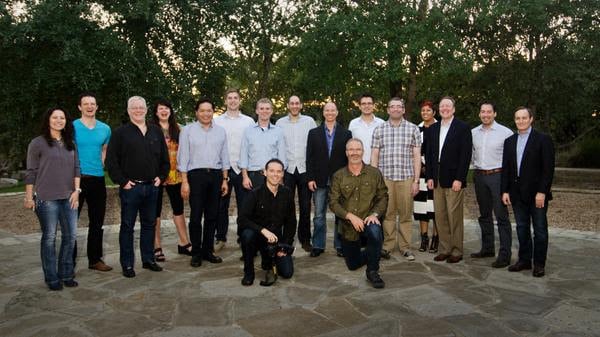 If you're serious about growing your business, it's time to take action.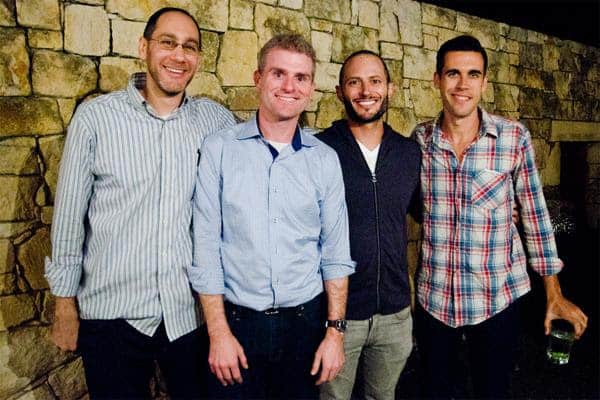 We have powerful bonuses that will make this even better. One final thing
Bonus #1 – I will profile you and your business as part of a blog post covering this event that goes out to 30,000 subscribers. The exposure you would get from this one bonus alone could easily cover your investment in the event itself.
Bonus #2 — You will get an ongoing coaching/strategy program with Jeremy and I. After the event is over, we will have group check in coaching calls to keep you on track over 6 months. This includes unlimited direct email access to Jeremy and I.
Considering it took me 7 years, thousands of hours, and tens of thousands of dollars to reach where I am today, this is a pretty darn good value on top of the event.
But you have to act quickly. I want to fill the remaining spots with decisive entrepreneurs and action takers within the next 7 days.
So in order to qualify for this bonus offer, you need to submit your application by Friday, March 11th at 11:59pm PST.
Warning: we have received lots of applications, but we want to make sure everyone who comes is the right fit. Bringing in the right people to this event is far more important than maximizing revenue.