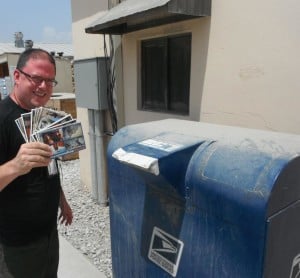 This is a guest post from Ryan McRae, creator of MasterPresenting.com, where he teaches people to kill it when presenting.? He worked for a year in Afghanistan trying to figure out the direction of his life, and he figured out a lot more.
I remember getting off the plane in Jalalabad, Afghanistan at Forward Operating Base Fenty, wondering if I'd made the biggest mistake of my life.
Four months previously, I had burned out of my career as a Resident Director at my university, and I jumped at the chance to train soldiers when a technology company recruited me.
My burnout was so epic that Afghanistan actually seemed like a great idea.
I didn't think it through enough, apparently. I remember walking across the hot tarmac thinking,?I don't know a soul here. And I seriously just don't belong.? My buddies I trained with had gone to different bases miles away, so I was a stranger in a strange land.
I had zero military experience and I had never been to war. My heart was overrun with fear until I learned how to make connections and to find the deeper purpose of this quest I had begun.
These are the lessons I learned in Afghanistan about networking and building relationships. They helped me not only do my job better, but helped me make a difference globally in an actual war zone.
Engage People?s Hearts
There is nothing like getting a care package in Afghanistan?nothing. And one of the best forms of networking currencies is home baked goods: cookies, fudge, caramels, etc.
When I would work with soldiers or fellow trainers, offering home baked goods was the way to everyone?s heart. We wanted a touch of home?a place where there was a warm oven, a front porch and a swing.
One friend of mine sent homemade caramels and I brought them to one of my classes. I told the soldiers, ?Take a handful and pass the box around.? One soldier said, ?Sir, there won?t be any left.?
? That's the point, sir.? I replied. He smiled and the soldiers were grateful. We had a great time learning about radiation and we were all at ease for awhile.
Those soldiers studied harder and were more attentive than any other group of soldiers I ever had.
When you are building relationships, be generous and put people at ease. If you are meeting people and they get a whiff that you want something from them without a personal connection, the door is going to slam quickly.
Meet others' needs first. Gratitude translates into a firm foundation to build a relationship. Instead of joining more groups, take the time to know what people love and when you engage them in that?it immediately forms a bond that a business card never can.
What do you do to show gratitude? What do you offer? A gift certificate to their favorite restaurant? A comic book that you know their kid loves? A couple of emails that link to articles they need to read?
If you don?t know the answers to these questions, you need to find out by developing that relationship.
Serve First. Connect Second.
There is a ton of downtime in Afghanistan if you are not a soldier. Oh, there?s a storm? You are not flying to your next base. Oh, there are some shenanigans? Your class or your plans are cancelled.
You sit. You wait. I typically would sit in a terminal waiting for my flight for 7 hours. I needed to do something with this time.
I had recently heard Scott Harrison talk about his organization, charity:water, and how 800 million people did not have access to clean water. I was wondering if I could do something about that while in Afghanistan.
Now, you can?t really approach soldiers and say, ?Hey, man, I know you?re serving our country, but can you lend a little money to our friends in Africa??
So I decided to challenge my online friends to a ?kickstarterish? project. If they pledged $25 to my charity:water campaign, I would send them an original haiku on an Afghanistan postcard.
I hold your letter
like a young boy holds the hand
of one who loves him.
If they donated $45, I?d send them two. I thought, well, I?ll raise a couple hundred bucks, send out 10 postcards. No big deal.
Wrong. Because I was offering something completely unique, that no one ever had, it went a little viral. Not ALS Bucket Challenge viral, but viral.
After 171 haikus, I raised $5,900 from Afghanistan. I sent postcards to far away places such as Thailand, Japan, Canada and London, England.
When I returned from Afghanistan I was asked to speak at the World Domination Summit in Portland, Oregon, about my work, and Scott Harrison still uses my story in his fundraising efforts. I made many connections through that experience because I was willing to use my creative talents to further a cause.
These efforts not only give back, but generate a huge network of relationships quickly. It sounds arduous, but offering two hours of your time a week can build a network that can never be generated through ?networking events? and conferences.
What can you do that no one else can or has access to? Can you give away your grandmother?s pot roast recipe to help raise awareness for autism? Can you teach coding at a high school after school program?
Can you be the handy woman at a local women?s shelter and teach basic repair? Find the unique offer you have?share it with the world.
Be Authentic Foremost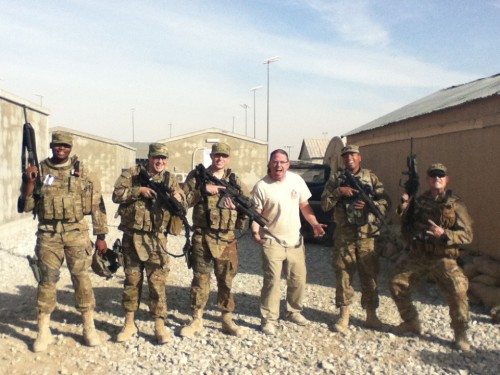 For my job I had to fly in Afghanistan once a week at least. I?d hop from forward operating base to forward operating base (we were aptly named ?F.O.B. HOPPERS?). Now, you had to be on a list to get onto your flight. You signed up and within 10 days you needed to be on that plane or you just didn?t fly.
I had to fly out to a very remote base and I had inadvertently signed up 11 days before. I knew that I wasn?t going to get on that flight.
I was in trouble. 12 soldiers were waiting to be trained?and my window to get there was shrinking by the minute.
So I approached the young ladies, Sheila and Tammy, who arranged flights at my terminal, and they knew me. They informed me that I was in no way no how getting on the flight. I took a breath and said, ?Well, there?s a secret reason that I?m not on that flight list,? and I gave the boldest wink of my life.
?And why is that, Ryan?? Sheila winked back.
?Well, I?m not supposed to say, but I think I can trust you.? I lowered my voice and leaned in.
I continued in a low voice, ?You see, I?m on the ?Good Looking List.' We can?t have all the good looking people on the same flight so I?m on a special list because I?m so handsome.?
The ladies roared with laughter. Tears filled our eyes and sure enough, they found my name on that ?list? and I was able to get onto the flight.
I took a risk. I made a joke and we connected. When you are vulnerable with people about what you need, more than likely they will help. And whenever I walked into that terminal I?d hear the cry, ?Hey, good looking!?
When you are trying to connect with someone – especially when connecting face-to-face – be authentic in what you are asking, be vulnerable, and more than likely people will meet you where you are and help you out. You have to have a connection first or your attempt may wind up like this guy.
The Key to Building Relationships
I?d love to tell you the rest of the stories:
How the Army dentist fixed my tooth because I sang with him in the church band.
How the Army doctor fixed my toe because I made the nurses laugh.
How the sergeant at a far away base gave me great housing because I gave him a Green Lantern pin.
How we bought soldiers 6 cases of Mountain Dew and received cheers.
How I carried a LEGO radiation guy with me for a year and how it made people smile.
But you?ll find the answer is the same?be kind, be generous, serve and be authentic and you?ll find that relationships form faster and stronger than going to a ?networking event."
Ryan McRae worked in Afghanistan doing radiation training for soldiers across 20 bases. He now works in sales for a major technology company. He also offers presentation consulting for members of the National Speakers Association. His snarky presentation wisdom can be found at masterpresenting.com.