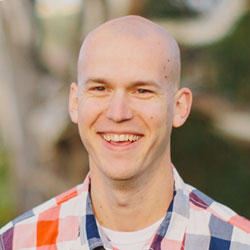 Caleb Wojcik is one of the three co-founders of Fizzle (along with Corbett Barr and Chase Reeves), an online business training program that I've participated in and talked about a little bit on this blog and on Twitter.
Before working on Fizzle and embracing a life of entrepreneurship, Caleb lived amongst the cubicles… working for a large aerospace company. During that time, he actually had the difficult job of creating spreadsheets with names of people to be laid off.
(Now he actually helps teach people how to quit your job, which is ironic.)
Disenchanted with corporate work, Caleb founded the blog PocketChanged.com (recently re-branded as CalebWojcik.com), which led to working with Corbett Barr, the creator of ThinkTraffic.net. Think Traffic was kind enough to publish my guest post 5 Ways Copying Politicians Can Grow Your Blog earlier this year)
"By the way, it's pronounced "WAH-JICK," rhymes with "LOGIC."
In this episode, we discuss:
how he went from a corporate career to cubicle renegade
why Caleb became an entrepreneur instead of continuing to work in the corporate world
how you can quit your job to become an entrepreneur even if you have large amounts of debt
the importance of connecting with other people online
how Caleb was able to turn a side blog into a new job which made him much happier
Right Click here to download the MP3
Enjoy the show!
Click here to subscribe via iTunes