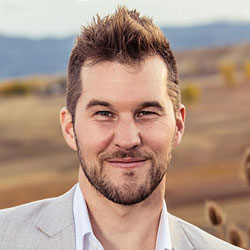 Andy Drish had his dream job in his early 20s, working for a Fortune 250 company in marketing. Then a midlife crisis hit, and he threw it all away. He quit his job, broke up with his girlfriend… and even abandoned his puppy (don't worry; the girlfriend took the puppy). Andy then embarked on an entrepreneurial journey, eventually founding Referral Squirrel, a website designed to help Realtors get more referrals. In the process, he became passionate about writing copy that is effective and grows your business.
In this episode, he shares some very practical tips for how to writing great copy can be used to increase your revenues. These are lessons he learned from the masters of copywriting. Today, Andy is the co-founder of The Foundation, a fast-growing online training course he leads with Dane Maxwell. The Foundation borrows ideas from Agile software development and Lean Startup methodology to train entrepreneurs how to develop new business ideas, without committing vast sums of money and time to an idea before it has been validated. The Foundation is the real deal. It is a 6-month-long, intensive training program that requires a substantial commitment from its students. However, those who commit have a chance to be really successful. I have clients who are graduates of The Foundation, and I can say they are doing really well, thanks to Andy and Dane's trainings. By the way, The Foundation starts a new class this fall. Hop on their email list so you know when it opens, if you are interested. Enjoy!
Resources from this Episode:
Right Click here to download the MP3 Enjoy the show!