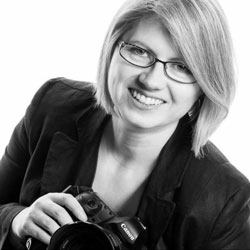 If you have a services-based business, you probably know the challenges of running a small business. On the one hand, you have to bring in business. At the same time, you need to serve those existing clients or customers. And while you're doing that, you have to be thinking about bringing in new business.
It's a difficult juggling act. Darlene Hildebrandt is a working photographer, teacher and trainer, based out of Edmonton, Canada and I asked her to come on the podcast because she has done a tremendous job of building a successful photography business. Rather than relying on just one area (such as shooting weddings or portraits), she has learned to diversify her photography business by:
creating in-person trainings and workshops
writing content for Digital Photography School, one of the largest photography education sites on the web.
leading travel photography groups to interesting destinations such as Cuba.
In this episode, Darlene shares some of the strategies she has used to keep her business going and thriving. Even if you are not a photographer, I think you will get some good ideas from this interview. Enjoy!
Resources from this Episode:
Right Click here to download the MP3 Enjoy the show! Click here to subscribe via iTunes